22 July 2004 Edition
British in stolen files cover-up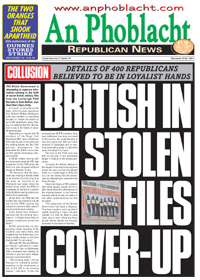 COLLUSION: Details of 400 republicans believed to be in loyalist hands
The British Government is attempting to suppress information relating to the theft of secret British military files from the Castleragh PSNI Barracks in East Belfast, says Sinn Féin's Gerry Kelly.
A breach of security at the PSNI base, which houses operatives from Britain's Military Intelligence units, has resulted in a document thought to contain the details of up to 400 republicans going missing.
It is believed that the information is now in the hands of loyalist death squads.
A British soldier, serving with the notoriously sectarian Royal Irish Regiment, (RIR) was questioned by the PSNI about the theft but was released without charge on Monday 12 July. Some 28 RIR soldiers are believed to have been suspended around the same time as a result of the incident. The RIR have of late been drafted into nationalist areas to staff observation posts, such as at Divis Tower in West Belfast, and engage in other activities that provide opportunity to gather details on local residents.
The discovery that the document was missing is directly linked to an internal security breach at the base, as reported in An Phoblacht last week, when the British Army asked the PSNI to investigate an incident in a section of the building used by undercover British Army operatives.
At the time, the PSNI said the incident was not a break-in and did not involve PSNI security but refused to comment when asked if any documents were missing.
Some media have, however, reported that the missing document is "a British Army bible of leading republicans across the North and that it might have fallen into the hands of unionist paramilitaries".
Gerry Kelly says British securocrats are suppressing media reporting of the incident. He revealed that the British have contacted media outlets to tell them that the theft "is not a story".
Although NIO Security Minister Ian Pearson confirmed at a meeting with Sinn Féin on Wednesday 21 July that a document was missing, he refused to give the party delegation any more information.
"He stonewalled us," said Gerry Kelly, "and told us that the PSNI view was that no one was in any immediate danger in relation to the missing document.
"Compare the British attitude to this breach of security to the way they hyped the story around the alleged break in at Castlereagh in 2002 and you can see clearly how the securocrats are attempting to undermine the Peace Process."
Kelly added that if people's personal details are in this document and are believed to be in the hands of the UDA, then the least the British Government needs to do is inform those people without delay.