15 July 2004 Edition
PSNI walk over nationalist rights in Lurgan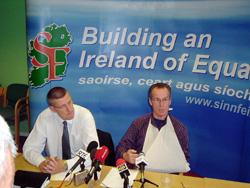 As in Ardoyne on Monday, the PSNI overruled a Parades Commission determination banning a Royal Black Preceptory march from parading along the Market Street and Church Place areas of Lurgan on Tuesday 13 July.
According to Sinn Féin Assembly member John O'Dowd, the PSNI "marshalled" the loyalist marchers into a restricted area of the town centre after they returned to Lurgan from a parade in Bangor.
The move contradicted a Parades Commission determination which only permitted the Orangemen to assemble at the junction of Market Street and Carnegie Street before resuming the remainder of its notified route around the back of the church in Church Place.
"The PSNI undermined the determination by allowing the marchers to parade along Church Place," said O'Dowd. "They claimed a driver refused to move his vehicle from the centre of Market Street but this was a smokescreen because the parade was barred from walking along Market Street or Church Place by the Commission.
"It became obvious that the PSNI were going to use any excuse to let the marchers flaunt the determination."
O'Dowd described how the situation got more tense when the PSNI allowed hundreds of loyalists, including well-known LVF thugs, to block Lurgan town centre.
Among them was Democratic Unionist Party councillor Jonathan Bell, Chairperson of the local District Police Partnership Board.
"After the loyalist blockade was finally lifted, the PSNI attacked nationalists congregating in North Street and only the intervention of Sinn Féin activists saved a number of people from being run over by PSNI Land Rovers," said O'Dowd.
"Over the past two days the PSNI have twice taken it upon themselves to overturn Parades Commission determinations and on both occasions the nationalist community ended up being hemmed in and attacked by the PSNI. It is clear that one law operates for unionists and another for nationalists and republicans."