17 June 2004 Edition
FF/PDs contrive 4 to 1 vote for discrimination
BY ROISIN DE ROSA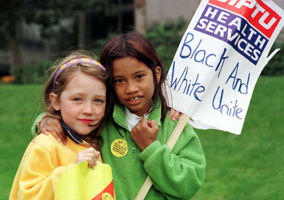 Last weekend, Bertie Ahern surmised that Sinn Féin had won the election and Fianna Fáil had lost it. Well and good. But there was one election the FF/PD coalition won — the citizenship referendum.
In fact, everything Sinn Féin stands for — human rights, equality, ending discrimination on basis of religion, race, colour, gender, sexual orientation, socio economic classification, took a severe defeat. Four to one of nearly 60% of the people of the 26 Counties voted their agreement to, in the words of a Fianna Fail publicity advertisement, "to protect the value and integrity of Irish citizenship at home and abroad".
Minister McDowell said vote race. And indisputably, 80% of voters did, without, it must be said, having the slightest conception of the legal niceties, still less the immense significance, of what was involved in this constitutional change.
Contrived majority
To conclude that all these voters across the country are racists would fly utterly in the face of the facts. Proclaimed racist campaigners standing in local government elections scored abysmally in terms of votes. Their message of hate carried no comfort and won no support.
But when racism emanates from the state and its institutions, then people can most easily be led, and worse misled, to vote for what undoubtedly was a racist outcome. For the Yes vote precisely declared that some children are less equal than others.
The majority was, of course, contrived by the Fianna Fáil/PD coalition by most deplorable, disreputable means. A minimalist campaign was guaranteed from the start. There was no time to consult or to enable the issues to take hold in full clear discussion.
Political opposition parties were all heavily engaged in their most important local government and EU battles.
There were countless examples of government party canvassers talking outright racism at doors. Other canvassers were reluctant to confront prejudice at the door if it meant losing a voter. It was slick timing and all the more disreputable for that. The Government parties spent €280,000 securing their Yes vote, with pictures of nice clean blue skies.
People have to ask why? The answer is very unpleasant.
Institutional racism
No one but the No vote campaigners called the referendum for what it was — racism. Deliberately, the arguments got lost and intentionally confused in a mire of obfuscation and sometime lies: of 'non-national babies' 'flooding' our gynae hospital wards; irrelevant EU cases; allegations of 'citizenship tourism' and 'abuse' of 'our Irish 'liberal' citizenship laws.
The government didn't have to win these arguments. It was enough to raise them.
And this was nothing new. O'Donoghue, then Minister for Justice, first flagged up his government's approach to migrants, many of whom sought asylum here, describing them as '95% bogus'. It was a clear beginning to institutional racism of which Amnesty, to its immense credit, accused Ahern, Harney and O'Donoghue three years ago.
Portuguese migrants attacked
Only on Wednesday, Portuguese migrant workers were attacked in Dungannon in a mindless vicious act of intimidation and hatred of the Other, which has characterised the Six Counties of Ireland under British rule. The Fianna Fáil/PD coalition, by slick, disreputable, manipulation of a vote, have now made racism acceptable in the southern state. They contrived a vote of a million-and-a-half to prove it.
The monster of racism, which black people, or Portuguese for that matter, here across all Ireland confront daily as they go about their daily business, is an ugly beast, but far more insidious and dangerous when it emanates from Government and the institutions of the state, with €280,000 to spend.
The Citizenship referendum
Yes 1,427,520 79.2%
No 375,695 20.8%