6 May 2004 Edition
Collusion highlighted during Hunger Strike weekend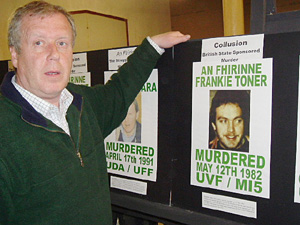 Michael Finucane, the son of the murdered Belfast solicitor Pat Finucane, will deliver this year's Bobby Sands Memorial Lecture, the centrepiece of a weekend of activities in which British state collusion with unionist death squads will be raised during the annual commemoration of the 1981 Hunger Strikes.
An Fhírinne, the campaign calling for the truth about collusion, is to launch a photographic exhibition. "We have compiled over 200 photographs of collusion victims," said group spokesperson Robert McClenaghan, "but this exhibition is nowhere near complete and is still very much work in progress.
"We are conscious that many victims of collusion have yet to be included in the photographic record and we are therefore appealing to family members to supply us with a photograph of their loved one to be included in any future exhibition," said Robert.
The exhibition, including a video in which a number of victims' families are interviewed about collusion, will be held on Friday 7 May at 7pm at the Devenish Complex in North Belfast, to be followed by the Bobby Sands memorial lecture.
On Sunday 9 May the annual Hunger Strike commemoration march will take place, setting off from various points throughout Belfast to march to the City Hall for a rally at 3pm.
The families of collusion victims are being invited to participate by carrying photographs of those who were killed.