6 May 2004 Edition
Government must redouble efforts for Colombia Three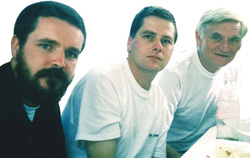 Campaigners on behalf of the three republicans being held in Colombia for travelling on false passports have thanked the 26-County Government for its intervention on behalf of the men, but have asked it to redouble its efforts to get the men home.
Last week, the Dublin Government offered to pay a €17,000 bond, after which the men would be free to leave jail. Ulster Unionist Reg Empey described the government's intervention on behalf of the three Irish citizens as "an outrage".
Niall Connolly, Martin McCauley and James Monaghan, who were acquitted in Bogota of training FARC rebels, cannot leave prison until the authorities offer guarantees for their safety.
When they do leave jail, the three still cannot leave Colombia, as the chief prosecutor is appealing against the acquittals.
Bring Them Home campaign spokesperson Caitríona Ruane said two affidavits, which relate to the position of the Dublin Government, had been given to the judge to assist him making a decision to permit the men to leave Colombia.
"The Bring Them Home Campaign and the defence team would like to thank the Irish Government for their intervention and call on them to redouble their efforts to ensure that these men are permitted to return home to their families," she said.
Meanwhile, Sinn Féin TD Seán Crowe, who attended the trial of the Colombia 3 as an observer has called on people throughout Ireland to keep up the campaign until the three men are brought home safely."
"Given the grave concerns for their safety, it is vital that international attention remain on this case until the men come home. I would call on all those who worked so hard to highlight this case over the last three years to stay involved in the campaign until the three men are brought home safely."