6 May 2004 Edition
EU enlargement - Better off in?
BY ROBBIE SMYTH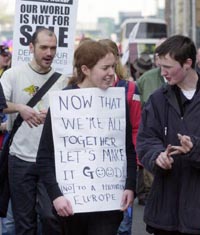 And then there were 25 EU states. Europe woke up this week a very different place as, 15 years after the cold war ended, a new entity finally took shape as east and west Europe merged as never before. Not even Caesar or Hitler could manage that!
In fact, the EU breached new barriers last weekend when the number of European states now members of the EU outnumbered for the first time the number of those not in. With Bulgaria and Romania set to join the EU before 2007 and a number of other states trying to join, only Iceland, Norway and Switzerland stand out as European states who have decided they are better off out.
Dublin was the setting for the accession where, as current EU presidency holders, it fell to the 26-County Government to play hosts. And play they did. We got a specially branded, intricately planned May 1 "Day of Welcomes", with parties, fireworks and photo opportunities galore.
A perpetually smiling Bertie Ahern was the lynchpin and toast master general as the coalition government pushed the boat out in a series of events to mark the céad míle fáilte for the ten new EU accession states.
But the whole weekend was in reality one of contradictions, one that was echoed on the very streets of the capital itself.
On the one hand you had the recurring sound of sirens and screeching tyres, booming around streets either empty or sparsely filled, as a seemingly endless amount of EU delegations were ferried from Government buildings to Áras an Úachtarán or Farmleigh or Dublin Castle, who knows?
Then there were the protestors, a hugely reduced number of city centre shoppers and interested onlookers, but mostly and endlessly there were Gardaí everywhere, at traffic junctions, the entrances to shopping malls and car showrooms, outside public buildings and then there were the motorbikes, cars, vans and their new water cannons.
Is this the best that post-cold war Europe can offer? A union of 25 states whose leaders have to be hidden from public view surrounded by exclusion zones, SWAT teams and thousands of uniformed Gardaí. It is a strange empire whose leaders fear meeting their public, or then again maybe not.
What is perhaps more interesting is the enthusiasm shown for the enlargement process over the last week in Dublin and the other ten towns who hosted welcome events for the new states.
It was clear that huge interest and solidarity has developed between the peoples of Europe, who support the idea of closer links but don't, it seems, have any real solidarity for the EU unification process.
Nowhere is this more clear than in Ireland, where a recent MRBI poll showed 58% of voters against a two-speed Europe, while only 47% of voters were in favour of the EU constitution and 51% of voters believe that the Irish Government "should do all it can to protect its independence from the EU".
Once the glitz of the accession day was over, it was gloves off as the 25 heads of state buckled down to negotiations on the new EU constitution. Here in Ireland, the government has used the EU presidency as a smokescreen to hide from outlining how it will deal with the EU negotiation issues. Bertie Ahern could only find time to talk about whether there should be religious references in the treaty text, and even here he was talking about what other states wanted, not what was Dublin's position.
It seems that the government is happy to accept plaudits for its role as an excellent organiser and co-coordinator of EU events but is not prepared to rock the boat when it comes to protecting Irish economic and political interests.
We are now part of an EU that, with its ten new members, is more likely and willing to take military action than ever before. We are also part of an EU with unworkable structures that has created a vacuum for the big three of Britain, Germany and France to dominate policy and decision making. This has already happened in the case of economic and defence policies, with no comeback from the Dublin Government.
No, our role is as facilitator, and it seems that it is only here that we will go to any lengths to make things happen. Apart from the closed streets and the heavy Garda presence, perhaps the most symbolic example of this in the last week was the felling a 350-year-old oak tree in Farmleigh, one of the EU accession celebration sites. The oak was interfering with TV signals and got the chop.
Maybe it's time to relocate to Norway and get a job as a Statoil attendant before the government decides that the 500,000 No to Nice voters are interfering with political communications here. You have been warned.