26 February 2004 Edition
Heavy handed PSNI raid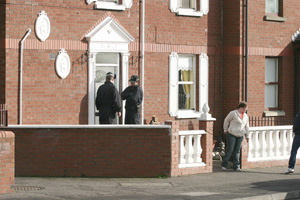 South Belfast MLA Alex Maskey has hit out at the heavy-handed nature of a PSNI raid on a home in the Markets area of Belfast on Wednesday morning.
The family were at home at around 10am when three PSNI Land Rovers and a transit van arrived outside. During the raid, which lasted several hours, the family's bathroom was extensively damaged and an elderly woman was taken to hospital by ambulance.
"The heavy-handed nature of this raid was completely unnecessary," said Maskey. "The actions of the PSNI officers involved caused undue distress to the occupants of the house.
"The actions of the PSNI this morning only serve to highlight, once again, to the nationalist people that despite being repackaged the same old sectarian RUC remain under the guise of the PSNI and as such remain unacceptable to the nationalist people," he said.
Maskey also described as "deeply sinister" the PSNI motive for visiting a number of homes in the Markets over the past week and warning young people that they were under threat from the IRA. "I do not believe that those visited are under any threat from the community, indeed many of those visited have absolutely no history of anti-social behaviour at all," said Maskey.