26 February 2004 Edition
The 5th Column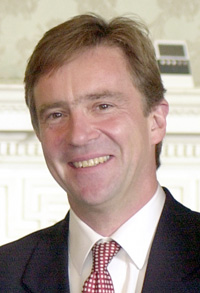 Hostage drama
THE MOVIE version of the experience of Beirut hostages Terry Waite and John McCarthy has just been released.
John McCarthy told Channel 4 this week of his true encounter with a suspicious Irish taxi driver in Liverpool. The cabbie kept looking at McCarthy through his rear-view mirror, obviously trying to place the face. Then the penny dropped.
"You're that fella, the hostage in Lebanon, aren't you?"
McCarthy confirmed that he was but laughed when the Irish taxi driver added. "Shouldn't you be riding in the boot then?"
Dirty tricks in MI6
HOUSE-CLEANING TV superstar, Aggie McKenzie - co-presenter of How Clean Is Your House? - has come clean on her sordid past. She used to be an MI6 agent working against Irish republicans. Urggh!
Scots lassie Aggie claims a "rather left-wing past" but that didn't stop her applying to join the Secret Intelligence Service whose primary goal was halting the rise of liberation movements.
Trained in counter-surveillance techniques, Aggie even got a gun. She worked in the Middle East section for a while but her memory has a few cobwebs about her next posting.
"Then I was moved to the department that worked with MI5 and had to do with Northern Ireland. I ended up doing quite a sensitive job. I can't remember the details, but I ended up thinking, there are things going on that I would rather not know about. I was sworn to secrecy for seven years after I left the job."
So are your seven years up, Aggie? Let's see what your MI6 and MI5 bosses wanted swept under the carpet. Dish the dirt.
No rush to judgement
TWELVE MONTHS AGO, Sir John Stevens revealed that he had prepared cases against 20 British Army soldiers and RUC/PSNI officers for working with unionist death squads in killing nationalists.
This week, the Six-County Director of Prosecutions announced that he has still not made his mind up if he should actually charge them. And the DPP says there's not likely to be a decision "in the near future".
That's one year on. The DPP must be a slow reader.
DUP rubbish line
DUP Councillor Sammy Gaston told Ballymena Council last week that he "trashed" an invite from Mayo County Council for a conference on European issues in April because it had a whole line of Irish at the top.
"How are you supposed to make a decision if you can't read a thing?" Sammy spits. "And if you can't read a thing you should throw it out with the rubbish. The only objection I had was that nobody on the council could explain to me what it said."
The 13 words that bamboozled the Ballymena burghers were the name and address of Mayo County Council. Let's hope the linguistically-challenged Sammy doesn't get any invites to exotic French or Italian locations with dirty foreign languages like French or Italian on them, or they'll go straight in the bin.
King of Monto
IRISH TIMES columnist Jim Duffy must be looking for a British Empire medal for arse kissing with his piece last Saturday (after Princess Anne's Dublin visit) claiming what a lovely bunch of rulers the British royals have been over the centuries and how we should be more grateful for everything the imperial parasites have done for the little people of Ireland.
Amongst the nonsense pedalled by Squire Duffy was this royal jewel:
"Edward VII was a committed hibernophile, feeling so at ease here that he once slipped out of the Vice-Regal Lodge with his wife, Alexandra, and their oldest son, the Duke of Clarence, to walk without bodyguards through Monto, in inner city Dublin."
But did King Edward slip out from his Vice-Regal Lodge for a spot of vice in Monto?
What Duffy omits to mention is that Monto was then one of the most notorious red-light districts, not just in Ireland but in Europe, if not the world! The brothels offered 'relaxation and relief' to thousands of British Army soldiers and the landed gentry and aristocracy, who preyed on women economically conscripted into what is now called the sex industry.
So whether the royals were slumming it in the fleshpots or on safari, seeing poverty close up, they sure weren't doing Irish people any favours in Monto.
Her Majesty's media
THE much-vaunted independence of the British media took a major hit this week with the news that journalists "embedded" with the British forces during their attack on Iraq are to be "honoured" alongside the military with a campaign medal from the Ministry of Defence.
The Iraq Medal - and read this slowly, National Union of Journalists, BBC, ITV, Sky News, et al - "recognises service in AND IN SUPPORT OF operations in Iraq from January 20th 2003".
The Ministry of War says: "Members of the British armed forces and civilians - including ministry-accredited war correspondents, photographers, cameramen and sound engineers - will be eligible."
It will be interesting to see how many self-styled guardians of 'impartial news reporting' refuse this partisan war decoration and how many will wear their medals with pride in the field and future conflicts to show everyone whose side they're really on.