26 February 2004 Edition
The United Ireland: Doing the Joined Up Writing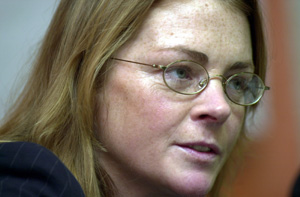 -BY ELLA O'DWYER In his article entitled For a Radical Campaigning Party; Think National, Act Local, published in An Phoblacht (8 January) Pat Treanor talked of the importance of "political integration between our elected and unelected activists". Cllr Treanor was addressing the issue of how best the Republican Movement might advance our aims and objectives.
He refers to the "real dangers of stagnation, of just holding the fort, of waiting on the next elections". He went on to say that "electoralism is a permanent site of struggle but we also need to develop in a radical way all the other sites of struggle".
In the most telling comment, Pat closed his article with the rhetorical question; "Who says there isn't much happening?" and when you stop to take a raincheck, there is a lot happening.
His reference to the need for 'political integration' hits to the core of the matter, as there are very many strands to our political machine and perhaps never so much so as at present. These strands need to be more clearly linked up.
Documents are mounting outlining innovative recommendations with respect to projects directed at creating the United Ireland/Socialist Republic and indicating the vast range of work underway within the movement.
We have the recently launched human rights charter entitled Rights for All, based on the South African freedom charter, the Sinn Féin expansion document entitled Expansion of All Ireland Institutions and Areas of Work (See Page 9), the report on Lucilita Breathnach's extensive work on the Gender Equality Project, the Process of Nation Building (PNB) project driven by the Coiste, the All-Ireland Presidency campaign launched by Ógra Shinn Féin, an imminent Árd Fheis and upcoming elections, etc.
Clearly, there is a dynamic for progress and an appetite for results, however that momentum is under-harvested for the want of a co-ordinated approach. This again is where the 'think national; act local' theme comes into place. While we are all busy beavering away in our various pockets of political activity, we sometimes lose sight of the bigger picture; the actual achievement of a United Ireland and ultimately the Socialist Republic. All the political projects with which we are engaged are signposts directing us to the Republic. We need to do the joined up writing on all these well documented expressions of the momentum for unification. Again, integration is called for, not just in terms of the links between elected and non-elected political representatives, but between all our sites of struggle.
As National Organiser for Sinn Féin, Pat Treanor clearly identifies the need to highlight the broader picture and suggests: "As activists of a radical movement" we ask ourselves to consider whether or not "each of the party's organisational structures [are] as strong as we will need them to be, to achieve our objectives?"
In his article in An Phoblacht (11 December) Declan Kearney refers back to the Road Map to the Republic document, remarking that "in the final analysis... it is up to grassroots republican activists to get our collective heads around the fact that we do shape the reality of our struggle". Leadership, therefore, is a shared activity and not the sole responsibility of those elected to positions of heavy responsibility, a point reiterated by Pat's comment about 'integration between elected and non-elected activists'.
While we have a Road map to the Republic, we sometimes lose sight of the signposts en route to our ultimate destination. One republican recently raised the idea of literally mounting billboards the length and breadth of Ireland campaigning for a United Ireland. That proposal was aimed at igniting a dynamic amongst the general public rather than being aimed at republicans. Again on the matter of the local and the national, one doesn't need road signs while travelling one's own local area. The road signs, however, are essential when travelling on a national/international basis.
The unification theme at the core of republicanism is a very familiar and, in a manner of speaking 'local' political terrain. Nevertheless, we approach the goal from our various geographic and working grounds and we tend to flag up various political priorities. Doing the joined up writing on the many projects that form the landmarks and signs guiding our ideological journey is essential to the challenge to think nationally and act locally and in a similar way it is essential to integrate the various activities with which we are engaged.
There is little point in making great leaps of political development, say, in places like the Six Counties and Dublin, if we are to leave other areas out in the wilderness. Uneven political development is not the fault of any particular community of republicans, but it does reinforce Pat Treanor's question: "Are each of the party's organisational structures as strong as we will need them to be, to achieve our objectives?"
All the projects and sites of struggle with which republicans are engaged contribute directly to the unification project. The apparent diversity of the overall work militates against a coordinated approach, a point well illustrated in recent articles in An Phoblacht.
Again on the subject of that paper, it is remarkable how many of us have to admit that we don't 'get around' to reading or writing articles for An Phoblacht. I'm a bigger culprit here than most, but it is a reflection of that same shortage of co-ordination. Writing for 'the paper' is perceived to be role of certain individuals, the staff of An Phoblacht or various prolific writers who staunchly keep the boat afloat.
Most republicans read at least one newspaper every day and about three each Sunday, yet we very often ignore An Phoblacht. The local/national disparity, therefore, stretches beyond the geographic context and impacts on the very organisation of our overall project.
Nevertheless, this is a feature which has started to get addressed, as for instance in the emergence of some of the documents listed above. We are now able to see the work that is being done by other members of the organisation. We are also able to read about the working arrangements and facilities available through our elected representatives in Leinster House.
The work of the Coiste is outlined in various publications and on the website www.coiste.ie. On the other hand, it is clear that not all of our constituency have access to the website and other avenues for filtering information. This again is where An Phoblacht comes in. The paper is an important avenue for sharing information and ideas and it is available to all and is a valuable facility for integrating the analyses of our political work.
Sinn Féin is one of the most pro-active and energetic political groupings in Ireland — a hive of activity and when activity like that peaks, the work becomes difficult to co-ordinate. Integration, however, is vital in any ideological movement. We all work from the core principles of equality and justice enshrined in republicanism. That activity will predictably increase and intensify, so a habit of coordination is very important: "Think national act local".
"Who says there's not a lot happening?" There is a lot happening but sometimes at the height of our busy work, we don't see the wood for the trees.