26 February 2004 Edition
Sit down and talk to your kids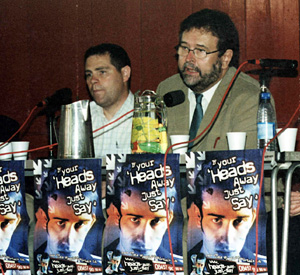 Suicide is the number one killer of young men under the age of 25 in the North. In the wake of the recent double suicide tragedy in North Belfast, An Phoblacht's ÁINE Ní BHRIAIN
spoke to Ardoyne community worker PHILIP McTAGGART about the growing crisis and the area's PIPS project, Public Initiate to Promote Awareness of and Prevent Self-harm and Suicide.
"We first formed the PIPS project after I lost my own son Philip to suicide last summer. In the eight months since then we have been inundated with calls for help, support, and information. It has become a job in itself. And many of the people who are involved with the programme are struggling because they also have their own full-time jobs to attend to. But the need is so great, there are so many people calling us, asking for help, that we find ourselves trying to juggle both.
"At Christmas, we were working with an American-based group. A woman who had lost her daughter to suicide had come up with the idea of a "Memory Tree of Lights" and as we exchanged emails her group asked us if we would become the co-ordinators for Ireland. We were happy to do so.
"The idea was that people could come and write the name of their lost loved one on a card which would then be laminated and placed on a Christmas tree as a memorial. We announced the event at all the local masses and in the press, and here in North Belfast we actively tried to encourage people to come out to it.
"But when the night of the event actually arrived it was a very cold out and due to the weather we didn't think there would be a big turnout. We set out chairs for 50 people and also had sandwiches and tea for 50. Then we waited. More than 350 people turned up. The wee machine to laminate the cards actually packed up on us and we had to get a second one.
"People came from everywhere, all over the city. They wrote the name of their loved one and a little message, and they could attach that — along with anything else they wanted — to the tree. There were locks of hair and unopened letters, Christmas cards, and little ornaments with pictures inside. A woman who had recently lost her daughter turned on the Christmas lights and for days afterwards many people returned to visit the tree.
"The PIPS project has since set up a team of people who have lost someone and who are prepared to go and talk to other families who have lost loved ones. We're also in the process of trying to set up a network of counsellors to deal with the problem, because we also understand that we can run into problems ourselves, particularly if we are trying to take on too much. We are also very, very aware that we are not professionals. In fact, the first thing we'll say is that we're only parents trying to cope with this situation.
"However, many of us have begun to take up training ourselves and we hope that those people will go to train others.
"The question is, what do we do for our young people right now? Within the last year, five or six young people from three neighbouring streets in Ardoyne have died — either by suicide or car accidents. They were all around the ages of 18-20. And all their young friends up there are walking about with their heads down.
"So what can we do to help these young people? What mechanisms and services can we provide? What would turn it around and help them deal with the problems they have?
"The thing is we are coming out of a conflict situation, but North Belfast hasn't seen any 'peace dividends'. We still have the interfaces. We still have the marching season, still have all the trouble that goes on. We have a lot of underage drinking, drug problems, unemployment. Young people are leaving school without qualifications and in many cases some of them still can't read. Illiteracy is a big, big problem. How does a young person go through the school system without anyone seeing that, without teachers seeing that?
"We want to see schools being accountable to the community. We want hospitals to be accountable as well, not turn people away who are obviously in crisis and have nowhere to go. We want to see services provided in Ardoyne and for young people to be educated about suicide and self-harm.
"We're all at fault in our approach to dealing with young people. You see a young lad walking about and he has the baseball hat on and he has the jacket and you automatically think he's up to no good. The kids aren't bad kids. You'll find a lot of them are good, especially if you're talking to them one on one. If they're in a crowd they might feel the need to show off a bit, but the point is, they're not the enemy. They're our children.
"They have nowhere. They don't feel like they belong on their own streets or that they are wanted on their own streets. We can't have anti-social behaviour but young people have nothing of their own. We donít even have a leisure centre in North Belfast.
"There are youth clubs in Ardoyne and the New Lodge, but they aren't equipped to deal with young people between the ages of 15-18. And young people don't want to be in there anyway because of all the rules and regulations - they are trying to find their own identity and forge their own ideas.
"Instead of providing them with alternatives and choices, we are ignoring them. We see kids on the corner sniffing glue and just walk by. Young people are left to wander the streets and many of them get depressed about that too. They get fed up standing on street corners. They're bored and angry because they are frustrated.
"If they leave school without a good education, that will affect them as they try to find work. One young lad was sacked from a job simply because he didn't understand what he was supposed to do. All these problems affect their self-esteem and they get very down.
"So what we are trying to work out is why does it then become an option for young people to take their own lives?
"We need to get into the schools. We need teachers to be aware, to be trained in how to deal with these issues. We also need doctors to be better trained. They also need to know how to deal with suicide and self-harm.
"Over the last 30 years, people didn't have time to stop and think about someone who was killed. They didn't have time to feel it. They just got on with what they had to do because that's what everybody did. You pushed on because then something else would happen. What's happened now is that a lot of people have the time to sit down and think.
"Everybody was traumatised, because something somewhere happened outside somebody's door. Now people have the chance to think about that and many become depressed or find they can't sleep. So they go to the doctor, whose first reaction is to write a prescription for anti-depressants. The doctor doesn't spend time with the person. They don't deal with the real issue or issues that lurk underneath the depression. Then, if the anti-depressants don't work, people get even more down because they think nothing will help and some turn to drink — which creates another vicious cycle.
"We need to educate our communities about all these issues. Why is this happening, why is another off-sales being opened? Why is another bookies' being built? Why is it that young people have to stand about on street corners? Why are there no leisure centres in North Belfast? How are young people getting prescription drugs and alcohol?
"We hope the PIPS project will develop into something much bigger in terms of providing support, providing information and creating awareness around all these issues which, at the end of the day, can all lead to a breakdown in a person's mental health. We want to break down the stigma towards mental health problems. We want the Catholic Church to turn around and say suicide isn't a sin. There is a reality out there that is not being addressed.
"My son Philip would take a drink and I didn't like that. I wanted him to wait until he was 18. I used to go out and pull him out of clubs and bring him home for dinner, but not just because he was underage. It was because I wanted to be the one he went for a pint with. I thought that when he turned 18, I would take him to the pub with me. I really looked forward to that. We used to talk about him getting married and stuff. There was so much we could have done.
"The other night after my wife went up to bed, I was looking at Philip's photograph, which we have on the wall. I just looked at it and cried. I was robbed. I was robbed of the future.
"I don't believe my son intentionally wanted to die. He obviously had some problems that made him think that there was only one way out, but he had a lot to look forward to. I have his clothes in the house and I actually take them out now and again — you know, just to look at them and to smell them because the smell is still there. There're no marks on them. None at all. And that strikes me as odd. There is no sign that he struggled, and I believe that's because it took hold so quickly. And that's what we need to get out to young people — the violent way of doing something, especially putting something around your neck — can kill you very quickly and there is no turning back. You can be dead in less than 30 seconds, just like turning off a light switch, and young lads need to know this.
"I really, really do miss him. He had just started a new job. He was a good-looking kid. His birthday was coming up and he was going on holiday. He was starting driving lessons the next day and we were going to get him a wee car. He had problems — but they were the same problems that any teenager has. There was no reason for anybody to think that he might take his life.
"It's a funny thing, young people are all starting to look the same. They all wear the same clothes — the trainers and the jeans and tops — and even now, when I am driving about I will catch sight of one and it will take me by surprise because for that second, for that moment, I think, 'that's our Philip'. It's really hard. No one gets over it.
"It's unbelievable what I've learned in the last nine months... how to approach things, how to deal with things. If only I knew then what I know now. I am a totally different person.
"Sometimes when I go into a club I feel like I'm in a fishbowl looking out at all these people having a laugh. I'll be honest, I used to enjoy the craic, but now I find it hard to laugh and join in. And other people feel that too, because I can sense that people don't know how to respond to me or approach me. They all watch their words and try to treat me carefully to protect my feelings and then that puts me even more on edge. But it's how we all deal with it. That's the way life is.
"I keep telling parents not to be flippant about things. I really believe that as parents we have to tell our kids we love them, that we're interested in them, give them a hug and say 'I love you', whether you have a son or a daughter. Don't just say, 'Ah, you'll be all right'. We need to take it seriously.
"There are issues that we as adults might think are petty, but to a young person they can be huge. We have to listen. The football match can wait. The club can wait. Sit down and talk to your kids."