29 January 2004 Edition
UDA target children at GAA club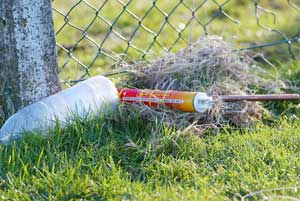 A distress flare attached to a gate leading on to the pitch at the Lámh Dhearg GAA club at Hannahstown on the outskirts of West Belfast at the weekend had the potential to kill.
The device was found by a GAA official at around 1pm after about 40 children, aged between 10 and 14, had passed unaware through the gate at 11.30am to start a training session.
A club spokesperson said he believed the device, attached to the gate with string, had been designed to ignite when the gate was opened. He was disgusted that children had been targeted by unionist paramilitaries.
"This is a very alarming development as there have been various attacks on this club over the years. We are worried about the kids' safety, we are responsible for them, but because of the location of the club and the current situation with the UDA ceasefire, it raises fears about what could happen next."
Sinn Féin assembly member for West Belfast, Bairbre de Brún, said she was in no doubt the UDA were behind the sectarian attack.