29 January 2004 Edition
McElduff addresses packed London Bloody Sunday meeting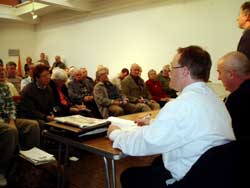 Sinn Féin MLA Barry McElduff addressed a packed London at the weekend to mark the 32nd anniversary of the British Army murders of 14 Civil Rights marches in Derry on Bloody Sunday 1972. The public meeting was hosted by the Bloody Sunday Organising Committee and it was also addressed by Mr Gerry Duddy, Bloody Sunday Families; Damien Donaghy, Bloody Sunday Injured (first person shot on Bloody Sunday); and John McDonnell, British Labour MP.
In the course of his address, McElduff accused the British Government of perpetuating the suffering of relatives of the Bloody Sunday dead.
"Thirty-two years after the Bloody Sunday murders the failure of successive British political administrations to acknowledge the part played by the British military on the day has left relatives of the dead unable to bring this painful chapter to a close," he said.
"Nobody should underestimate the absolute need on the part of relatives to have the British Government acknowledge the truth of what happened in Derry on 30 January 1972.
"Complaints with regard to the cost of the Saville tribunal are made only by those who have a vested political interest in not having the truth in relation to British involvement in these murders exposed. The reality is, of course, that were the British Government prepared to admit what the rest of the world already knows, that British soldiers murdered innocent civilians on Bloody Sunday, then no tribunal would be needed.
"The difficulty for the British Government is that the truth in relation to the Bloody Sunday murders, as with the truth in relation to its involvement in the conflict in the north of Ireland, make a nonsense of British claims to have assumed the role of honest broker, keeping warring Irish factions divided.
"Sinn Féin's commitment to the Bloody Sunday relatives remains unchanged. We will continue to assist the relatives of the dead in any way possible in their attempts to have the truth established."