29 January 2004 Edition
McGuinness welcomes Costello report on primary education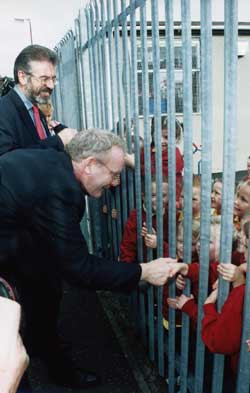 Responding to the announcement from Six-County Minister Jane Kennedy that the North's 11+ transfer test is to be abolished, Sinn Féin MP and former Education Minister in the Assembly, Martin McGuinness, said that while he welcomed the fact that the test will be abolished, he was saddened that it took an additional two years for the British Government to come up with similar recommendations to the Burns Report, which he commissioned when he became Education Minister.
Kennedy , NIO Minister with responsibility for education, announced the major changes to the post primary system at Stormont on Monday 26 January, following publication of the Costello report by a group of leading educationalists.
The reforms were presented as offering an end to the 11 plus and academic selection from 2008, but not to academically orientated schools. Parents will instead use pupil profiles to choose schools, which will work together to guarantee a new educational entitlement to every pupil.
Speaking to An Phoblacht, McGuinness said he welcomes the report from the Costello working group in which they recommend the ending of academic selection because equality must be at the heart of education.
"While we in Sinn Féin welcome the abolishment of academic selection process and the ending of the 11+," he said, "we are dismayed that it will take to 2008 before it is gone.
"Sinn Féin has been to the forefront of this campaign to have academic selection tests abolished because we believe that children must not be labelled successes or failures at such an early age. It was a system that was fundamentally unfair. I am delighted that this decision will now be acted on, for I believe all children must be given the opportunity to succeed, regardless of their background or circumstances."
However, unionists vowed to block the radical new 11+ reforms under devolution, despite the claims that the fate of academic selection is already sealed.
Democratic Unionist Party spokesman on education, Sammy Wilson, condemned the British Minister's actions as 'arrogant', saying: "This will not be the end of the debate. This will be revisited."
Ulster Unionist Party's education spokesman Danny Kennedy said the British minister had raised the stakes. "We said directly to Jane Kennedy that this was a political mistake as well as an educational mistake."