29 January 2004 Edition
Don't forget the Sallins Case, Minister! Protect our Citizens!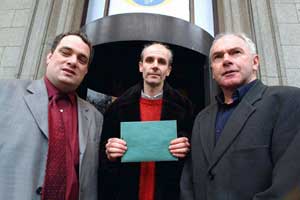 On Friday 23 January at 7am, Cormac Breatnach started a 12-hour peaceful protest outside the Department of Justice to highlight the continuing failure of the State to tackle persistent wrongful prosecution of citizens by An Garda Síochána.
That afternoon, accompanied by public representatives and to the beating of drums, Breatnach delivered a letter to the Minister for Justice, Equality & Law Reform, Michel McDowell, demanding that reform of an Garda Síochána be given the priority it urgently requires. Breatnach's brother, Osgur Breatnach, was wrongfully convicted by the Special Court of the robbery of the Sallins Mail Train in 1976 and served 18 months in prison for a crime he did not commit. The State only compensated the four men wrongfully convicted of the Sallins robbery in 1993 after continued resistance. No one has ever been held responsible for what happened.
Speaking about the Sallins Case and the recent Prime Time documentary screened on RTÉ, Cormac Breatnach said:
"The unanswered questions arising from the miscarriage of justice that was Sallins serves as a reminder to today's society that fundamental questions need to be addressed if we are to learn from the actions of the past. Sallins did not happen by accident: it was deliberate, just as today's violations of the law are deliberate. When will the Government learn the lesson that these activities must be addressed head-on, if they are to be eliminated? Perhaps a more fundamental question is, do we really want to learn?
"Twenty years ago I took part in a peaceful protest outside the Department of Justice to protest about the continued incarceration of Nicky Kelly, now Cllr Kelly. History records that the Release Nicky Kelly Committee eventually proved successful in obtaining his release from prison on humanitarian grounds. It was not until 1992 that Kelly was granted a Presidential Pardon. It was not until 1993 that proper monetary compensation was paid out to Nicky Kelly, my brother Osgur, Brian McNally and John Fitzpatrick, known as The Sallins Four. How many more "Sallins Four" cases must we have before we realise that this situation not only could happen again, but probably will happen again unless Garda reform is swift and serious.
"No inquiry of any kind was instigated to enquire into these serious events of public importance. Each successive Government since 1976 has conspired to withhold the truth by keeping "the lid" on. Fianna Fáil, Fine Gael and Labour were each involved in the shameful cover-up. It is time to call a halt to this shameful episode in our history. Recent events such as the brazen garda brutality during the Reclaim the Streets Demonstration of 2002 demonstrates the need for fundamental changes in our police force.
"I hope that my protest will stir the Minister for Justice, Michael McDowell, into ensuring that, when he puts his finishing touches to the Garda Síochána Bill 2004, never again will innocent people fear that they will be beaten in Garda custody. I hope that proper mechanisms for discipline and retribution will be created to punish those Gardaí who engage in such practices. I hope that never again will an interview in a Garda station take place without video recording and, above all, I fervently hope and pray that no other citizen has to endure what my family and I had to endure during the last 27 years."