29 January 2004 Edition
Donegal councillor joins Sinn Féin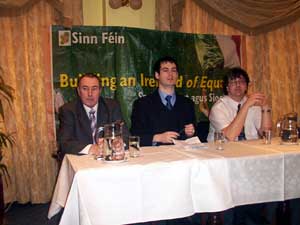 Sinn Féin Chairperson Mitchel McLaughlin publicly announced Donegal Councillor Thomas Pringle's decision to join Sinn Féin at a press conference in Killybegs on Tuesday. Pringle, an independent member of Donegal County Council since 1999, secured over 2,600 first preferences in the last general election in Donegal Southwest.
"Thomas Pringle is exactly the calibre of public representative that Sinn Féin is looking to attract as the party continues to develop an electoral dynamic that will bring about the most effective political representation for the people of this island," said McLaughlin.
"While the party as a whole continues to forge forward at a national level, inching ever closer to our objectives, it is people like Thomas, who will continue to work tirelessly on behalf of their local communities."
For his part, Cllr Pringle said: "Over the past number of years I have been impressed with the energy, hard work and dedication of many Sinn Féin members in the Dáil and councils. I believe that this is a party with a bright future and I hope to help shape that future.
"Since my election to Donegal County Council I have always found it difficult to get co-operation on issues and motions as an independent, with parties such as Fine Gael and Fianna Fáil putting their own party electoral interests before the interests of the people. My decision here today to join Sinn Féin is a decision to become part of an all-Ireland party that will put the people first. I look forward to playing my role within this party in the coming months to help elect a strong team of Sinn Féin councillors to Donegal County Council that will challenge the cosy arrangements of the establishment parties."
Donegal Sinn Féin chairperson and EU candidate Pearse Doherty, who chaired the press conference, welcomed Thomas Pringle to the party on behalf of Donegal Sinn Féin. "Cllr Pringle is widely regarded as one of the hardest working and most dynamic public representatives in the county," he said. "We in Donegal Sinn Féin have been long-term admirers of his work and we are absolutely thrilled that he is now joining our team in the county. I am confident that Cllr Pringle will be joined by several more Sinn Féin county councillors following the local election in June. This will be a new force in Donegal politics, one to be reckoned with.
"Donegal has been ignored and neglected for too long. After June, the Sinn Féin team in Lifford will ensure that the forgotten voice of communities from one end of the county to the other is heard. The establishment parties have failed our county. Sinn Féin is the authentic voice of change and the addition of Cllr Pringle, a true champion of the people, to our team, proves this point conclusively."