16 October 2003 Edition
UDA resumes North Belfast Campaign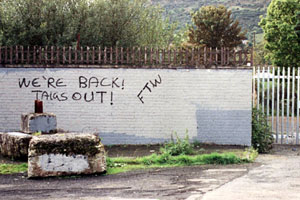 The latest attacks against nationalists in North Belfast are part of a renewed sectarian campaign by the UDA.
On Wednesday night, 8 October, a number of Catholic homes were attacked with bricks, large fireworks and paint bombs and on Thursday morning unionist paramilitaries attacked two schoolboys on their way to St Gabriel's High School on the Crumlin Road.
In the first attack, which occurred shortly after 9.30pm on Wednesday night, three windows were smashed in a house on the Somerdale Road, just of the Crumlin Road, and fireworks were thrown through the broken windows, causing extensive damage to the living room and bathroom.
Almost a mile away, two windows in a Catholic home in Kingsmere Avenue were smashed and paint bombs thrown inside, causing considerable damage to the living room.
In a third attack, a grandmother told how she was showered with glass and red paint as she watched television at her home in Mountainveiw Park.
"The first I knew of anything was happening was when the window came in around me and I was hit with fragments of glass and red paint," she said. "My daughter thought I was covered in blood. It was a terrifying experience."
The woman's living room was ruined.
Two homes belonging to a Catholic man and his daughter in Mountainview Gardens were also targeted in the same attack, when paint bombs were thrown against the windows. The man, who was too afraid to be named, said "it was only the double glazing that saved us. If it had been petrol bombs none of us would be alive this morning".
The attackers made their escape through a broken fence at the bottom of the street that leads to the loyalist Glencairn estate. Freshly painted graffiti near the fence warned residents, "We're Back! Taigs Out".
In the latest attacks on Catholic schoolchildren, pupils attending Edmund Rice College on the Hightown Road, near Glengormley, were attacked on Wednesday afternoon, 7 October, while a man wielding an iron bar tried to attack schoolboys going to St Gabriel's secondary school on the Crumlin Road on Thursday 8 October.
At around 4pm on Wednesday, the bus carrying the Edmund Rice pupils was stoned by loyalists as it travelled along the Ligoniel Road.
The following day Thursday 9 October, at around 8.30am, a group of Catholic schoolboys were going to St Gabriel's when two loyalists riding a scooter approached and one of them grabbed one of the pupils. The boy managed to escape before the attacker could hit him.
The loyalists drove off and made their escape along Hesketh, which leads to the loyalist Glenbryn estate.
Attack was wrong says Sinn Féin
North Belfast Sinn Féin Councillor Danny Lavery (right) has described an attack on a Catholic family in Vandyck Gardens off the Whitewell Road by a mob of nationalists as "unjustified and completely wrong".
Catherine O'Hara and her partner Gavin Smyth had just arrived at their North Belfast home with friends at around 2.20am on Sunday 12 October when there was a knock at the door.
"When I answered there were three fellows and a girl who said they had heard there were people from the Protestant White City living in the house," said O'Hara. A crowd gathered outside the house and began shouting abuse before throwing a sofa through the front window and breaking the windows in their car before setting it alight.
Councillor Lavery said any kind of attack, no matter where it originated, is wrong.
"The attack on this family was completely unjustified. Everyone is entitled to live in peace and anyone contemplating any sectarian attack should catch themselves on and desist immediately," he said.
Sectarian attacks in Antrim
The chairperson of Antrim Sinn Féin escaped serious injury when unionist paramilitaries attacked his Rathenraw home in the early hours of Thursday 9 October.
Paddy Murray was asleep when a large rock came crashing through his bedroom window landing on his bed at around 1.50am. He immediately jumped out of bed and ran towards the window. "I could see six masked men running towards the loyalist Stiles estate. I gave chase but they made off into the Parkhall area. We were extremely lucky. If the rock had of been a pipe our petrol bomb my wife and I would have been killed."