16 October 2003 Edition
Housing right should be constitutionally enshrined
BY ROISIN DE ROSA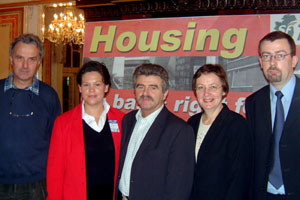 "The right to housing is central to Sinn Féin's commitment to building an Ireland of Equals. Social and economic rights are as important to the creation of an equal society as civil and political rights."
The seminar Housing is a right not a privilege, which Dublin Sinn Féin organised last Saturday in Wynn's Hotel, was something of a first. It brought together representatives from several different housing organisations and groups, along with a large number of Sinn Féin activists, to address the appalling housing crisis in the state and what should be done about it.
The message all speakers endorsed was the human rights based approach - that housing is a human right that governments are obligated to vindicate.
It is a position of immense significance that entirely conflicts with current government position enunciated by Michael McDowell.
Sinn Féin made crystal clear its position that an Ireland of equals cannot be realisable where social and economic human rights for all are not respected, or where the state and its government are not obliged to enforce them.
That is the question for the new Ireland - the Ireland of equals.
The facts
The facts of the housing crisis are truly appalling.
As winter draws in, there are over well over 5,000 people who are homeless and often sleep rough on the streets of Dublin. They have no accommodation. The number is rising. In 1989 there were 1,500 homeless. This morning there are some 6,000, Bob Jordan of the Simon Community pointed out.
He went on to point out that increasingly they are women and children. There are 1,400 dependent children in Dublin alone who are homeless. There are no affordable single units. Single people never get to the top of the list - mostly they don't even bother to register. They remain homeless, interminably.
There are over 48,000 households on the local authority housing lists in the 26 Counties, living in overcrowded, unsuitable, even condemned accommodation, waiting, waiting over years for accommodation, unable to afford the astronomic price of a private housing, which on average costs €300,000 apiece.
"Housing is a key to human rights," said Arthur Morgan. "It affects everything - homelessness leads to marginalisation, to disenfranchisement, to exclusion from community life, to destruction of the very quality of life, to health and mental problems, to despair. Homelessness can befall anyone, anyone squeezed between the speculators' greed and government inaction."
Cause of crisis
The root cause of this crisis is the uncontrolled vested interests of private developers who have hoarded building land, and the failure of governments to fund local authority housing, to control the increasing price of land, or to stop the exchange of brown envelopes which has allowed development land to be sold at prices now 6,000% higher than the price of land 30 years ago.
The scandal in the private rented sector is well known. Tenants have no rights and face exorbitant uncontrolled, arbitrary, rent increases. Landlords have been subsidised through tax allowances and exemptions, and have been allowed to evade health inspections and control of rents through the failure of local authorities to implement legislation, and the courts to enforce it.
The credit policies of financial institutions, including the banks, encouraging people to borrow and buy well beyond their means, breeds an impending crisis of negative equity, as happened in England a decade or so ago, which could see many thousands on the streets, unable to meet mortgage payments and unable to sell for a price that equals the original borrowed money.
It is a crisis just waiting to happen, as the threatened downturn in the economy, exacerbated by government cutbacks, takes hold, and jobs begin to vanish.
Rights based approach
In a powerful opening address Bairbre de Brún talked of the housing situation both North and South, of the need to involve homeless people in determining the provision of housing, of how the people of North Belfast had joined together, successfully, to demand at least a better quality of housing.
"How do you enshrine a right to proper housing?" she asked. "How do you make it an enforceable right? How are we going to use the mandate elections give us? Otherwise, what use are our councillors? What else did we elect them for?"
The 26-County Government, unlike most other European states, has failed to amend the Constitution to include the right to housing, and is in consequence failing to fulfil its commitments under international law.
It is one of a small number of states that have failed to accept the provision of Article 31 of the Revised European Social Charter, which came into effect in 1999. It explicitly states: "With a view to ensuring the effective exercise of the right to housing the parties undertake measures designed:
o To promote access to housing of an adequate standard;
o To prevent and reduce homelessness with a view to its gradual elimination; and
o To make the price of housing accessible to those without adequate resources."
Constitutional amendment
All endorsed the call for a constitutional amendment to enshrine the right to housing. As Arthur Morgan argued, it would enable the people to give guidance to government policy, an important principle: it would give a voice to the voiceless, the marginalised, who are currently penalised by their lack of political strength and representation." Or, as Bob Jordan put it, "a constitutional amendment would focus the minds of government to address this fundamental issue of rights, and deal a severe blow to the clientelist system of government, which fails to incorporate international human rights into national law".
No one, however, thought that enshrining the right to adequate housing in the constitution would in itself provide the necessary housing. The workshops proposed a wide range of immediate policies which need to be implemented, such as capping the price of development land to the equivalent of agricultural land prices, a wider use of compulsory purchase orders in acquiring land for housing, capping rent increases, and so on.
But in a speech of considerable depth and interest Jerome Connolly, author of the book Re-righting the Constitution, raised the key question of how, once the right to housing is enshrined in the constitution, do you make it enforceable.
Minister McDowell asserts that the inclusion of socio-economic rights would be undemocratic, because it would give the courts power to adjudicate on the allocation of resources, which is properly the function of the elected government and legislature. How convenient!
Without socio economic rights protected by law, the marginalised and disenfranchised can remain so.
The speculators, the developers and their Ministerial friends can go quietly to the bank.