16 October 2003 Edition
Mother and daughter jailed for protesting
BY ROISIN DE ROSA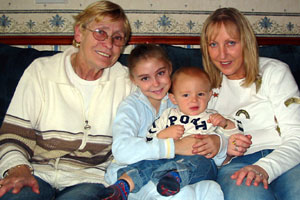 Sinn Féin activist Chris Heffernan, her daughter Karen and Brid Smith were sent to jail on Monday (13 October) - three determined people who are refusing to apologise to a judge for stopping selective bin collections.
"I wasn't too fussed about my own bin: I wasn't paying and that's it. It's just wrong in principle. We have to win because it'll be water next -where will they stop?"
"But in our road, they were leaving behind the old people's bins as well. There is an 84-year-old man, a neighbour of mine. They brought him to court and wanted to send him to jail too. He was entitled to a waiver, and he'd applied for it. The Corpo said they'd been a 'bit slow' in sending off the slips. He got his slip just before his court appearance. What were they going to do - send him to jail too? In the end, they still made him give an undertaking that he'd not protest again.
"I can't understand it. They say they have no money, but it is costing them at least €40,000 (at €1,000 a week) to be sending us all to jail. And they say they've no money to keep hospital wards open.
"The bin men were great. But the inspector was along and said they had to leave the bins. Well, we came out in the cul de sac and stood in front of the bin lorry until he took all the bins.
"The cops took our names. I think they were disgusted to do that. I mean I'm a grandmother. Then we sat down, until the bin lorry driver said he was going off and they wouldn't be back that evening to collect the few bins that had been paid.
"Anyway, we were summonsed to court and charged with obstruction. There was no obstruction, because it's a cul de sac and the neighbours' cars were allowed through. But in the court they didn't have all the right affidavits, or something, and so they told us to come back on Monday 13 October, when they would be able to jail us. I think they thought we would say sorry, but what's the point of that - of saying sorry and we'd not do it again?
"We've our bags packed. But imagine the kids have to be without their mother, and the father has to take off from work to mind them. That's not right. We have the right to protest. What do they want to do - imprison all of us? I'm not paying and that's it.
"They've started on the better-off areas, where some people have paid. Just wait until they get to the poorer areas - like Ballyfermot, Inchicore, Clondalkin. We're just not going to let them away with it."
Protestor nearly killed by Corpo driver
On Tuesday evening, viewers saw across their television screens an appalling incident in which an anti-bin tax protestor was nearly killed. That morning, some 25 to 30 bin tax protestors were blocking the exit of bin lorries at Collins Avenue, on Dublin's Northside. One of the protestors explained what happened.
"We were blocking the bin lorries, and we weren't stopping other traffic," said a protestor who witnesssed the madness. "A van, driven by a housing maintenance man from Ballymun, drove at speed, straight at our picket line, as we were pulling back to let him through. One man, Joe, was directly in front of the van, which drove directly at him. The van pushed on, and Joe's leg or foot was caught. He could not get off. The van drove off with Joe clinging to the front of the van.
The van drove off about 100 yards. I heard someone shout - 'look, he's fallen off'. It was a miracle Joe was not killed. We all ran over to him. The driver stopped his van, and came back in a crazy state, threatening us. He seemed enraged, shouting 'who's paying my bills?' and other inexplicable ramblings. Joe was taken to hospital, and miracle of miracles, he was released from hospital later with only scratches and severe bruising."
John Finnegan, Manager of Dublin City Council, on radio news on Wednesday morning (Wednesday) said: "Yes, I regret the incident, and we are investigating it. But these people are grown ups and make their own choices. We don't make choices for them, we are not responsible."
"And what about the binmen who are refusing to leave the depots with the bin lorries. Are you bringing disciplinary actions against them", Finnegan was asked. "No. That's not happening," Finnegan claimed. He even went so far as to claim that council bin collectors had managed to collect all bins yesterday. People know that is not the case. Uncollected bins and piles of rubbish bags were already lining the city's streets by Tuesday evening.
Thousands support jailed bin protestors
Up to 4,000 people marched to Mountjoy Jail on Saturday at the behest of the Dublin Council of Trade Unions to support the jailed anti-bin protestors.
The atmosphere was good tempered, but it was resolute: "We're not paying these taxes. And that's it."