16 October 2003 Edition
Comic Relief witch-hunt no laughing matter
BY ÁINE Ní BHRIAIN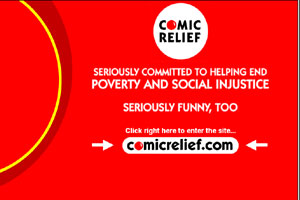 Unionist politicians and the British press are raging about Comic Relief's recent £80,000 donation to republican ex-prisoner group Tar Isteach for youth development work in North Belfast, and are doing their utmost to pressure the charity to pull the promised funding.
The criticism could not only damage the reputation of the well-respected charity, it may also deter Comic Relief from considering future funding for Tar Isteach and other groups alleged to be controversial by right-wing fundamentalists.
British tabloids - never at a loss for new ways to express their utter contempt for all things Irish and certainly all things republican - have been happy to join the chorus of "righteous" indignation, calling the donation "funds for freed IRA terrorists". The fact is that the cash is earmarked for several much needed projects benefiting young people in one of the most consistently deprived area of Europe.
Some publications are even describing the intended schemes in quotation marks as "youth work", implying - through their use of not-so-subtle punctuation - that the projects might be suspect or untoward in nature, yet not one of these vocal critics has managed to detail exactly what projects the money will be used for or examine the reasons why it is so desperately needed.
Former Si-County Shadow Secretary, Tory politician Andrew Mackay, is quoted in several pieces saying: "Donors will be shocked to find that some of their money is going to what at best would be called a very dubious cause and could be called a very dodgy republican ex-terrorist group."
Insults, political bias and misinformation aside, the £80,000 awarded for the proposed work is only a drop in the bucket for an area that has suffered constant neglect and decades of political strife and social and economic exclusion.
The Comic Relief grant is actually for a three-year period and will be used to cover some of the programme and running costs of several projects and fund the wages and salary of one youth worker. Most of the initiatives will still require further funding from other sources, an illustration of how great the need really is.
Tar Isteach Chairperson Paul O'Neill says the reactionary criticism is nothing new to republican ex-prisoner groups, but he is worried about the damage such misinformation and politically motivated spin might do to the future work of all sorts of organisations, including his own.
"It's something, I suppose, that we're used to," says O'Neill wearily. "We're an easy target. Ex-prisoners are constantly under pressure. Any time there's any funding given at all, you're going to get criticism from the usual suspects. The fact that this concerns Comic Relief and it's a London-based organisation... certainly a republican ex-prisoner group would not be flavour of the month in England. It's an unusual source of funding and you can understand the sort of pressure that they're being put under. Having said all that, when Comic Relief initially came out to meet with us, they knew exactly who we were. But the point is, they were looking at the actual work we are doing.
"They were very taken aback by the conditions in the New Lodge area, the physical dereliction and so forth. They knew the statistics. They knew of the whole range of social and economic issues that are blatantly present in the New Lodge. We had to meet the criteria that they set to fund us. I think they were very impressed by our track record, our record of good practice, the type of projects we were involved in, the type of services we have provided.
"They saw firsthand that we were working in an area of dire social and economic need, and that we were not only trying to address that need and other injustices, but at the same time trying to positively contribute to the whole process of peace-building."
If Comic Relief is really "in league with terrorists", as they're being accused, then they're in good company. Tar Isteach also receives additional funding from the British Government through the Department of Social Development, and from the European Commission under the Peace One and Peace Two programmes.
"The British and Irish Governments have recognised in the Good Friday Agreement that political ex-prisoners should be facilitated and, using their terminology, 'reintegrated into society'," says O'Neill. "Obviously, we don't need to be reintegrated into our own communities, but the idea is to facilitate a process where we can participate as equal citizens. We meet all the criteria. We are rigorously scrutinised. We are monitored and evaluated and audited up to the eyeballs. Every single penny that's given to our organisation has to be accounted for and can be accounted for. All of our activities are verifiable and are open to scrutiny. We're out there in the open. Our office is open to the public every day of the week.
"Comic Relief looked at our contacts from a cross-community basis and I think they were impressed by that and by the different conflict resolution seminars, conferences, and contacts that we had been involved in. After looking at all of that, they decided to fund us. We thought it was very brave of them and the work that money has allowed us to do has been phenomenal."
Sadly, the elation that followed the grant was short-lived. The current stinging criticism and the dangerous precedent that could be set as a result has left O'Neill and his colleagues frustrated and justifiably angry, and they question the motives of those making such remarks.
"It's a right-wing agenda," says O'Neill. "These people are not only attacking us. They've also singled out the fact that Comic Relief funds gay and lesbian groups, and are questioning that too. So where do people draw the line?
"It is witch-hunting, and it is political vetting in its worst form. And they are attacking Comic Relief as an organisation - which does very, very good, meaningful work - and the dangerous thing is that if Comic Relief is forced to stop funding these type of projects, where does that process stop?
"Meanwhile, there has not been one mention of the work that we're actually doing, the achievements of our organisation. That's what should be coming out. The whole focus on who we employ is a contradiction in terms. After all, we were set up to employ ex-prisoners and since our inception we have also become a resource for the wider community.
"For example, we provide information and assistance regarding welfare rights, and in fact have helped to bring close to £2 million in entitlements and benefits to people in North Belfast. Without our project, that wouldn't be happening.
"We provide emotional support and counselling services, as there are a lot of mental health issues in this area. We are involved in providing training and education programs for long term unemployed and for people who are part of our counselling processes. We are expanding our youth development initiative, which is where this money is going. We're even involved in a social economy project and are trying to set up a small company that will provide employment and services for the people in these areas. It is part of our way of contributing positively to the economic regeneration of our community."
The Youth Development work in question is an area that Tar Isteach felt required specific focus, and for good reason.
More than half the population of the New Lodge area is under 25 years of age. There are no local sports facilities. The community suffers an increasing suicide rate among young people. Alcohol and substance abuse is also on the rise, with younger and younger children falling victim to addiction. 80% of young people in the New Lodge leave school without any qualifications. There is long term-unemployment, serious problems on the interfaces, and over the years hundreds of people from the area have been imprisoned as a result of the conflict.
"Youth development is one of the gaps we saw in our work," says O'Neill, "and we hadn't been able to get funding - there was nowhere we could get funding. But it was something we were interested in because, obviously, ex-prisoners, like everybody else, have children of their own. Not only that, in a wider context we were concerned by what was happening to our young people as a whole. We had already been working with them through our youth worker Joe Doherty, who has a social science degree and had been trained to do that work. He had already been working in an informal way, but we wanted to develop that into a more structured programme. That's where organisations like Comic Relief came in."
Tar Isteach's youth initiatives provide training for young people in all sorts of areas, including IT, media, and radio training. Programmes like "Reach For the Sky" for example, combine media studies with dance, journalism and music, and have helped to build young people's self esteem, give them practical experience, and provide a positive and supportive environment in which youth can express themselves creatively and reach their full potential as human beings.
And there is more.
Other projects inspire young people to question the legacy of four decades of political violence and sectarianism, and are operated on a cross-community basis. It goes without saying that the value of this type of work is priceless and will ultimately give young people from across the divide the tools to forge a genuine positive future for themselves and their children.
One recent success story involved young people from both the nationalist New Lodge and the unionist Tiger's Bay area. The entire group went to Kosovo to witness firsthand the terrible legacy of a society torn apart by segregation, intolerance and hate.
The trip made a lasting impression on the young people who participated and it is hoped that the personal relationships that were forged will make a real difference in building future community relations. The visit has already inspired a better understanding of societal diversity and conflict and has encouraged young people from both communities to engage in dialogue, fostering mutual respect and understanding.
"Kosovo..." O'Neill says proudly. "That to me was the type of project that only the likes of us could carry out - bringing young people from a conflict zone, people who have themselves experienced conflict, and get them to start questioning things. They can see the outcome of such action with their own eyes. They can say to themselves, 'Ok, if we really want to pursue a hardline agenda, here can be the result of it.' It's very important that we look for peaceful ways of resolving problems and that was the whole thinking behind that project. It wasn't just taking young people away to Kosovo. We wanted them to be able to learn from it, bring that experience back and try to share it with their peers within the communities in which they live."
Closer to home, another of the projects in the works is called "Understanding sectarianism".
This initiative will entail young people from the New Lodge and unionist areas going to Derry to speak to the Apprentice Boys in an effort to understand Orangeism and why is it so important to the unionist identity. The group will then go to the likes of Kilmainham jail to examine the history of republicanism and imprisonment.
Other projects Tar Isteach is working on include RADICAL - a response to Alcohol and Drug abuse. The there is PIPS - a suicide prevention programme created with the North Belfast Mental Health and Well Being Forum and the Victims project at the Ashton Centre, aimed at educating young people at risk, supporting those in crisis and assisting those bereaved by suicide. Cancer Lifeline is an education programme about cancer and its related symptoms. Then there is a cross-community cheerleading competition, international peace building awareness conferences, and conflict research projects.
And through its youth development program, Tar Isteach is even in the process of trying to get that elusive sports complex for the area built.
"Again," says O'Neill, "that's work that wouldn't have gotten done had Comic Relief not funded us."
To criticise and imply that such "youth work" is not legitimate simply because its being undertaken by ex-prisoners is not only offensive and potentially damaging, it ignores a basic reality of life in the Six Counties.
"The reality on the ground is that ex-prisoners are people who come from this community - they're not separate," says O'Neill. "They're people who are respected, who have always been leaders within their community. They're the people who can get in where others can't. I mean if you bring people down from say, middle-class areas, with qualifications and all the rest of it, it just won't work. It's an organic thing. People know us and respect us. They will listen to us.
"We have very positive contributions to make and the work we do is about building real bridges, not these wishy-washy things - let's go on a camping holiday together and sing a few songs. It's important. It's about going into hard issues, and regardless of all the propaganda, we are under-resourced. Things like this are only making it more difficult, particularly for independent funders like Comic Relief. After all, who wants this type of publicity?"
As far as the very vocal opponents of the Comic Relief grant go, O'Neill and his organisation have been left wondering just what those people are trying to achieve.
"They just don't want these communities to have anything, period. And I would ask the people who are criticising us and the work we do, if they really think this is work that shouldn't be done.
"Is there something wrong with trying to ensure that young people have some sort of personal development that would build their self-esteem? Something that would give them opportunities to meet people from the other side of the fence, provide them with training opportunities, some sort of hope, some sort of future? Is that what these people are actually criticising?
"And I also question the agenda behind the people who would write such articles. Do they really care about these areas? Do they know anything about them? Are they really interested in the work we do? Do they really give a damn about what we are trying to achieve?"
Murder Mile: The lay of the land
Within one square mile of the New Lodge Road, over 635 civilians have been killed and over 2,500 injured during the past four decades of political violence.
The area suffers chronic long-term unemployment, low inward investment, high poverty levels, poor education attainment, physical dereliction, and serious levels of physical and mental ill health.
Out of 560 wards in the Six Counties, the New Lodge ranked second by degree of deprivation.
The area is surrounded by nine interface areas and residents experience serious street disturbances and regular sectarian attacks.
Almost 600 people from the area were imprisoned as a result of British "emergency" legislation, including those held by internment without trial.
1,300 children were affected by their parents' imprisonment.
The New Lodge has a death rate of more than seven per 1,000 of population and continues to be affected by a lack of available quality housing, high unemployment and high benefit dependency.
Over a quarter of all shooting incidents in the North in 2000/01 occurred in the New Lodge area.
While the New Lodge has endured continuous social and economic deprivation, its residents have also been the victims of gross injustice and violence at the hand of the British state and its collaborators, and have experienced collusion, torture, espionage, intimidation and harassment right up to the present day.
An Phoblacht Magazine
AN PHOBLACHT MAGAZINE:
Don't miss your chance to get the second edition of the 2019 magazine, published to coincide with Easter Week
This special edition which focuses on Irish Unity, features articles by Pearse Doherty, Dr Thomas Paul and Martina Anderson.
Pearse sets out the argument for an United Ireland Economy whilst Pat Sheehan makes the case for a universally free all-island health service.
Other articles include, 'Ceist teanga in Éirinn Aontaithe', 'Getting to a new Ireland' and 'Ireland 1918-22: The people's revolution'.