11 July 2002 Edition
Unionists must lead from the front
The "Spirit of Drumcree" was haunting the hills of Portadown again this week, as members of the Orange Order, avec bowler hat and sash, orchestrated and executed an attack on the Crown forces.

Rev Brian Kennaway, a Presbyterian clergyman and member of the Order, wrote this week, in The Irish Times, that despite assurances to the contrary from the Orange Grand Master, "to expect discipline this time is 'hope triumphing over experience'. I for one will not be holding my breath".

Itemising the various incidents, from the loyalist pickets of Harryville Catholic Church in 1997 onwards, in which the upper echelons of Orangeism promised discipline but did not deliver, Kennaway's critique made grim reading. Depicting an organisation that has neither the courage nor the leadership necessary to face down its most bilious and destructive rump, he might as easily have been speaking of the dilemma facing unionism in general and the British government.

No wonder, then, recent reports claiming that UDA/UFF membership is now at its greatest ever and that the organisation has temporarily closed itself to recruitment.

While loyalist violence persists, fostering and manipulating sectarian tensions, mainstream unionism deflects the blame by insisting the only issues of contention are the Colombia Three and the Castlereagh 'break in'.

While the lid continues to lift on British and RUC collusion with loyalist death squads, Tony Blair's government deflects the blame by insisting that Sinn Féin's refusal to sign up to the Policing Board is the primary obstacle to accountable policing.

Thus we are trapped in a perpetual 'Groundhog Day' scenario, where unionists cyclically return to the same tack every time an election looms large on the horizon and the British government abdicates all responsibility for the monster it has created.

If our hopes are to triumph over the lessons of bitter experience, then positive forces within unionism must come to the fore, and stop the tail from wagging the dog.


An Phoblacht Magazine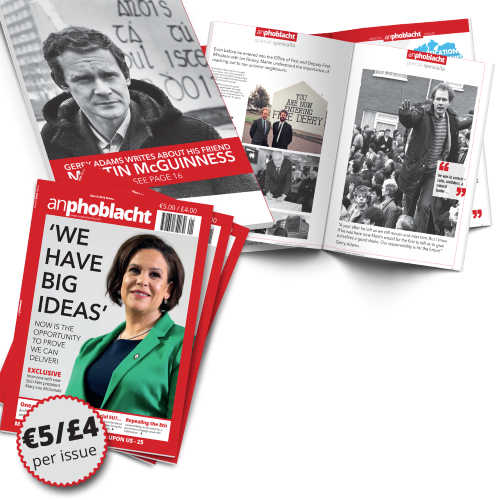 AN PHOBLACHT MAGAZINE:
The first edition of this new magazine will feature a 10 page special on the life and legacy of our leader Martin McGuinness to mark the first anniversary of his untimely passing.
It will include a personal reminiscence by Gerry Adams and contributions from the McGuinness family.
There will also be an exclusive interview with our new Uachtarán Mary Lou McDonald.
test