18 October 2001 Edition
Ten Freemen laid to rest
BY JIM GIBNEY




When I was kid growing up in Belfast's Short Strand in the '60s, there were two rebel songs that stirred my heart and that of many another teenager. They were the ballads of Tom Williams and Kevin Barry. Youthful minds created powerful images of Tom facing the hangman:

'Now he's marching to the scaffold,
'Head erect he shows no fear'
and of Kevin,

'But a lad of eighteen summers', being tortured by British soldiers,

'Just because he would not tell,
The names of his companions,
And other things they wished to know....'


In a tight spot under interrogation by the RUC, it proved useful to think about Kevin Barry. I know I did and other republicans told me they did as well.

Standing on the upper ledge of Daniel O'Connell's monument in Dublin's O'Connell Street straining my neck to see the approach of the ten Volunteers' coffins last Sunday, I thought of the rebel songs and the part these two martyrs played in shaping my early outlook.

I also remembered hearing Kevin Barry's name for the first time. It was the very early '60s. We lived in Rathcoole, now a UDA stronghold, on the outskirts of Belfast. A woman across the street from us had seven daughters. She longed for a son - in fact that's why she had such a big family, trying to have one - and eventually a boy arrived.

I remember my father asking my mother what name the boy was given. It was Kevin she said and my father replied, 'Well he'll never get a job in the shipyard'. The family's surname was Barry. It was years later I learned the significance of that remark.

As I stood on the monument and scanned O'Connell Street, my mind drifted back to Belfast's Falls Road a few years ago. Tens of thousands of people paid homage at the re-interment of Tom Williams and here again the plain people of Ireland, on whose behalf Kevin Barry and his comrades fought and died, turned out in their thousands.

The bleak weather, live coverage by RTÉ of the funerals and the petty attacks by anti-republican politicians and journalists for weeks before the State funerals didn't dissuade people from all walks of life from attending the funerals.

I watched as the advance party of soldiers and sailors crossed over the bridge into O'Connell Street. The crowds greeted them with silent respect. But the first glimpse of a hearse with a Tricoloured coffin inside and the crowd burst into spontaneous and prolonged applause. That was the pattern for the next five hours. Every time the crowd saw the coffins they burst into applause. And every time it happened a lump came into my throat.

This applause was the only way the crowd had of demonstrating their emotions. It was their way of individually saying 'Thank you', of making a one-to-one personal gesture to the men. It was their way of showing their appreciation for the freedom that Kevin Barry and his comrades had achieved for them in most of the country.

It is the exact same freedom that permits people like Kevin Myers, Fintan O'Toole and others, who enjoy the benefit and comforts these martyrs brought them, to spit in their faces; to denigrate their memory and sacrifice while fawning over our neighbouring island, whose imperialist history is responsible for the deaths of millions of people.

They didn't face the difficult choice that young Kevin Barry and his comrades faced. They didn't experience life under British military occupation. And aren't they lucky that someone else fought and died for them. Because if they hadn't fought the British in that period, then Kevin and Fintan as teenagers might have had more to concern themselves with than acne.

These self-appointed and self-inflated custodians of all that is 'good' in Irish society would have us genuflect to a society of forelock-tipping monarchists riddled with class prejudice, racism and jingoism.

A society which likes to crow about being the 'mother of parliamentary democracy' while in its most recent 'democratic adventure' it drops tons of bombs on defenceless and poverty stricken people in Afghanistan. This is of course, done in the name of democracy.

Kevin Barry was 18 years old. He had more democratic instincts in his wee finger than those who have inhabited Downing Street since they employed their hangman to end his short life in Mountjoy prison.

I managed to slip into the cortege and walked slowly behind the hearses up towards the GPO. Cries went up from the crowd at different intervals: 'Up the IRA!' 'Up the Republic!' 'Tiochadh ár lá!'

I noticed middle-aged men and women wearing on their lapels copper coloured medals hanging from a small cloth Tricolour strap. Some smiled and showed them off proudly to the crowd as they passed by. They were too young to be out in 1916 or in the War of Independence. So they were there representing those of their relatives who were out and who had been decorated.

I debated with my brother and friend whether to try to get into the pro-Cathedral for the service or stay outside. My mind was made up for me when I realised that we could get within touching distance of Kevin Barry's coffin in Marlborough Street. To see his nameplate on the hearse carrying his coffin was strange. It made him a real person, not just a photograph in a history book.

In what was for me the most moving part of the entire day, Irish soldiers carried on their shoulders from the car park of the Department of Education, one by one ,the coffins of the ten Volunteers.

My blood ran cold at the thought that the British executed six of these men on the same day, 14 March 1921, between 6am and 8am. Their average age was 24. The soldiers carrying the coffins stood for a minute in front of the pro-Cathedral.

As I watched I was reminded of what British State terror meant to the people of Dublin to the people of Ireland in 1921. Here it was - ten Tricolour draped coffins on display for the entire world to see. I thought of Derry's Bloody Sunday in 1972, of the ten hunger strikers who died in the H Blocks of Long Kesh in 1981.

I mused about the merciful quality of British democracy and those in Ireland who thought it a wonderful thing.

Later that night, when I listened to the speeches made by Cardinal Daly and Bertie Ahern I was angry. They marred a perfect day. A day that wasn't easy for republicans to attend because it was a State funeral but we were there because we wanted to pay our respects to the ten Volunteers.

While there we kept at bay in our minds what successive Free State governments from 1922 did on republicans and it is not an honourable history, Mr. Ahern.

Listening to both speeches, it struck me, now here's a subtle form of revisionism to complement the more brutal form from Myers, O'Toole and John A Murphy.

So we are now being asked to believe that the men and women who fought and died for independence between 1916 and 1921 were legitimate because they had a mandate from the general election of 1918.

There's mental gymnastics for you. The 1916 Rising is retrospectively legitimised. They didn't have a mandate to fight for their freedom any more than those who fought for the same freedom after 1921, yet these republicans are denigrated.

The reality, of course, is that while electoral mandates are important when it comes to facing tyranny, there are other equally compelling factors. It is injustice that breeds resistance. World history teaches us that much. You either live a free man or a slave.

Those we buried last Sunday and those republicans men and women who have fought and died in the long struggle for Irish freedom were not slaves.

As someone who has been a long time critic of RTÉ, it would be churlish of me not to recognise that they excelled themselves with the live coverage of the funerals.
Republicans pay tribute



Sinn Féin President Gerry Adams said on Sunday that the holding of state funerals for those IRA Volunteers, now known as the Forgotten Ten is a fitting tribute to the men and their families. Adams said the best way that we can honour these men and all those who fought for Irish freedom is to ensure that we continue to work for a lasting peace based on justice and equality.

Adams attended the service in the Pro-Cathedral and the re-interment ceremonies at Glasnevin along with Ministers Bairbre de Brún and Martin McGuinness and Pat Doherty MP, Michelle Gildernew MP, Caoimhghín Ó Caoláin TD, and Councillors Seán Crowe and Martin Ferris.

"Kevin Barry, Thomas Whelan, Patrick Moran, Frank Flood, Patrick Doyle, Bernard Ryan, Thomas Bryan, Thomas Traynor, Edmond Foley and Patrick Maher played their part in the struggle for Irish freedom and fully deserve the honours which they are receiving today," said Adams.

"Republicans have always remembered and commemorated those who gave their lives so that future generations may live in better times. For those of us who are still pursuing the objectives of freedom, justice and peace in a united Ireland, today is an appropriate time to rededicate ourselves to this task".

An Phoblacht Magazine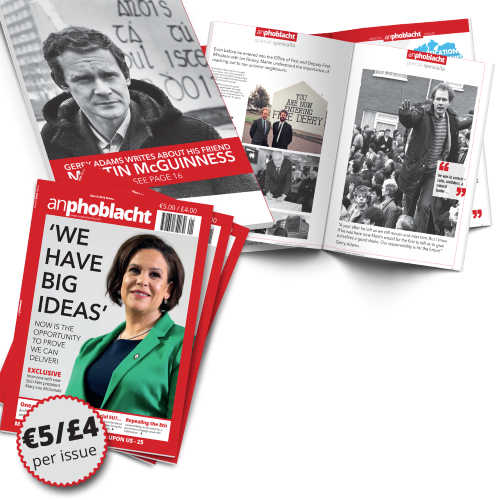 AN PHOBLACHT MAGAZINE:
The first edition of this new magazine will feature a 10 page special on the life and legacy of our leader Martin McGuinness to mark the first anniversary of his untimely passing.
It will include a personal reminiscence by Gerry Adams and contributions from the McGuinness family.
There will also be an exclusive interview with our new Uachtarán Mary Lou McDonald.
test