3 December 1998 Edition
Editor's desk
Patton scores against RUC


That could have been the headline in Wednesday morning's papers. It has nothing to do with Chris Patten and his Policing Commission or Joel Patton and his Spirit of Drumcree. Instead, it's another political football altogether - the RUC soccer team. They played Larne in the County Antrim Shield on Tuesday night and lost two-nil. The first goal was scored by that famous striker, Davy Patton.

 


Still on Pattens, a little row erupted this week when accusations were made that republicans were ``packing'' meetings of the Patten Commission in order to give a ``false'' picture of nationalist opinion of the RUC. It was immediately dismissed as ``rubbish'' by Sinn Féin and was seen as a typical Unionist smear. But our old friend Toby Harnden of the Daily Telegraph was able to tell us that the sources for the story were in the Commission itself and in the RUC. That is a cosy enough arrangement to be decidedly sinister.

Toby tells us there is ``growing concern among Commission members about the involvement of senior republicans... in `helping' people to write submissions... and marshalling those attending meetings in nationalist areas''.

This is backed up by ``security sources'' who told Toby that it is ``part of a twin strategy to discredit the RUC by denouncing the force at the meetings while deliberately drawing the police into confrontation with nationalists.''

They cite the firing of two shots by an RUC man in Silverbridge last week as ``a deliberate attempt to provoke us and to fuel their propaganda''.

An Phoblacht even gets drawn into this grand conspiracy with its front page headline last week, ``RUC - Time to Go''.

I hate to accuse the Daily Telegraph of negligence but they have only told half the story. The United Nations Committee Against Torture is also involved in discrediting the RUC, as is Amnesty International and the Committee for the Administration of Justice, Human Rights Watch, the European Court of Human Rights, the SDLP and lots of other republican front organisations. They've all been whispering in the Commission's ear, giving them a distorted view of this fine force. The dirty Sinn Féin/IRA scoundrels.

 


The British forces have a morality all of their own. RAF photographer Lee Carter was recently dismissed from the service for secretly taking pictures of women in their underwear. Quite rightly, he was dismissed after he was discovered and the women complained. They were reported to be ``very angry and bitter''.

Now set that beside British soldiers who have been convicted of murder. All those who have been convicted in courts in the Six Counties have been released early, reinstated in the British Army and, in some cases, promoted.

 


The Guardian has tracked down the inventor of Semtex, Stanislav Brebera. Aged 73, the little Czech is in good health and is now Professor of Explosives at Pardubice University.

The inventor of the world's greatest explosive revealed that the secret is in the binder. It is made from synthetic styrene-butadiene rubber mixed with mineral oils which stays flexible from 70 degrees down to minus 40 and produces a uniform shock wave that even the latest American plastic explosive cannot emulate. That is information for any professors of explosives closer to home.

Although he invented this top-notch product Stanislav is not a rich man. ``He does not even have a car to put a car-bomb in,'' the Guardian reports wryly.
An Phoblacht Magazine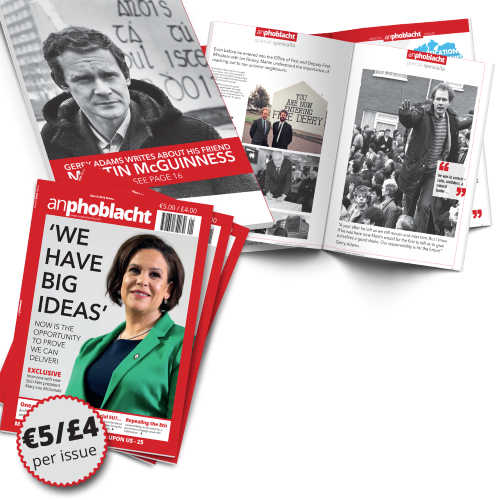 AN PHOBLACHT MAGAZINE:
The first edition of this new magazine will feature a 10 page special on the life and legacy of our leader Martin McGuinness to mark the first anniversary of his untimely passing.
It will include a personal reminiscence by Gerry Adams and contributions from the McGuinness family.
There will also be an exclusive interview with our new Uachtarán Mary Lou McDonald.
test