2 October 2017 Edition
Gerry Adams on a roll at NY Labor Day Parade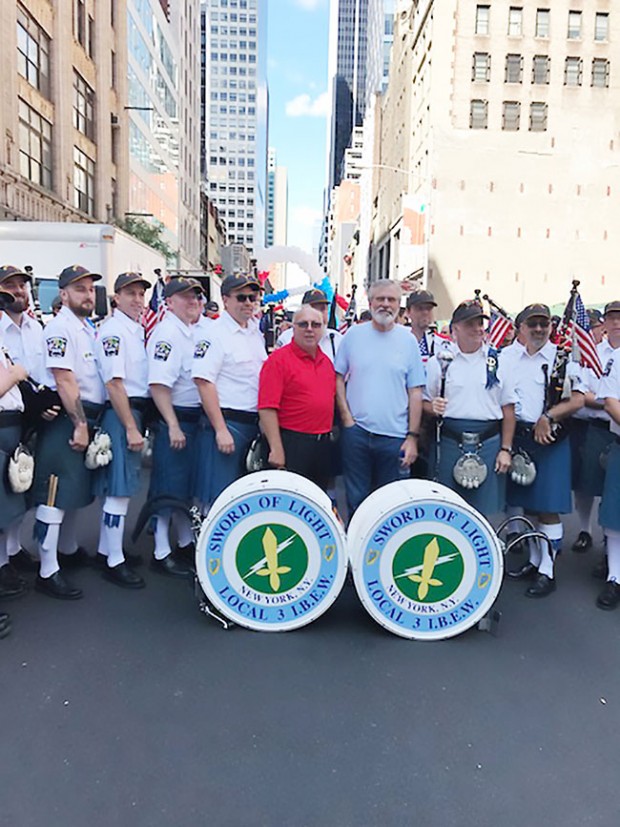 NEW YORK'S Labor Day Parade took place in Manhattan on 9 September, a beautiful end-of-summer day, with thousands representing the 1.5million unionised workers across New York, writes Rita O'Hare.
This is a big, loud, proud and uplifting show of solidarity and union strength with people's chants and music by bands and musicians echoing along Fifth Avenue.
It's also very much a day for union members and their families to celebrate their achievements and their commitment to the trade union movement.
Gerry Adams , Richard McAuley and I were there among the banners, floats and bands, meeting up again with some of the trade union delegations that came to Dublin at Easter 2016  to celebrate the 1916 Rising centenary and the American connection with Ireland down the centuries.
Our guide was Martin Glennon of the James Connolly Irish American Labor Coalition .
Gerry was warmly welcomed by laborers, operating engineers, electricians and teamsters among many others
The IBEW (International Brotherhood of Electrical Workers) Band, the Sword of Light, who travelled to Dublin and Belfast last Easter to march with us in the 1916 commemorations, welcomed Gerry with a special tune and drum roll salute that brought smiles to our faces.
• Rita O'Hare and Teamsters' Union international rep Bernadette Kelly with Gerry Adams