1 June 2017 Edition
Joe McElhaw, Camlough, South Armagh
Fógraí Bháis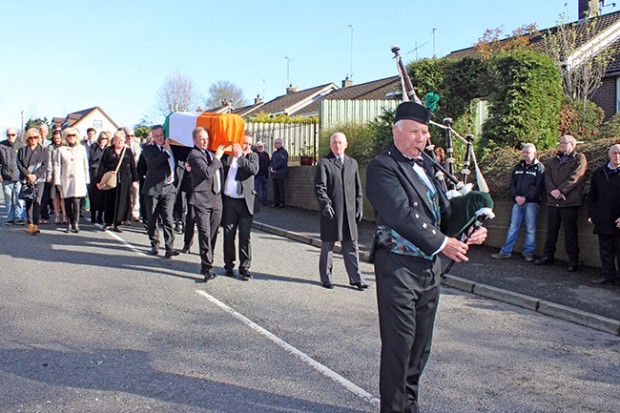 He put to good use the skills that he acquired with the US Marines and in the early 1970s he trained many IRA Volunteers.
JOE McELHAW passed away peacefully on 31 March, surrounded by his family, including his wife Judy.
Seán Hughes gave the oration at Joe's funeral on Sunday 2 April.
Seán Hughes said:
"It is a great honour for me to have been asked to give the oration at the graveside of my good friend and comrade, Joe McElhaw.  
"South Armagh has lost a true republican stalwart and Camlough has lost one of its best-known and finest sons."  
Joe lived a long, exciting and eventful life.  
Born in Camlough in 1930, along with his only sister, Maeve, Joe was raised by his parents Jack and Maggie, who had both been active in the Tan War. Their family home was burned down by the Black & Tans in 1920 so republicanism was engrained in every fabric of his family's make-up. 
Joe was an athletic young man with a huge zest for life and his sense of adventure took him to England and then on to America, where he joined the US Marines in the early 1950s.
In 1962, Joe returned to Camlough to run the family business, known as McElhaw's pub. It became a hub of community and republican activity for decades to come. 
"Some say it was the first advice centre in South Armagh," Seán Hughes quipped.
On two occasions when republican prisoners escaped (from Newry courthouse in 1975 and Long Kesh in 1983), Joe McElhaw was the first person the prisoners made contact with when they made they made their way to South Armagh.
"And it is good to see Bik McFarlane here today," Seán Hughes said.
In 1969 he met and married Judy and it was around that time that Joe joined with the nationalist people of the Six Counties when they took to the streets to demand equality and civil rights. 
"That demand was faced down by RUC batons and British guns right across the Six Counties, the IRA was reborn and the defence of nationalist and republican areas began," Seán Hughes said.
Joe McElhaw immediately stepped forward and played a key role alongside a small cadre of comrades who oversaw the regeneration of the IRA in South Armagh.
He put to good use the skills that he acquired with the US Marines and in the early 1970s he trained many IRA Volunteers.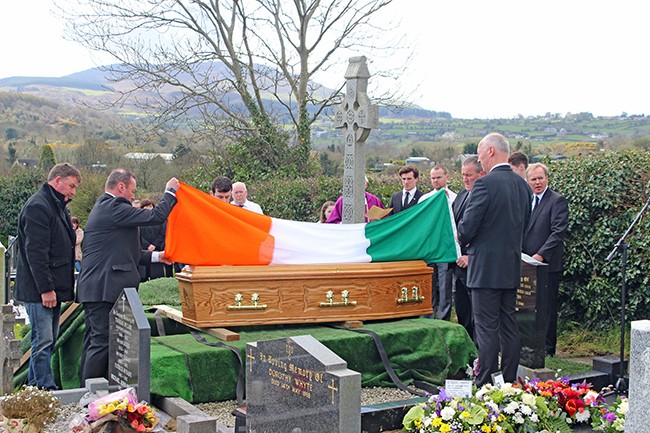 In the years since then, Joe remained a steadfast and loyal activist, participating in every single aspect of republican activity. 
In 1973, he was interned alongside his old friend and comrade, Art McAlinden. On his release he set up the Seamus Steele Sinn Féin Cumann in Camlough, one of the first cumainn established in South Armagh.  
He worked tirelessly within the Green Cross for the welfare of republican prisoners and their families and he was a regular visitor to the jails. 
A decent and generous man, he constantly helped and gave any assistance he could to comrades on the run south of the Border. 
Throughout Joe's life he met many people and had many great friends and comrades but none more so than Raymond McCreesh who he was extremely proud of. He had a never-ending loyalty to Raymond and the McCreesh family.
Joe defended the legitimacy and integrity of the republican struggle and the armed campaign with vigour, no matter where he was and no matter what the circumstances. 
Joe was one the corner stones on which the Republican Movement in South Armagh was built. He will be sadly missed by his friends and comrades, particularly in South Armagh but all across Ireland and beyond.