16 January 2017 Edition
Phonsie Mac Fhirleigheann, County Derry & County Meath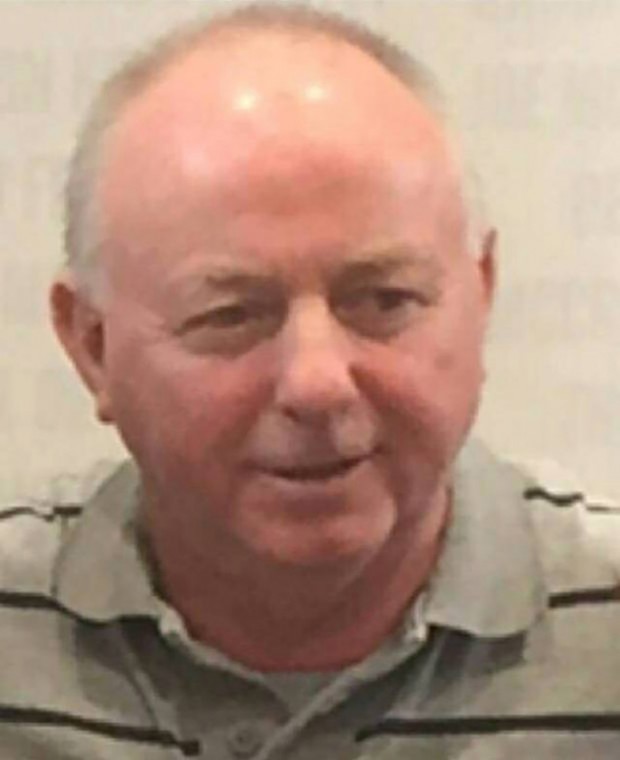 PHONSIE Mac FHIRLEIGHEANN, IRA Volunteer and H-Blocks Blanketman – originally from Bellaghy, south Derry but in later years who had settled in Navan, County Meath – died suddenly on 23 December.
"No words could ever do justice to the energy and efforts that were invested by Phonsie into the republican project right up until yesterday," Meath West Sinn Féin TD Peadar Tóibín said on hearing the news of Phonsie's passing. "He did it all with a smile and tremendous humour."
His funeral in County Meath was attended by many prominent republicans, including South Derry MLA Ian Milne, a comrade of Phonsie's and the legendary Francis Hughes.
Jim Gibney recalled in his Irish News column of 4 January, which he dedicated to Phonsie:
"As a teenager, Phonsie spent 13 years in jail. He spent five years on the Blanket Protest for political status. During that time, he was in the company of the ten men who died on hunger strike and was a friend of first cousins Francis Hughes and Tom McElwee, who were from his area and who died on the Hunger Strike in May and August 1981 respectively.
"These were gruelling times. He joined the IRA as a teenager and when released from prison he joined Sinn Féin.
"I met Phonsie in prison. He had a rare quality. Whatever was irking you, he calmed you down with his smile and gentle manner. With his witty sense of humour, he made life in jail that much easier to manage.
"Phonsie had personal integrity. You knew where you stood with him. He could be and was trusted and tried many times over, and in his unassuming way he made family life better and he did the same with community life."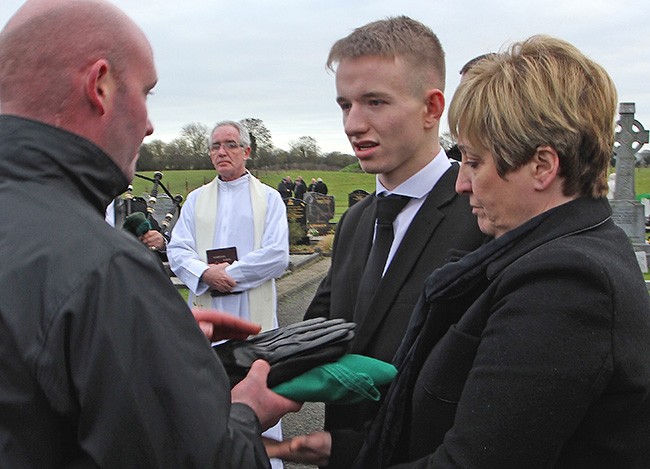 •  Mattie Casey of Comhairle Cuimhneacháin an Mhí removing the national flag from Phonsie's coffin before presenting it with the IRA Volunteer's beret and gloves to Phonsie's son Kieran and wife Marie
Peadar Tóibín TD, speaking at Phonsie's funeral in Navan and Castletown, offered the heartfelt sympathies of the republican family to Máire, Ciarán, and the extended McErlean family.
"He was a warm, decent and enormously friendly man who, more than most, loved the craic. He had a cheeky smile and a quick joke for everyone and he would lighten the mood wherever he went.
"No matter what the stresses and strains in the party were over the years, Phonsie saw the big picture and his positive energy and humour would completely ease the atmosphere.
"It was not in Phonsie's nature to complain, draw attention to himself or seek the tiniest level of recognition for his heroic efforts. When Phonsie joined us here in Meath Sinn Féin he very quickly became one of the most active members.
"He took on roles with energy and vigour. Phonsie would never let you down. Whether it was postering in the wind and the rain at 3am in the morning or leading his cumann as Cathaoirleach.
"Phonsie was a rock. He will never be replaced and he will never be forgotten."