5 September 2016 Edition
Unionist political 'leadership' missing in the presence of UDA and UVF

The DUP and UUP have never seriously worked to get unionist paramilitaries to leave the stage
PEADAR WHELAN asks if political unionism – largely the Democratic Unionist Party, the Ulster Unionist Party and the Orange Order – is fit for the challenges of the present day, especially given a unionist mindset which sees the world through 'Union Jack'-tinted glasses where anyone objecting to aggressive displays of unionist, loyalist or Orange 'culture' is regarded as a heretic who should just suck it up.
• Communities Minister Paul Givan lighs an Eleventh bonfire
AS THE SUMMER of 2016 draws to a close, with the North on the downward slope of the loyalist marching season, people are breathing a sigh of relief that we enjoyed one of the quietest summers in recent years.
Contentious parades (such as those in Ardoyne, Springfield Road, Rasharkin in County Antrim, and at St Patrick's Church in north Belfast) passed off peacefully although the heavy security operations put in place to police these parades are a reminder of the controversy that surrounds some Orange parades.
The other overt reminder of the inherent sectarianism of the Northern state is the annual 'Eleventh Night' bonfires.
These are 'traditionally' bedecked with the Irish national flag, effigies of Sinn Féin leaders, and election posters, not just of Sinn Féin candidates but also from the SDLP and the Alliance, as well as images of Hunger Strikers and Catholic religious symbols.
In recent years, racist slogans such as "We're not racist . . . we just don't like niggers" have adorned the bonfires.
That political unionism takes a benign view of the overtly sectarian and racist bigotry that is 'celebrated' with the Eleventh Night bonfires confirms for nationalists, republicans and non-unionists that, so long as unionism is in a majority, unionists will eschew fair play for nationalists.
Former DUP Health Minister Edwin Poots 'celebrated' the Eleventh Night at the infamous Ballymacash bonfire in Lisburn, where numerous republican flags, including the Tricolour, were torched. He dismissed criticism, saying: "I really couldn't care less." It's just one blatant example of a unionist arrogance contemptuous of nationalist symbols or any sensitivity.
It is that same arrogance that saw Poots's party colleague, the new Communities Minister (!), Paul Givan, posing for photos as he set a bonfire alight in County Tyrone.
As I write, the Communities Minister and his civil servants have ignored calls for the minister to explain his actions.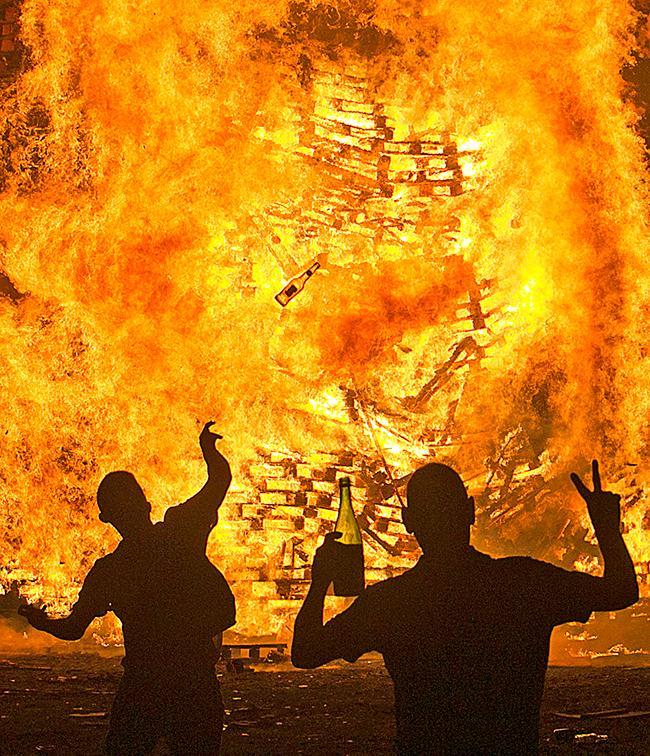 •  Eleventh Night bonfires are synonymous with sectarian and racist behaviour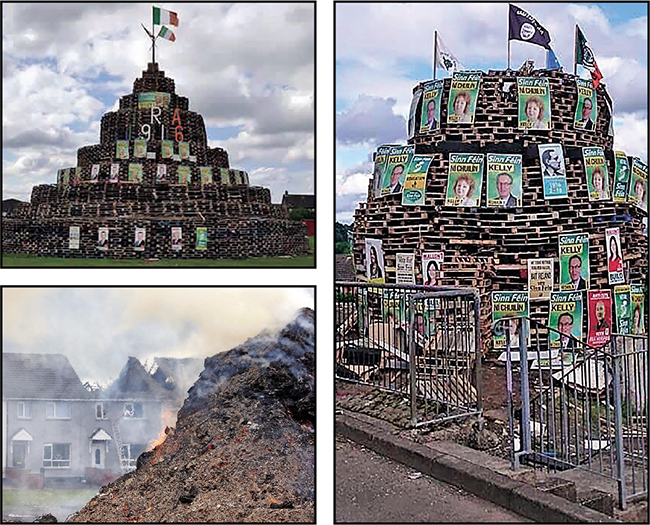 Clearly, rather than show leadership and challenge the sectarian mindset that is at the heart of 'bonfire culture', the DUP is effectively endorsing it. For many DUP politicians it's okay to burn the Irish national flag; it's okay to torch images of your political opponents or those who challenge your outlook (as the Alliance Party's Anna Lo did two years ago, leading to her image ending up on a myriad of Eleventh Night pyres) and it's okay to display racist threats.
It is also worth noting the links between unionist paramilitaries, particularly in urban areas, and these bonfires. The refusal of the unionist political class to intervene in 'hate crime' bonfires is another example of DUP, UUP and Orange Order leaders abandoning their political responsibilities to the people of working-class unionist and loyalist areas whose homes and children's playgrounds are threatened by bonfires.
The Ulster Defence Association and the Ulster Volunteer Force are very clearly still present in unionist communities and are even recruiting to maintain their influence. But the DUP and UUP, notwithstanding their many platitudinous statements on 'paramilitaries', have never seriously worked to get these organisations to leave the stage.
These two unionist paramilitary groups – the largest – remain largely intact. 
•  Democratic Unionist Party leader Arlene Foster and Ulster Unionist Party leader Mike Nesbitt
The murder on 7 August of former UDA 'brigadier' John 'Bonzo' Boreland is testament to the willingness of unionist paramilitaries to kill. He was shot twice in the head outside his home.
The former UDA leader's killing came at a time when tensions between the UDA and the UVF were high, leading to some speculation that the UVF was involved in the execution.
That speculation, since ruled out, stemmed from a confrontation in the UDA's Tiger's Bay stronghold in north Belfast where gangs of UVF men forced the UDA's then brigadier from his home. The man, closely associated with the Union flag protests, has since fled Belfast.
Prior to 'The Twelfth', the antagonism within the UDA in the south-east Antrim area led to mobs of masked UDA men roaming the streets of Carrickfergus before surrounding the Glenfield estate home of leading loyalist George Gilmore.
Gilmore and his brother Thompson were recently arrested and questioned about the murder and disappearance of Mark Gourley. The vulnerable 38-year-old was believed to have been abducted, killed and secretly buried by the UDA in March 2009.
Mark Gourley was one of four men who avoided imprisonment in 2005 after a crowd attacked a police officer posing as an ice cream salesman in an undercover investigation into a UDA extortion racket.
In all of this violence, including the killing of Boreland, there is only a whimper of condemnation from the main unionist parties and certainly no concerted effort on the part of unionist political leadership to call out these gangs and force them to disband.
The UDA and UVF haven't gone away.
• Bishop Edward Daly with fatally-wounded Jackie Duddy on Bloody Sunday
Unionist leaders absent from Bishop Daly's funeral
WHEN Bishop Edward Daly died in Derry, on Monday 8 August, his death was met with a genuine outpouring of grief from not only the people of Derry, who revered the clergyman as a hero as one of their own because of his courage when helping to aid the fatally-wounded Jackie Duddy, shot by the British Army's Parachute Regiment on Bloody Sunday, 1972. 
The photograph of the then Fr Daly waving a blood-soaked handkerchief when confronted by armed paratroopers in battledress made news bulletins and headlines around the world at the time and it has become an iconic image of the conflict.
Political leaders across Ireland and further afield expressed their sorrow and sympathised with Bishop Daly's family, the people of Derry, his Catholic Church colleagues and those in the other denominations with whom he worked closely, particularly Bishop James Mehaffey, the retired Church of Ireland Bishop of Derry and Raphoe.
Republican leaders, particularly Sinn Féin's Martin McGuinness, who were often on the receiving end of Bishop Daly's criticisms, had no qualms in offering their sympathies at the death of the 82-year-old retired cleric. McGuinness described him as "a man of authentic faith and compassion and a tremendous force for good".
Yet the one voice that went relatively unheard was that of political unionism.
While Arlene Foster, in her capacity as First Minister, released a statement commending Bishop Daly for his service to his parishioners, this writer could find no record of a statement released by or on behalf of her Democratic Unionist Party.
Nor could I find any expression of sympathy from either Ulster Unionist Party (UUP) or its leader, Mike Nesbitt.
Indeed, in what can only be seen as a snub to the people of Derry, and to the former Bishop's family and friends, the DUP Mayor of Derry City & Strabane Council, Hilary McClintock, failed to attend the funeral.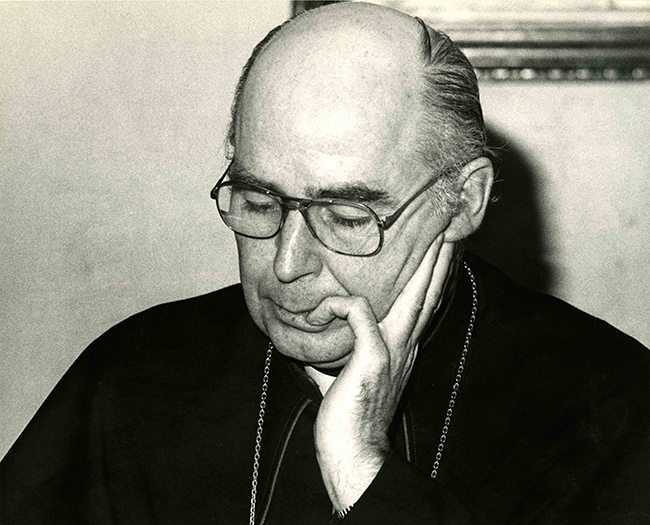 • Bishop Edward Daly
A spokesperson for Derry City & Strabane District Council told the Derry Journal that Mayor McClintock was "unable" to attend the funeral but when asked for reasons why Mayor McClintock was not able to attend, no details were given.
Reacting to the unionists' non-attendance, Derry Presbyterian Minister David Latimer said:
"I would think that every effort should have been made [for unionists to attend the funeral], given the stature of Bishop Daly."
Loyalists erected a Parachute Regiment flag on one of Derry's main arterial routes in the Waterside area on the day of Bishop Daly's funeral.
A clear example of the same strain of gratuitous bigotry saw banners erected in Dungannon, County Tyrone, and nearby Moygashel over the Twelfth period glorifying loyalist sectarian killers Billy Wright and Wesley Somerville.
Again, this writer can find no evidence that any senior unionist politician objected to the banners or was critical of the one honouring Wright, which carried a quote from the death squad leader gloating over the 1991 UVF attack on Boyle's Bar in Cappagh, County Tyrone, which left four men dead, including three IRA Volunteers.
Nowhere is this blinkered unionist view of the world more obvious than in the contributions of hardline unionist North Antrim MLA Jim Allister. Despite being the sole Traditional Unionist Voice representative in the North's Assembly, Allister almost dictates DUP policy.
A case in point is the infamous "Letter from America" in August 2013 when then DUP leader Peter Robinson reneged on the deal to develop the Long Kesh site after Allister single-handedly stirred up the unionist nay-sayers against proposals for a Conflict Transformation Centre in the historic prison grounds.
Allister was to the fore in the past month, deriding the Parades Commission over its decision to ban a notorious loyalist flute band from the mainly nationalist village of Rasharkin in County Antrim on 19 August.
The Parades Commission barred the Dervock Young Defenders from Rasharkin after seeing video and witness evidence of members' previous provocative behaviour, including in Ballycastle on the Twelfth when a bandsman spat on people and others, wearing masks, confronted onlookers.
In contrast to the DUP and UUP leaderships' inertia, Sinn Féin figures continued to try and promote reconciliation and understanding between the traditions.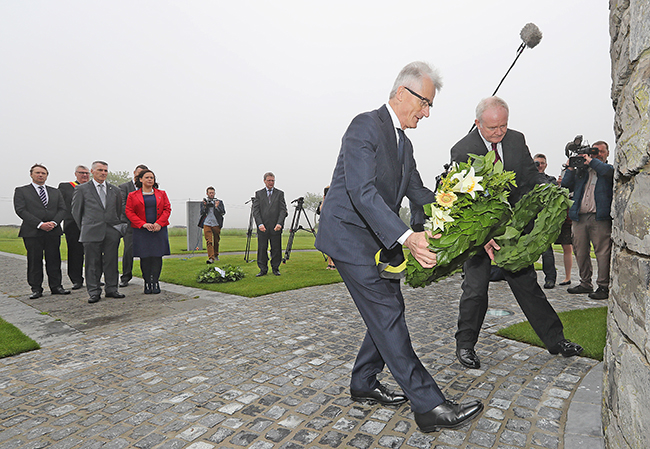 • Martin McGuinness lays a wreath at the First World War monument in Flanders alongside Geert Bourgeois, Minister-President of Flanders
In July, deputy First Minister Martin McGuinness MLA and Sinn Féin deputy leader Mary Lou McDonald travelled to France and Flanders to lay wreaths in tribute to those Irish men who lost their lives at the Battle of the Somme and elsewhere during the First World War.
Speaking about the visit, the leading republican and former IRA figure said:
"I hope my visit here is seen as reaching out the hand of friendship to unionists.
"If I am to be true to my desire to see peace and reconciliation, then visits like this are enormously important."
Speaking at a Féile an Phobail event on 2 August, Sinn Féin Party Chair Declan Kearney accused political unionism of continuing to hold back reconciliation through its "active commission or omission [that] reinforces, incites and perpetuates sectarian mind-sets and division, and blocks progress and positive initiatives".
Sadly, events of recent weeks have shown more evidence of a lack of unionist leadership. Timidity is triumphing over political courage from the DUP and UUP.