5 September 2016 Edition
Sinn Féin fights for change
Editorial – Eagarfhocal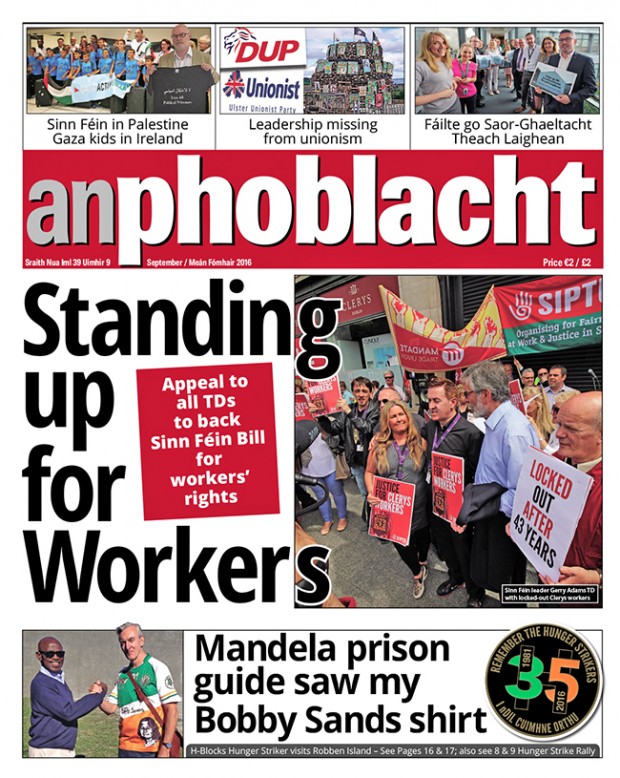 THE SUMMER IS OVER and we face the autumn and the coming year with daunting political, social and economic challenges that will affect everyone on the island of Ireland.
The "Brexit" EU referendum – rejected by the people of the Six Counties – is being railroaded through by English Tories.
Brexit is not just an issue for the North. Its impact will be felt all over Ireland. 
Brexit could undermine cross-Border bodies and the co-operation created by the Peace Process. It could also entrench partition and impose an EU frontier across Ireland. It will most definitely impact on trade, the economy and public services. Many things we take for granted now will be changed by Brexit.
In the 26 Counties, the much-vaunted 'new politics' looks like the old politics of side deals and jobs for the boys. And it will be citizens and our public services that will continue to pay the cost.
Fianna Fáil treats the Dáil like 'Lanigan's Ball' – stepping in to claim a part in Government decisions when they look good, and stepping out and stepping in to RTÉ studios when they don't. 
But Fianna Fáil have underwritten the government of Enda Kenny for the next three years.
This is no surprise, as both parties support unfair tax policies on water charges and the family home. These are the parties that created and sustained the crisis in housing and health, that abandoned communities to criminal gangs. These are the parties that governed through years of underinvestment in rural Ireland and relied on emigration to sort out youth unemployment. 
They also facilitated the use of tactical insolvency to rob workers of rights and entitlements.
For families, the talk of 'new politics' rings hollow. Countless people are still struggling to survive daily, having to turn to credit unions or moneylenders to pay back-to-school costs, with Christmas only weeks away. 
Many are fighting to keep a roof over their heads while vulture-fund executives circle greedily above. For a growing number of other citizens, a roof over their head remains a distant, if not impossible, dream.
Sinn Féin stands for a New Politics and a New Ireland. We are for building a new and prosperous united Ireland. Sinn Féin is using the Assembly and the Oireachtas to make real changes in people's lives, in terms of housing, health and the economy, including workers' and tenants' rights.
Ireland faces many challenges in the coming months. These present opportunities to demonstrate the type of Ireland we are about building: a fair, prosperous and united Ireland. 
Unlike Fine Gael and Fianna Fáil, Sinn Féin stands for change; Sinn Féin fights for change.
Let's make it happen, North and South.