1 February 2016 Edition
Better with Sinn Féin
General Election 2016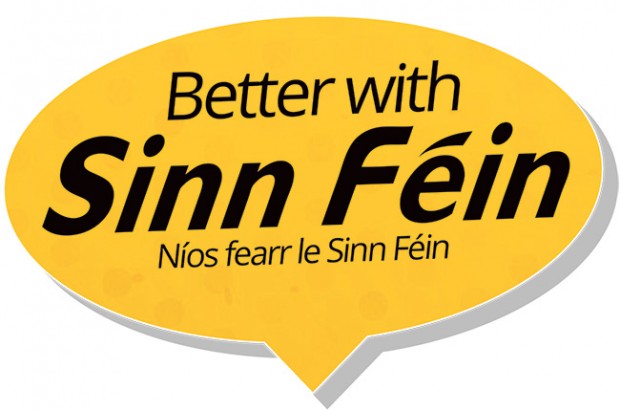 'We need every single person to get out and make sure they cast their vote for Sinn Féin if they want change'
SINN FÉIN is launching its most concerted electoral challenge in almost a century as the party looks to contest all 40 constituencies across the 26 Counties, standing 50 candidates in total for Dáil seats..
As An Phoblahct goes to print, 26 February is still considered the most likely day for the election though no official date has been set. An Taoiseach Enda Kenny said in January he has set his mind on the date but he refused to tell the voters until he was ready.
Sinn Féin hopes to press home its advantage from the 2014 local and European elections which saw a swathe of new councillors elected as well as taking a European seat in each of the four Irish jurisdictions – resulting in every citizen, North and South, having an elected Sinn Féin candidate at one level or another in their constituency.
Party activists have been out canvassing and meeting constituents for months, with reports indicating a highly-positive reception – much of which is down to the incredibly hard work put in by the party's crop of newly-elected and long-standing representatives on councils throughout the state.
Over a third (36%) of the party's candidates are women, one of the highest amongst the main parties.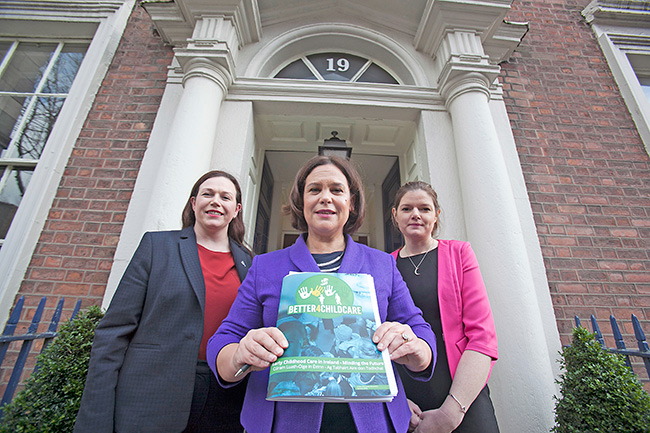 • Sinn Féin's Dublin Fingal candidate Louise O Reilly, Dublin Central candidate Mary Lou McDonald TD and Carlow/Kilkenny election candidate Councillor Kathleen Funchion at the launch of Sinn Féin's childcare policy document 'Better4Childcare'
The party will pursue two-candidate strategies in a number of constituencies where support is notably strong, including Louth, Cavan/Monaghan, Sligo/Leitrim, Dublin Bay North, Dublin North-West, Dublin South Central and Dublin South-West, as well as fielding three candidates in the newly-joined Donegal five-seater. 
While Sinn Féin strategists never speak about expected outcomes, analysis from others such as RTÉ says the party is "well-poised" to pick up seats throughout the state. 
In 2014, Sinn Féin took 15.2% of the vote in local elections and opinion polls since have placed the party's support holding between 17% and 19% – almost twice what the party received in the 2011 general election.
Party strategists admit that turnout will be key. 
• Sinn Féin's Dublin South West team at a strategy meeting for Seán Crowe TD and Mayor of South Dublin Sarah Holland's campaign
Opinion polls show Sinn Féin as the most popular party amongst younger and working-class voters – however these are two of the groups who are least likely to get out and vote. Meanwhile, Fine Gael and Fianna Fáil support is especially strong amongst older and better-off voters – the two groups who consistently have the highest turnout:
A Sinn Féin spokesperson told An Phoblacht:
"We need every single person to get out and make sure they cast their vote for Sinn Féin if they want change. Fine Gael and Fianna Fáil want to look after those at the top with tax breaks for the rich and well-connected. If people want to see a fair recovery that prioritises investment in key services such as healthcare and housing and a scrapping of unfair tax burdens on ordinary families such as water charges and property tax then they need to use their vote to elect Sinn Féin TDs as only a Sinn Féin-led government can deliver on these issues."