5 January 2016 Edition
Radical plan to tackle housing crisis
Sinn Féin's Better4Housing proposals are ambitious but deliverable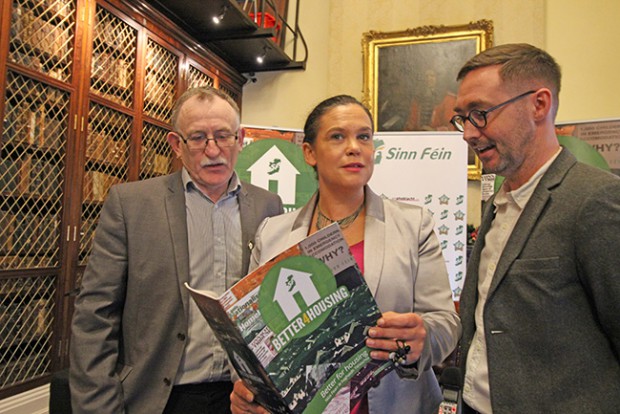 SINN FÉIN has unveiled a radical plan to tackle the ongoing housing and homeless crisis in the state. The Better4Housing policy looks to build 100,000 social and affordable housing units over the next 15 years along with tackling spiralling rents, stronger protection for tenants and moves towards rent certainty.
Speaking at the Royal College of Physicians in Dublin, Mary Lou McDonald TD accused the Fine Gael and Labour Government of relegating themselves to the role of spectator.
"Children are growing up in B&Bs and hostels and people are sleeping on the streets," she said. "The Government has given no effective action to deal with this."
Describing the document as "ambitious and deliverable", Mary Lou said one of the cornerstones of  the party's proposals is to deliver 100,000 social housing units by 2030, 36,500 of them within the next five years.
Clondalkin Councillor Eoin Ó Broin says at the core of the housing crisis is that the state does not have an adequate social housing stock. He noted that the 2005 study Housing in Ireland by the National Economic and Social Council predicted that by 2014 at any one time the state would need a minimum stock of 200,000 social houses to meet demand; currently the state has 139,000 units.
"We outline a costed plan for the first six years of the programme," explained Ó Broin. "These are council houses delivered through local authorities with direct exchequer funding and funded through general taxation."
Highlighting some key differences between Sinn Féin and the Fine Gael/Labour plan, Eoin Ó Broin said:
"In our plan these are council houses. When Environment Minister Alan Kelly proposed over a year ago 35,000 social housing units, he wasn't actually talking about social housing units owned by local authorities – a huge number would be private sector units leased off landlords for periods of four to ten years."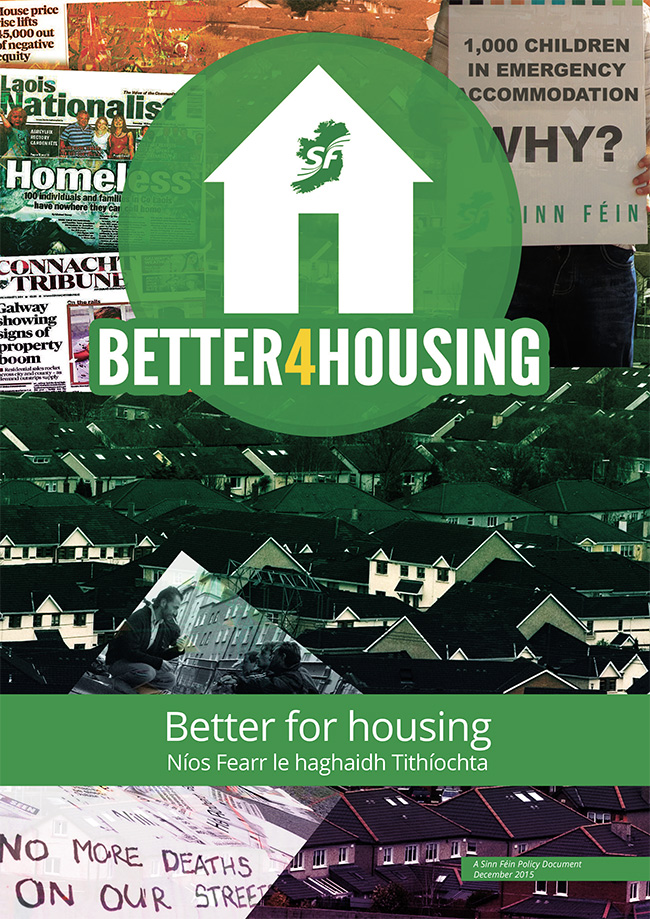 The Sinn Féin plan also wants to see a minimum of 4,000 of NAMA's planned 20,000 private houses to be social housing. Eoin Ó Broin said the Sinn Féin plan is not just beneficial to those on housing waiting lists or in emergency accommodation but also for tenants and young people who want to get on the property ladder.
"Not only would this alleviate the huge housing waiting lists but it is also the single most effective way of ending the homeless crisis.
"This also assists people who want to buy private homes or who want to rent because most of the people who would move into these council homes are currently living in the private sector. As they move in to local authority housing that frees up housing in the private rental sector and acts as a downward pressure on rents for those landlords who continue to rent  out to young professionals. Or force some of those landlords to sell those properties and help bring down the cost of first-time buyer units, particularly in high demand urban areas."
Rent certainty
Sinn Féin Housing spokesperson Dessie Ellis TD said Minister Alan Kelly's plan to limit rent increases to once every two years simply won't work. In its plan, Sinn Féin proposes moves towards rent certainty and strengthening the rights of tenants.
"We have said unless we have rent tied to the Consumer Price Index in some way then we are going to have a continuation of rent hikes," the Dublin TD said. "This move is a necessity to keeping people in their homes."
Noting the Government's reticence to 'interfere' in the market on the issue of rent controls, Eoin Ó Broin pointed out that the Government already intervenes through the use of rent subsidies. He said rent certainty is sensible for tenants and landlords as it creates a stable rental market.
"It's notable that many Fine Gael TDs who oppose rent certainty are themselves landlords. Surely that's a conflict of interest."
Mary Lou McDonald added:
"The rights of citizens to something as basic as a roof over their head has to override market considerations. Capping rents is done in other countries and as far as I am aware the free market has not collapsed. For anybody to cite the sensitivities of the market in an emergency such as this should be ashamed of themselves for making such a lame argument."
Summing up the proposals, Dessie Ellis said:
"All of these measures in conjunction with major investment in the construction, acquisition and refurbishment of social and affordable housing will see a fairer, more stable housing system which meets the needs of everyone."
Key commitments
»100,000 new social and affordable homes by 2030
»36,500 of these social and affordable homes by 2021
»Traveller Ethnicity Bill to ensure adequate accommodation for Traveller community
»€2.2billion additional spending more than the Fine Gael/Labour Government's capital commitments
»Rent certainty by linking rents to Consumer Price Index
»Abolish the Local Property Tax
»Strengthen Planning & Development Act to ensure 20% of all new developments are social and affordable housing
»Consider capping rent subsidies
»Scrap Direct Provision for refugees