5 January 2016 Edition
Sinn Féin's pathway to universal healthcare
Better4Health policy document launched in Dublin
Policy document is the culmination of months of research and engagement with healthcare professionals, trade unions, patients' groups and other stakeholders
SINN FÉIN launched its highly-detailed, realistic and fully-costed health policy in December – the 84-page Better4Health document proposes a radical overhaul of the Irish health system and the creation of a world-class, free-at-the-point-of-delivery, universal healthcare system funded by progressive taxation.
The policy document is the culmination of months of research and engagement with healthcare professionals, trade unions, patients' groups and other stakeholders, explained Sinn Féin Head of Social Policy Miriam Murphy.
One of the main pillars of the plan is an end to the two-tier health system.
Sinn Féin Health spokesperson Caoimhghín Ó Caoláin TD described the ongoing crisis situation in hospitals as shameful and criticised successive governments for allowing the private healthcare industry to piggyback on the public system in its search for profits.
"It is a system where those who can afford it, buy their way to the front of the queue time after time while those dependent on the public system languish in pain and wait, and wait. This is not only shameful, it is immoral," he told reporters.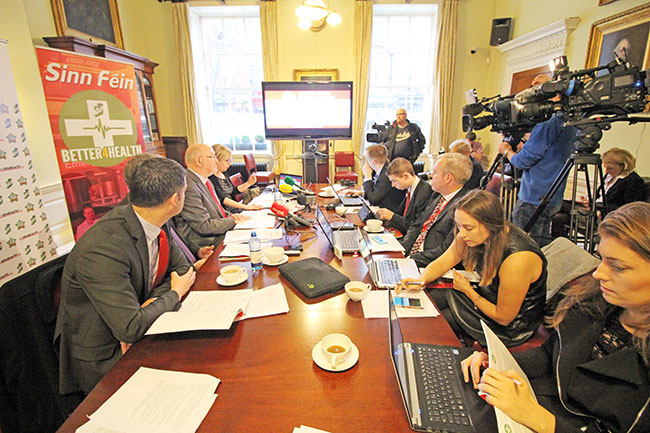 • Reporters at the RIA building in Dublin for the Better4Health launch
The policy proposals (outlined left and available in full online at sinnfein.ie) will be funded from the already existing €8.6billion of 'fiscal space' which the Department of Finance has. Finance spokesperson Pearse Doherty explained to An Phoblacht that a 2% to 3% increase for demographic pressures was factored into this.
"Others will promise tax reductions for high-earners; our priorities are healthcare, housing and childcare and all of this is very doable in the space that is available," he said.
Despite a packed press conference at the Royal Irish Academy on Dawson Street attended by reporters from all the major newspapers and broadcast channels, the Sinn Féin plan received scant coverage in comparison to Fianna Fáil's lightweight proposals which it launched in April.
Outside of mainstream media the Better4Health document reached an online audience of almost 300,000 people .
Caoimhghín Ó Caoláin says that the party's plan is achievable but that it requires political will.
"We have set out a pathway to universal healthcare. This is a carefully-researched and costed plan and one I believe will have the support of all who believe in equality and are truly republican," he said.
"We want a system of public healthcare access that will be there for all. And that is a mighty legacy for anyone in political life to leave."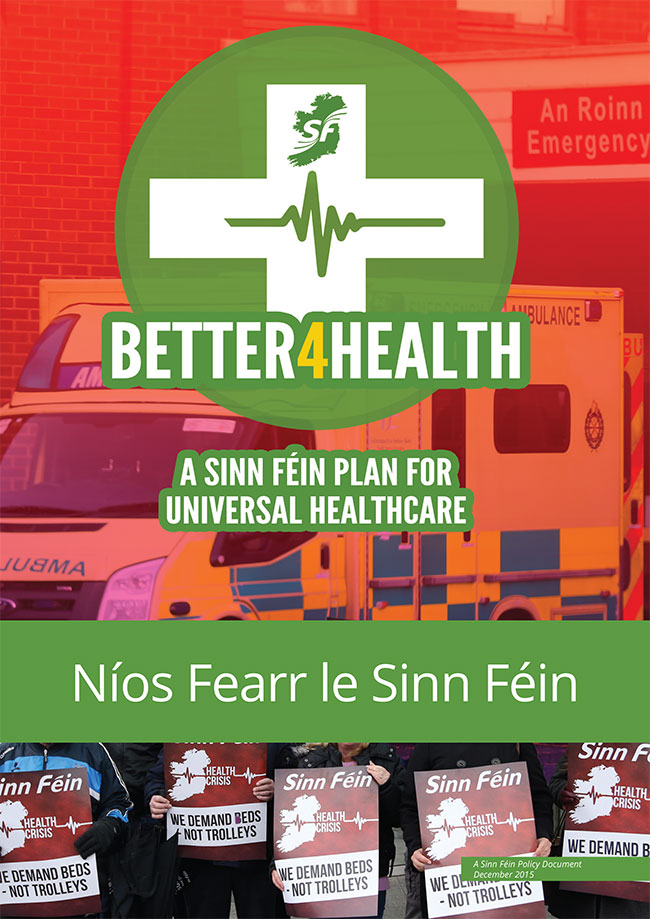 €3.3billion investment, including:
Recruit
»2,500 additional nurses
»621 extra midwives
»239 obstetricians/gynaecologists
»250 speech & language therapists
»100 occupational therapists
»150 psychologists
»10 extra staff to Nursing & Midwifery Board of Ireland
»202 extra ambulance staff
»800 more consultants
An end to
»€100 charge for Emergency Departments
»€75 per day in-patient charge
»Incremental abolishment of prescription charges
Increase
»Access to Medical Cards
»Incremental extension to free GP care
»Moves towards universal dental care
Fund
»€15million more for ambulance services
»€35million more for mental health budget
»10% increase for home help and homecare packages
»20% increase for respite care provision
»3,800 extra nursing home beds 
»€12million extra for National Drugs Strategy
»€700,000 to increase number of addiction counsellors
»€238million increased funding for acute hospitals
»Increase in hospital beds to 4.6 per 1,000 population
Promote healthy lifestyles
»Introduce a sugary drinks tax
»Restrict unhealthy food advertising on TV before 7pm
»Enhanced role for public health nurses
»Regulate sale of e-cigarettes
Patients' rights
»Establish an independent Patient Advocacy Agency
Full details see: www.sinnfein.ie/better4health