2 November 2015 Edition
Seán Treacy remembered in Tipperary
THE annual Seán Treacy Commemoration was held in Kilfeacle Graveyard, near Golden, County Tipperary, on Saturday 10 October.
The crowd was addressed by Senator David Culiinane and by Councillor Martin Browne.
Senator Cullinane told the story of Seán Treacy and of his achievements. He drew attention to the fact that so many other Tipperary Volunteers stood and fought alongside Seán Treacy and singled out local man Dermot O'Neill as one example.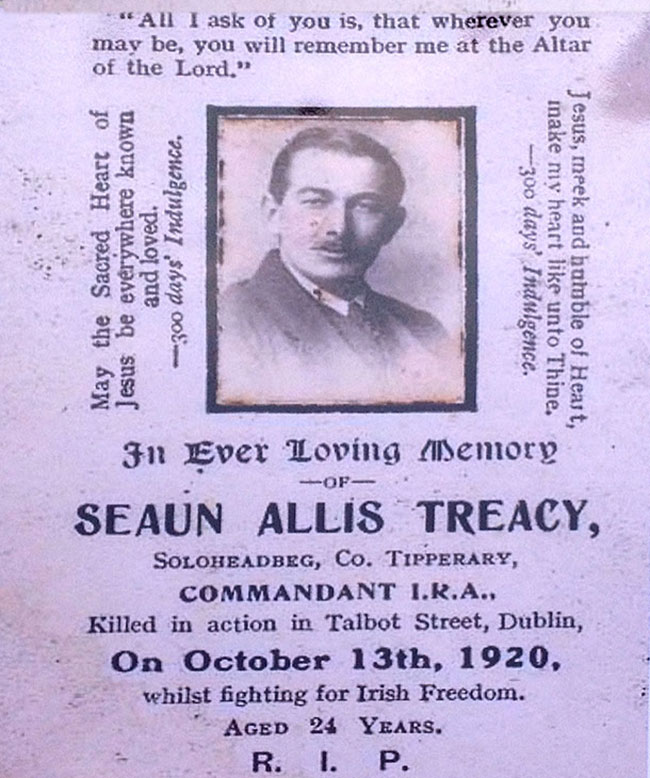 He cautioned against the history of the men and women of 1916 being rewritten, saying that only the full history would provide guidance for later generations as to how they might serve to achieve a full, fair and free Republic for all.
Saying he was proud to stand and deliver the oration at the grave of Seán Treacy, Senator Cullinane expressed his admiration of the many others who made the ultimate sacrifice, including the H-Blocks Hunger Strikers, whose 35th anniversary occurs in 2016.
The crowd was also addressed by Councillor Martin Browne, who forcefully reminded people that the job of creating a fair Republic wasn't yet completed.
A poem was read by organiser Michael 'Batt' Nugent in remembrance (a copy of which was presented to Senator Cullinane) before the ceremony was closed by Éamon Ó Fogartaigh of Cashel who sang Amhrán na bhFiann.
The colour party for the day was provided by the Carrick-on-Suir Republican Flute Band.