1 June 2015 Edition
Meeting Prince Charles, promoting peace and reconciliation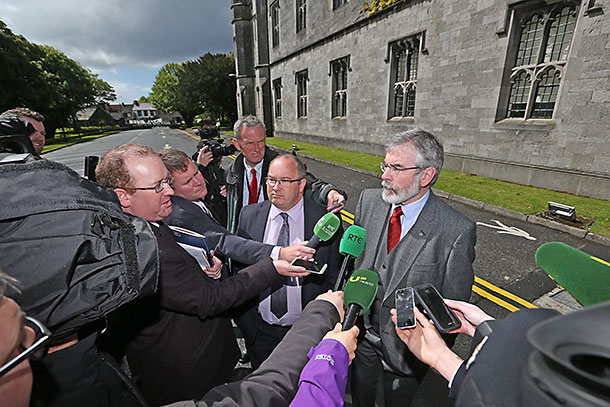 In a private meeting, Gerry Adams told Prince Charles – Colonel-in-Chief of the Parachute Regiment – of the hurt inflicted on people in Ireland by his regiment and British state forces
THE IMAGE of the historic handshake that flashed worldwide obscured the importance of two private meetings the future head of state had with leaders of Sinn Féin when they met Prince Charles in Ireland last month.
The Guardian newspaper editorial on the meeting characterised the handshake between Gerry Adams and Prince Charles as a "brave act of reconciliation". It went on to describe the engagement as "both brave and constructive".
And it was constructive.
In his Léargas blog, Gerry Adams reveals that while it was a "cordial and relaxed discussion" in Galway and "despite some of the difficult issues we each spoke of, it was a positive conversation".
The Sinn Féin trio meeting Prince Charles (Gerry Adams, deputy First Minister Martin McGuinness and Senator Trevor Ó Clochartaigh) acknowledged that he and his family had been hurt and had suffered a great loss because of the actions of Irish republicans when the IRA assassinated his great uncle, Lord Mountbatten, at Mullaghmore, County Sligo, in 1979. They also said they were very conscious of the sad loss of the Maxwell family, whose son Paul was also killed.
But they also spoke with Prince Charles – Colonel-in-Chief of the Parachute Regiment – of the hurt inflicted "on our friends and neighbours and on our own communities" in Derry and Ballymurphy and Springhill by the actions of the Parachute Regiment and other British regiments. In 1971 and 1972, in Ballymurphy and Springhill, 16 local citizens – including three children, a mother of eight, two Catholic priests and ten unarmed men – were shot dead by the Parachute Regiment.

Prince Charles, Colonel-in-Chief of the Parachute Regiment, listened to this.
Gerry Adams also told him of the campaign by victims of the Dublin and Monaghan bombings to get the British Government to hand over its files about these events – believed to involve its agents – to Irish authorities.
Some people – including relatives of victims of the British state – found this meeting  difficult. Sinn Féin recognised this and insisted that people – particularly families of victims – had the right to be critical.
Speaking after the visit, Sinn Féin National Chairperson Declan Kearney said:
"These latest initiatives happened not just because of the Sinn Féin leadership's total commitment to reconciliation and healing but also because the British royal family and key sections of the British state had the independent foresight to recognise another very important opportunity to make positive, forward momentum
"Queen Elizabeth has already made her own very influential contribution. The decision of Prince Charles to meet with Sinn Féin, repeat her words from 2011 – and, importantly, offer his own words on regrets, resentment and the attribution of blame – indicate the British royals are committed to assisting the development of an authentic reconciliation and healing process.
"That sends a clear message to those who are hostile against the need for acknowledgement of all loss, promoting reconciliation between all sides, and the need for a healing process to benefit all sections of this community, and further afield.
"There is a bigger picture.
"Notwithstanding the very real, immediate and deep difficulties besetting the political process, reconciliation and healing have to be embraced as the only way forward. Sectional state and political interests should not be allowed to stop that happening.
"Progressive voices must be heard and more initiatives are required at all levels of society.
"Substantive and historic events have occurred this week to assist us all in moving forward. They should not be squandered – they should be built upon."