4 May 2015 Edition
A dangerous message to future generations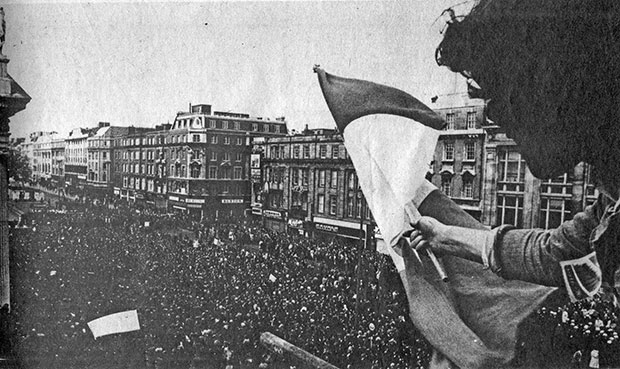 John Bruton has not alluded to the decision by the government in which he was a parliamentary secretary to discontinue Easter Rising commemorations
WHO FEARS TO SPEAK of 1916? Apparently nobody. There is a lengthening list of views from former and current Taoisigh, to the not happening ones like Mícheál Martin, and not forgetting Ireland's 'social and political commentators', who fill radio talk shows and Official Ireland's newspapers with their pithy observations. They have been lining up to offer comment on 'the 1916 problem'.
The 1916 problem? Yes, forget trying to decipher Ireland's multilateral debt commitments or the intricacies of how Irish Water can turn even a simple mailshot into a gigantic fiasco. These trifles are nothing compared to how the Irish people, and by extension the Irish Government, will mark, honour, remember and – yes – possibly commemorate the 1916 Rising.
The problem is those damned republicans have apparently been celebrating 1916 for decades. Yep, in dozens of events across the island they have been doing it brazenly and openly for years.
1916 commemorations have been going on without the imprimatur of the Irish Times, or the nod from the sages of our era who perennially grace important talk show broadcasts from the RTÉ studios in Montrose or the growing Denis O'Brien media empire based in Marconi House.
1916 has been celebrated without even the forensic analysis and rigorous ideological examination we expect from the Sunday Independent's supreme court of intellectual correctness.
It was Bertie Ahern who saw the opportunity for himself mostly and reinstated the 'official' Easter Rising ceremony in 2006 with an eye to the potential of a centennial extravaganza.
No doubt, back in 2006, Ahern could taste his third consecutive election victory, the long swansong to retirement and a coronation election for the Presidency in 2011. Then, in 2016, he would lead a series of festivals, marches, even concerts or a film festival maybe with Bill Clinton or Barack Obama in tow. The possibilities probably seemed endless.
Then the crash came along with the ignominy of Fianna Fáil being blamed for it all, and Fine Gael and Labour being propelled into the pole position for the 1916 centennial hot seat. There is already division in the ranks of Fine Gael with former leader and once Taoiseach John Bruton first to vent.
Writing in the Sunday Independent last December, Bruton says he has a fear that "high-profile commemorations to centenaries of acts of violence" might send "a mistaken and dangerous message to future generations".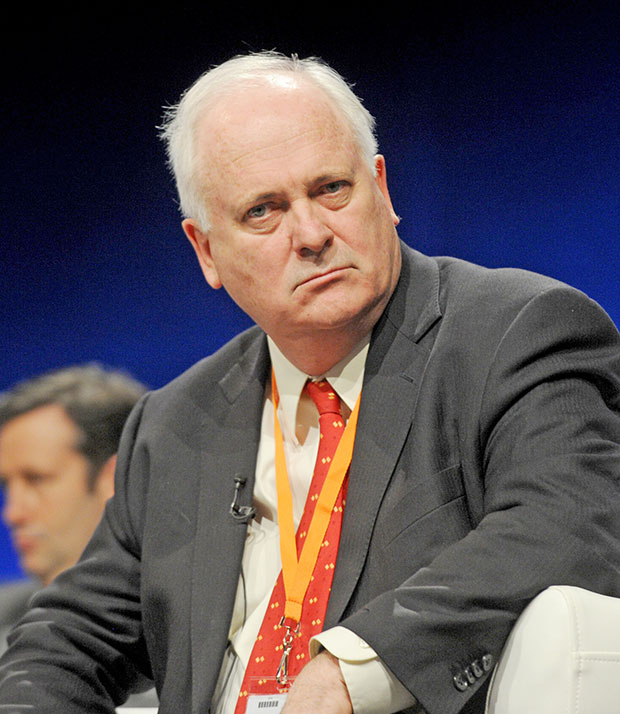 •John Bruton 
Bruton had previously called in the Irish Times for a commemoration of the 1914 Home Rule Act. Interestingly, in neither article did he allude to the decision by the government in which he was a parliamentary secretary from 1973 to 1977 to discontinue Easter Rising commemorations, moving in 1976 to ban a Sinn Fein 1916 commemoration ceremony at the GPO.
Bruton did attend an 80th anniversary event at Dublin's Garden of Remembrance in 1996 but it was Ahern who had the 'hand of history' moment ten years later and began to prepare for his hoped-for big day in 2016.
Enda Kenny has put distance between himself and Bruton's views, saying last October that he agreed with W. T. Cosgrave's assertion that it was "the central and defining act in the shaping of modern Ireland".
For Mícheál Martin, 1916 looms tragically. Behind Sinn Fein in three out of the last four opinion polls (and likely to be the first Fianna Fail leader not to be Taoiseach) Martin lashed out on 19 April at Sinn Féin at his party's annual Arbour Hill Commemoration.
Sinn Féin President Gerry Adams robustly dismissed Martin's accusation that Sinn Féin is "falsifying recent Irish history". Adams said that Martin's "hysterical rant" was driven by "desperation" at "the growth of Sinn Fein and the stagnation of his own party".

• The problem for the Establishment is that those damned republicans have apparently been celebrating 1916 for decades
The Labour Party's silence on 1916 is telling. 
Labour has ignored the role its founder James Connolly had in the Easter Rising, even taking the words 'socialist and republican' out of the party's constitution, the rose replacing the Starry Plough as a logo.
Joan Burton attended this year's 1916 Commemoration and spoke at the Government's 2016 launch last November. It was too predictable that Freedom of Information requests revealed that a photograph of IRA Volunteers was deleted from the programme, as was reference to an event marking the execution of the 1916 leaders.
Walking through the streets of Dublin this Easter Monday, along with thousands of others who had turned up to see the RTÉ 'Road to the Rising' event, it was clear that there is incredible interest in 1916.
For now there is a Sinn Féin Centenary Programme of Events, a Coalition Government one, and a Reclaim the Vision of 1916 group. Hopefully, other groups will also create their own 1916 remembrance events because, unlike the Establishment parties and the mainstream media, Sinn Féin believes the ideals and aspirations of the Proclamation and Easter Week belong to everyone.