4 May 2015 Edition
A bad deal for Ireland
TTIP international trade deal raises concerns over food safety, workers' rights and agriculture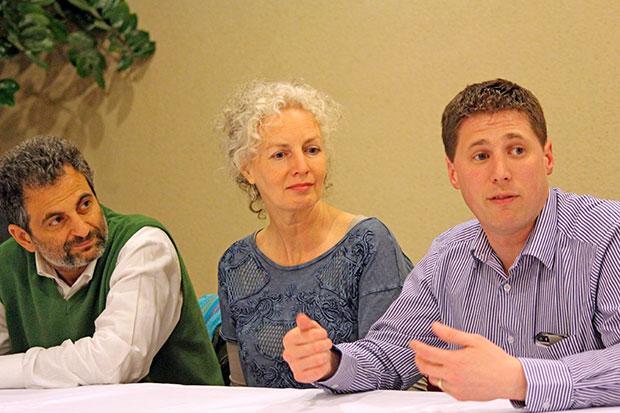 Chevron have written to US trade representatives, saying they need ISDS to protect their profits in Europe
A DELEGATION consisting of farmers, environmentalists and trade unionists was hosted in Brussels by Sinn Féin Midlands North West MEP Matt Carthy in April to discuss their concerns around the Transatlantic Trade and Investment Parntership (TTIP) agreement currently being negotiated between the European Commission and the USA.
The 40 delegates first met with La Via Campesina, a movement of small farmers who outlined their concerns over the deal. Noa Estevez of Izqueirda Plural from Spain pointed out that the United States farms are on average 13 times bigger than European ones:
"These big farms are completely mechanised with one farmer and a lot of low-paid workers, so their production costs are much cheaper in comparison to European family farms. It makes it impossible for us to compete in terms of price."
A particularly interesting aspect of the series of events was that both farmers and environmental activists, often at odds on many issues, were united in their scepticism of what the deal could mean for agriculture. Farmers, including Irish Farmers' Association representatives, say they are worried about the possibility of low-quality and low-price American beef flooding supermarket shelves in Europe, while environmentalists argued that the increased competition and demands to keep production costs low could force producers to lower their standards in terms of environmental safety and regulations.
Speaking to An Phoblacht, Henry O'Donnell of the Irish Natura and Hill Farmers' Association, said:
"The farmers we represent in the West are already facing very challenging economic issues. The TTIP agreement can make the suckler cow industry very vulnerable. We're very concerned that the European Commission seem to be intent on pushing on with an agreement that appears to have no benefits to Irish farmers, only threats to their existence."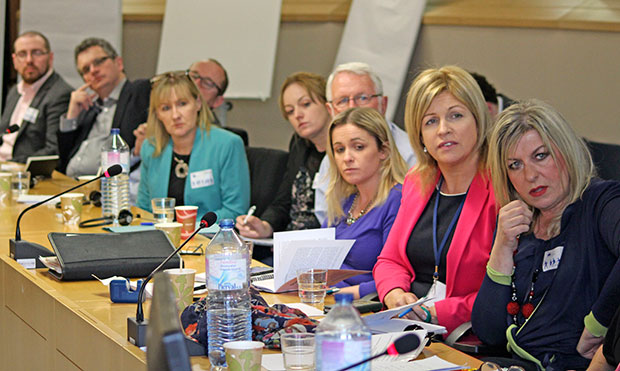 • Delegates listen to contributions on the issue of the ISDS mechanism
Geert Decock, Director of EU Affairs for Food and Water Europe, outlined the possible dangers TTIP poses in the areas of controversial practices such as hydraulic fracturing, particularly noting the use of the Investor State Dispute Settlement (ISDS) mechanism which allows private companies take governments to an extra-governmental court if they do anything which they claim interferes with their profits. He says companies such as Chevron have even written to the US trade representatives, saying they need ISDS to protect their profits in Europe.
But environmental and agricultural concerns are not the only issues. Others are worried that the deal could precipitate a race to the bottom for workers. David Gibney, of Mandate trade union, told An Phoblacht:
"We have key concerns on behalf of all workers. Trade agreements liberalise markets and TTIP will do that to the labour market."
He said European workers who have entitlements such as minimum wage and 20 days' annual leave per year will see themselves pitted against US workers who have no such guarantees.
"One of the key concerns I have is that we will end up competing with American workers and this could see moves to lower workers' right standards in Europe." He noted that the inclusion of an ISDS mechanism could allow private companies to sue the Irish Government if it raises the minimum wage – a similar lawsuit by Veolia in Egypt resulted in a reversal of a minimum wage rise. "I think that represents a serious threat to workers' rights," he said.
• Henry O'Donnell of the Irish Natura and Hill Farmers' Association
Delegates had the chance to question Commission representatives, including Agriculture and Rural Affairs official John Clarke and Jean Charles Van Eeckhaute of the Policy Co-ordination and Inter-Institutional Relations unit.
During the discussion, John Clarke was keen to emphasise that no lowering of food safety standards would happen in the EU. "If the US wish to export meat and poultry to the EU then they will have to meet our health and safety laws. It will be so expensive for them to do that, that they won't export," he said.
Offaly Sinn Féin's Carol Nolan was unimpressed. She noted the recent food scandal which saw horsemeat passed off as beef across the EU. "Despite such safety standards and traceability existing in Europe, we had this scandal. How can the EU possibly guarantee traceability and high standards on food being imported from another continent?"
Fergal Anderson, a young organic farmer and member of Organic Growers of Ireland, told An Phoblacht:
"All we are hearing is more of the same stuff. They are going to make a bad situation worse and are moving further away from the direction we'd like to see them go which is the right of people to define their own food and agriculture systems, to have sustainable locally-based production, healthy food for people and more farmers as opposed to less."
Matt Carthy MEP says there is no way that TTIP can be supported as it currently stands. He described the inclusion of the ISDS mechanism as a "threat to democracy". He says the Irish Government needs to give a firm commitment that they will not sign any trade deal which places the rights of private investors and corporations ahead of those of Irish people and communities.