1 April 2015 Edition
Blowing the whistle on Hillsborough
Between the Posts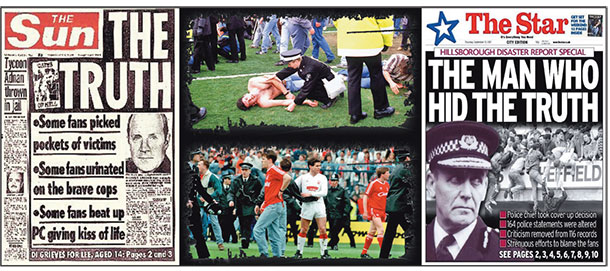 The researcher at the centre of this chain of events is Professor Phil Scraton, based at Queen's University Belfast
HAS RESEARCH LOST its lustre? With Internet search engines like Google, anyone can do research; one key word generates a world of options. A neophyte can enter an office with a folder full of freshly-printed pages like an intellectual giant, regaling a room with a mountain of mesmerising facts. But it was no Internet search which excised the truth about the Hillsborough Disaster. On that fateful day in April 1989, 96 people lost their lives. Now, 26 years later, what really happened is being uncovered through new inquests into the deaths and unrelenting research was a catalyst for this.
The researcher at the centre of this chain of events is Professor Phil Scraton, based at Queen's University Belfast. Scraton has worked with families bereaved by the Hillsborough Disaster over many years. He had written to successive British Home Secretaries to request access to files relating to Hillsborough. Each British politician in turn had refused to grant him access until British Labour Minister Jack Straw eventually agreed, much to Scraton's surprise. 
Entering the bowels of the British House of Commons, Scraton encountered an archetypal librarian. She helpfully retrieved the files he was seeking and Scraton began to review the contents. 
As his fingers turned the pages, his eyes fixed on a copy of a statement from a police officer on duty that day. Near the top of that page was a note which had been added as a postscript: it advised that the police officer concerned should revise his statement.
Scraton realised the magnitude of this discovery and what more lay within. As quickly as he could, Scraton copied the papers and moved with haste to the exit of the House of Commons, the revelatory documents clutched tightly to his chest. At last, the curtain of concealment was finally being drawn back on the darkest day in sporting history on these islands.
The new evidence triggered a new independent inquiry panel and led to the reopening of inquests into the death of the 96 football fans crushed to death at Hillsborough.
Contemporaneous reportage on court evidence in the inquest proceedings have been circulated on social media like never before. 
As the 26th anniversary of the Hillsborough Disaster approaches, families are now beginning to hear the whole truth which was withheld from them about the death of their loved ones.
Former police commander David Duckensfield was in overall control of the security operation when Liverpool fans arrived at the stadium for their team's FA Cup tie with Nottingham Forest. When cross-examined during the reopened inquest, Duckensfield claimed that the onset of "post-traumatic stress disorder" had caused him to forget key information sought by families. 
The former officer with South Yorkshire Police confirmed that, hours after the disaster and multiple deaths, he had met the then British Minister for Sport. The next day he met British Prime Minister Margaret Thatcher. He claimed to be unable to recall anything said in either exchange.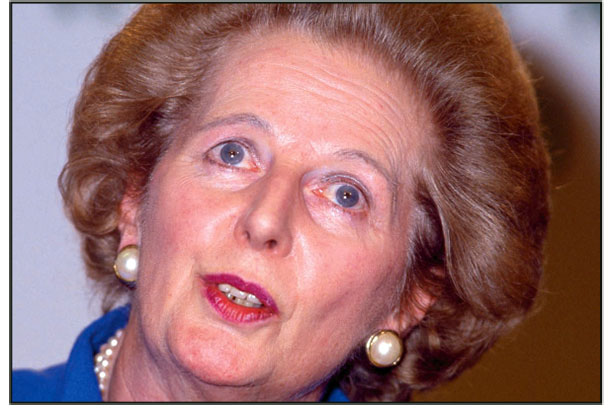 • British Prime Minister Margaret Thatcher met the Hillsborough police chief
He also admitted that he was a member of the Freemasons and was promoted a year after the disaster to the position of Grand Worshipful Master. However, Duckensfield recalled enough to offer a public apology for what occurred. 
Police radio logs taken six minutes after kick-off at Hillsborough showed requests were made for additional police officers and dogs but not for ambulances, paramedics or fire crews. After several days of evidence, Duckensfield finally admitted that his decision not to close the tunnel through which Liverpool fans entered to the terraces "directly caused" the deaths of the 96 sport fans in Hillsborough. All of this augments the public record corrected by the Hillsborough Inquiry panel report which exposed how innocent people were put in danger, blamed for their own deaths and their memories were denigrated by a British establishment which rallied behind Duckensfield and the police. 
What happened that day in Hillsborough had many long-term implications. It led to the requirement for all-seater stadiums for major sporting events. As a result, many clubs were obliged to move from their home ground and the grassroots community from which they have come. In turn, commercial involvement in sport has massively increased. 'Corporate boxes' are now all the rage. 
But the greatest wrong of all was the corporate cover-up.
Nothing compares with the conduct of police, politicians and tabloid media who ganged up on those killed and their bereaved families. After being denied the right to truth and acknowledgement for 26 years, the families' day has finally come.