1 April 2015 Edition
Coming or just run without – West Life

The West is facing historical challenges again and the time has come, as The Saw Doctors once sang, to sing a powerful song. In the first of a series on 'West Life', ROBERT ALLEN follows the ghost of Pádraig Pearse into the heart of Connemara, where the laments are rising
LETTERFRACK is wrestling with its ghosts. 
Twenty-five years ago, Leo Hallissey, the National School headmaster of this Connemara crossroads, feared for its future. "We're pushing people out of the coastal areas," he raged. "And pretending we are not. We are pushing people into urban areas. If there isn't a dramatic intervention we like other coastal communities are going to be locked up.
"We'll have a little bit of recreation and we'll be left with a group of people who can afford to live here and another group of people who will be caretakers. The rest will be gone."
Atomised by debilitating poverty, perpetual disillusionment and youthful departures, the heart was being ripped out of the region. Hallissey shouted stop, just as Charlestown journalist John Healy had shouted stop a whole generation earlier. 
Both added a caveat: "Money is no longer wealth; real wealth is people".
Healy's book Death of An Irish Town was republished in 1988 as No One Shouted Stop to remind everyone that his wise words still held resonance. "We don't get mad anymore," he proclaimed. "In an age when television sledge-hammers its cultural values home, one is supposed to obey the smart-set cocktailed rules of double-talk and double-think, to talk with a left-handed tongue, and wrap an honest protest in the unctuous language of a doubtful compliment." 
The problem, according to Healy, arose in the social consequences of rapid technological change. Rural people, instead of becoming masters of the technology, had become slaves without a voice. "We must educate our people to demand, and we must educate our rulers to accept, that we must now embark on a national campaign for rural renewal."
There is craic, there is empowerment
• The Wild Atlantic Way is attracting tourists to the extreme shores of the West
Life in Connemara or anywhere along the western seaboard of Ireland is not easily explained. There is culture, there is craic, there is empowerment. 
The Wild Atlantic Way is characterised by the seasonal flow that brings tourists, blow-ins and non-natives into the area to admire its rugged beauty, to celebrate a culture that takes them away from their lives in the fast lanes of the materialist world. At the peak of this flow there is paid work in the B&Bs, hostels, hotels, pubs, restaurants, shops and tourist businesses. 
Sadly, there is also the continuing erosion of community. 
But in Letterfrack back in 1989 the heart was still beating, albeit quietly. 
North-west Connemara was seen as one of the most depressed areas in Europe and the establishment of a rural project that went under the name of FORUM Connemara gave the community hope.
When it started in March 1990 it was one of 27 action projects in a European Union poverty programme that aimed to foster economic and social integration among disadvantaged communities. Funding came initially from the EU poverty programme, then from various EU and state initiatives.
FORUM was seen as an attempt to alleviate the problems of disempowerment by providing services for carers and families, the elderly and unemployed, and farmers, people with disabilities and youth.
Almost 100 groups were established with the assistance of FORUM across the social spectrum. Yvonne Keane and Brendan O'Malley are among a core group in the FORUM office in the Connemara West complex administering these services and numerous social inclusion programmes. For some time now, the hand of fate has rested heavily on their shoulders. And now they are very worried.
Pádraig Pearse took the train 
Connemara is much larger than it seems from the outside.
In the years before 1916, Pádraig Pearse travelled from Dublin to the beating heart of Connemara by train. He would board a train at Broadstone station and, on reaching 'The City of the Tribes', would change to the Clifden train, disembarking at Maam Cross for a pony and trap to his cottage in Ros Muc, in south-west Connemara.
At the end of the 19th century it was easier to get to Ros Muc by public transport than it is now. Maam Cross was a busy junction, often teeming with activity. Farmers came to buy and sell, and those who wanted to rest their heads could do so in comfort in the station hotel and other hostelries.
But the railway closed in the 1930s, and Peacocke's pub and shop became the hub of activity until the 1970s, when a hotel was added and attracted teenagers at weekends from as far away as Clare and Mayo. Then the ghosts returned and everyone swapped their memories. 
Now Peacocke's is back, and once again Maam Cross is the centre of attention.
Old themes heard again
• Peacocke's in Maam Cross was reopened in 2014
It is the end of a remarkable blue-sky day – a portent perhaps. Peacocke's is filling up. Liam is pulling pints, Ciarán is helping and Shelley is making sure that everyone is getting what they want.
Bríd and Eoin Burke, who acquired the hotel, pub and shop when they bought the mart in July 2014, are interested in the history of Maam Cross. And why wouldn't they be? This has been a crossing in central Connemara for countless centuries. It is where everyone comes to meet, especially on an evening like this, with FORUM's future at stake.
As the crowd gathers from the four corners of Connemara, signatures are collected. The room is quickly occupied. For late-comers it is standing room only. When the talking starts, there are 700 people listening.
Hearing the debate, Liam comments that of the 42 who were with him in the last year of school in Carna, only five remain, "and four of them are on the dole". 
The old themes are being discussed. For some it is déjà vu. They heard them before at the conferences on "rural development policy and the future for rural Ireland" and on "developing the west together" in the early 1990s. That was when the whole country seemed to be showing sympathy for the west.
And, once again, there is a cry of "stop".
Here we are, back to the future.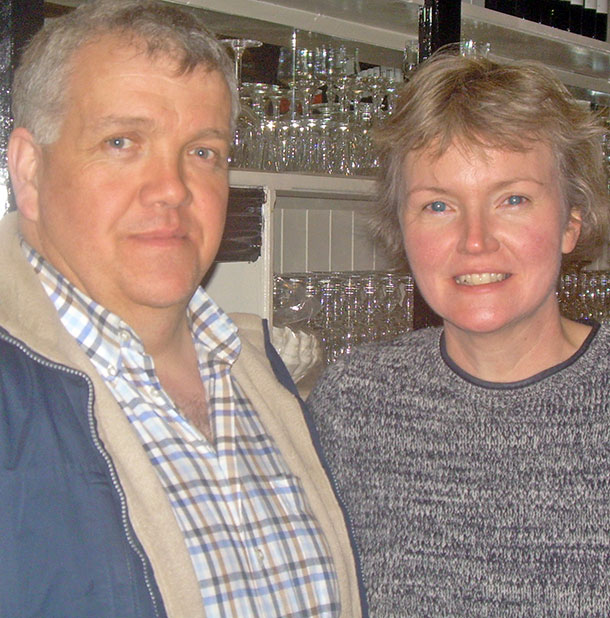 • Brid and Eoin Burke of Clonbur
The paranoia of politicians
Tony Varley has taught political science and sociology at the National University of Ireland in Galway for a very long time. He is nearing retirement, a compulsory event, and as he looks back he sees a theme in the history of community empowerment.
Politicians fear the disparate community movement, even the tendency based on inclusive/integrationist assumptions, as a potentially alternative, non-party power base in Irish society. 
Yet this fear tells us more about the paranoia of politicians because the disparity is paradigmatic itself, particularly in the west of Ireland, because empowerment groups represent communities on their last legs. 
And like battle-weary combatants – bloodied, bruised and broken – many of these communities have nothing left to offer. Shouting stop does not appear to work.
Varley's observations are highly relevant because he has identified through a purely pragmatic analysis the major problem these particular social movements face in modern Ireland.
Organising communities to represent their own interests has been an historical tradition of relative failure. From Muintir na Tíre ('People of the Land') to Clann na Talmhan ('Family of the Land'), Save the West, and Developing the West, rural renewal has been a constant theme since the 1930s, and each time an "overly interventionist state" has destroyed the continuity of the initiatives. 
Varley is not alone in concluding that the progressive decline of the west will inevitably persist as long as the centralising policies of the state continue to operate. 
Former bureaucrat Tom Barrington rallied, for more than three decades, against the centralised system of government which, he said, left the people of Ireland "politically disempowered, economically impoverished, a laggard nation morally deprived". 
He realised that the weakness lay within the people themselves by allowing "a system of government heavily biased towards bureaucracy" instead of one "based on the democratic spirit of the people" galvanised by vigorous local empowerment.
The American linguist Noam Chomsky placed these issues in a global context when he discussed the rules of neo-liberalism and state intervention. "For those who are unwilling to accept these rules, traditional tasks remain: to challenge and unmask illegitimate authority, and to work with others to undermine it and to extend the scope of freedom and justice."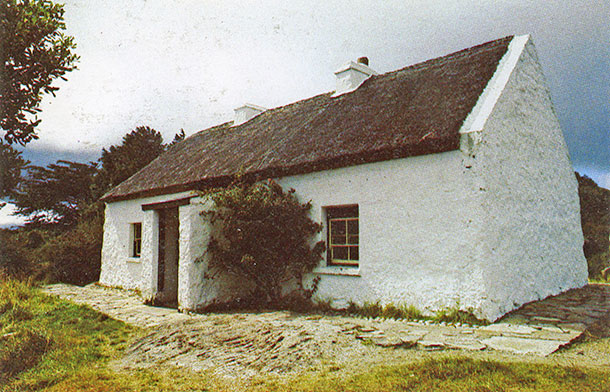 • Visitors will get a glimpse of the old ways when the cottage is reopened for 2016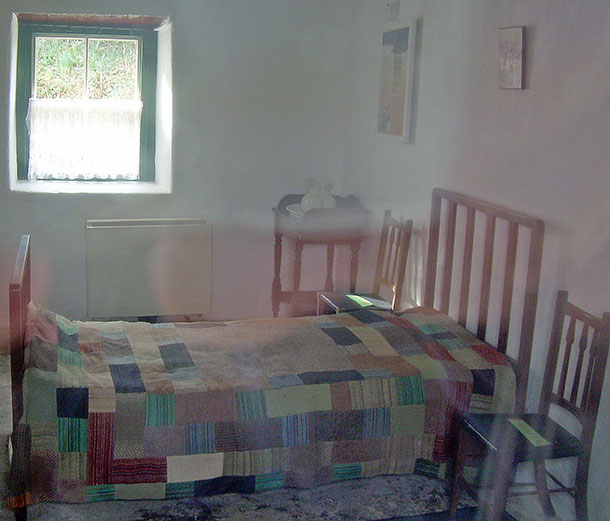 Forging their own destinies
For FORUM, the desire to avoid conflict and to establish a partnership relationship with the state may ultimately fail to bear the fruit they deserve for their efforts.
Brendan O'Malley remains optimistic but others, with a more cynical stance, have realised (perhaps too late) that the real problem remains partnership itself, because the bureaucrats in national and regional government do not want community empowerment. "They have disenfranchised us," says O'Malley in a sharp tone that might denote irony.
Community development, says Varley, has been possible only on the basis of close and formalised co-operation between voluntary groups and various arms of the state. The argument that community development should be built around small enterprise has never been accepted, and the whole idea of establishing a society based on small-scale artisans and producers is "almost utopian".
Yet this is exactly what was demanded in the 1930s, 1960s and 1990s. 
The need to build strong vibrant communities capable of overseeing their own local development was constantly stressed. Proposals for a strategy for rural development, based on agri-tourism, cultural tourism, food tourism, model and organic farming, open education and training centres, were drawn and redrawn down the years and each time the demands were diluted.
Father James McDyer, one of the architects of the 1960s Save the West campaign, insisted that people had to unite, form community co-operatives and embark on job creation. This, he said, would be the only way they could forge their own destinies.
"We were expecting to celebrate 25 years of FORUM," says Hallissey gloomily, sitting in the kitchen of his home at the edge of time, the wild Atlantic splashing against the shore. "We weren't expecting this."
That's west life. Ghosts among the living!