6 January 2013 Edition
Dublin Sinn Féin appoints new LGBT officer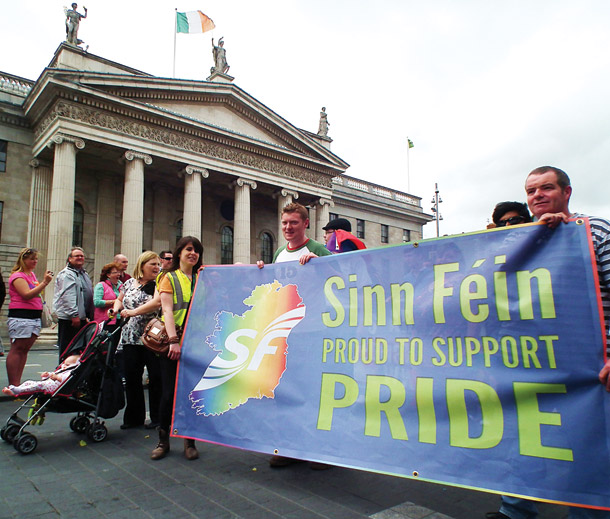 "Despite the introduction of the Civil Partnership Act and proposed Constitutional referendum on same-sex marriage, we must remain mindful that inequality still exists in areas like employment, education, housing and in the health system. Sinn Féin shares a common history with the LGBT community in that we have both been victims of state oppression."
DUBLIN SINN FÉIN is starting the New Year by appointing an LGBT officer to form a group of activists to develop policy, campaign and raise awareness of issues affecting the lives of Lesbian, Gay, Bisexual and Transgender people and their families.
LGBT activist Chris Curran, who was appointed to the position at a meeting of Dublin Sinn Féin in December, said he "looks forward to bringing our politics into a new arena and a new arena into our politics".
Chris said the focus of the group will be to develop policy, campaign and raise awareness on issues affecting the lives of LGBT people and their families. Mental health issues are often hidden and can be facilitated with careful planning, he said.
"Despite the introduction of the Civil Partnership Act and proposed Constitutional referendum on same-sex marriage, we must remain mindful that inequality still exists in areas like employment, education, housing and in the health system. Sinn Féin shares a common history with the LGBT community in that we have both been victims of state oppression."
Chris Curran is cathaoirleach of the Martin Forsythe Sinn Féin cumann in South Dublin and founder of the Jack Crowe Memorial Dublin Mountain Challenge.
In the wake of the Good Friday Agreement, he participated in a cross-community Springboard programme in Belfast and Cape Town, South Africa.
Chris lives with his partner and is an IT Consultant with a background in accountancy and business management systems.
He joined Sinn Féin in 2001 when he joined the James Connolly Cumann in Ballyfermot, Dublin.
On a voluntary basis, Chris is an active community worker in the LGBT sector, working from Outhouse, a community and resource centre based in Dublin that caters for LGBT people, their families and friends all over Ireland.