27 May 2010 Edition
THE JULIA CARNEY COLUMN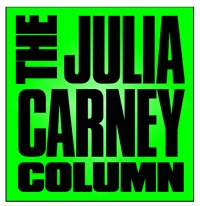 Confused or Conniving? Who cares?
Poor auld Declan O'Loan, eh? What was he thinking? He puts a couple of Wolfe Tones CDs into the car, starts humming A Nation Once Again, and next thing you know he's had an attack of nationalist unity.
You know when would have been a good time to think this up, Declan? Before the sixth of May would have been a really fine moment for it. Back when Ritchie and McDonnell were willing to see a Tory, an honest-to-goodness Tory, elected in Fermanagh-South Tyrone instead of a young republican woman. A bit of an auld statement then would have been worth something.
But when Alex Maskey put country and party before his own ego, not for the first time for either, and stood aside for Alasdair McDonnell, a man whose own sense of self-worth would wipe out the Irish national debt in a moment if we could trade it on the currency market, you stayed pretty quiet, Declan.
Big John O'Dowd pointed out another flaw in Declan's scheme. "He is seeking a nationalist party for what he calls 'Northern Ireland', one which would maintain working relationships with parties in what he calls 'the south'." It's all Ireland, Declan. Even the bit you live in.
But the part of the story that made me laugh out loud was that, according to the Belfast Newsletter, Declan received "a furious dressing-down from senior SDLP staff" that forced him into a u-turn. Oo-err. Crumbs. A dressing down from an SDLP apparatchik wouldn't scare a vegetarian.
"Hello... Declan?"
"Hi there, it's the press office here. I know you're a very busy man - love to Nuala by the way - we're so very awfully sorry to be troubling you with a teeny, tiny little thing like this but me and the lads were just sitting round the office here having the chat and we wondered if it would be at all possible (and tell us if it's not) if we could please issue a statement in your name doing the teensiest, tiniest, littlest bit of an auld u-turn on the whole single nationalist party thing, if that would possibly be okay with you, maybe, please... ahhh, go on, we'll be your friend?"



It's a different story in Sinn Féin. I remember a couple of years ago I dropped in to 44 to meet then boss honcho of the publicity office Dawn Doyle. As I sat, waiting for her to finish, and sipping a dry sherry, it took me a while to work out what was different about the normally hyper efficient press office, and then it struck me.
"Dawn, there seems to be what I can only describe as an elderly woman knitting in the corner," I pointed at the octogenarian furiously cross-stitching and muttering under her breath. Journalists are known for their key observation abilities.
Dawn explained that the auld dear belonged to Ed, a former Sinn Féin councillor whose name is obviously anything but that. Ed had recently issued a press statement that had violated some party policy or other. The nerds would be able to tell you in more detail but I think it was something to do with groundwater allocation.
Anyway, the principle was the important thing. You're in Sinn Féin, you tow the line, no matter how mad the party policy is - and comrades, we've had a few doozies. But Ed's error could not go unpunished. So the Republic commandeered his granny as a way of ensuring his future loyalty and making him stick to the line on groundwater allocation, and anything else he might have had a problem with.
Like most of you I was taken aback at Dawn's relaxed and merciful approach to the problem but she was always a soft-hearted creature, willing to spare the rod and all that hippy guff. To balance it out I made sure to give the old lady a few swats with a rolled up Phoblacht and told her to pass it on to Ed.
The story ends happily, by the way, with Ed standing down six months later for 'personal reasons'. Said personal reasons being it was the only way we would return his beloved Nan. Proper order too. And everyone in the press office got lovely Aran jumpers and woolly socks.



Of course the real reason behind Declan O'Loan's sudden embrace of the pan-nationalist front is a bit more self-interested. In 2007, Daithí McKay took the second Assembly seat in North Antrim for Sinn Féin with 700 or so votes to spare. Declan O'Loan took the last seat.
Now, look at the recent Westminster election results. The SDLP slumped to nine per cent in North Antrim. If that was replicated for the Assembly, even with the drop in their vote, the DUP would hold three in North Antrim. Sinn Féin, the TUV and the UUP would each take one. Wee Declan would be standing outside with his face pressed up to the glass looking in, like Fearghal McKinney in Fermanagh-South Tyrone.
Stoops, mo chairde. Even when they're appealing for nationalist unity it's really just about saving their own skins.

Editor's note - I have consulted with the relevant forces and been assured that no old ladies were harmed in the writing of this article. We in An Phoblacht cannot be held responsible for Julia's sherry-filled ramblings. We are discussing an intervention. 

An Phoblacht Magazine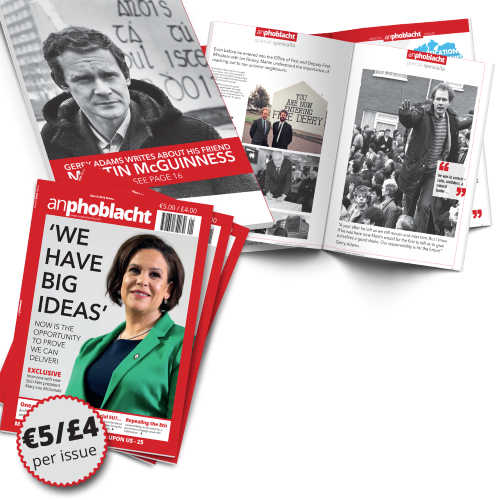 AN PHOBLACHT MAGAZINE:
The first edition of this new magazine will feature a 10 page special on the life and legacy of our leader Martin McGuinness to mark the first anniversary of his untimely passing.
It will include a personal reminiscence by Gerry Adams and contributions from the McGuinness family.
There will also be an exclusive interview with our new Uachtarán Mary Lou McDonald.
test