27 May 2010 Edition
Remembering the Past: Incredible endurance of IRA prisoner

BY MÍCHEÁL Mac DONNCHA

The release of Nelson Mandela in 1990 after 25 years in South African prisons was celebrated across the world, including by republicans in Ireland. But another release that year was a reminder that there were hundreds of Irish political prisoners and that many of them had endured very long sentences and appalling conditions.
In the long record of struggle by republican prisoners few could match the endurance of Patrick Hackett from the townland of Bawn near Nenagh, County Tipperary. In 1990 he was released after serving 14 years in English prisons, most of which he spent clad only in a blanket. This would be a Herculean ordeal for any person but Patrick Hackett also had to cope with severe disabilities as a result of injuries received while on IRA active service.
Patrick volunteered for the IRA campaign in England in the mid-1970s. In 1976 he was gravely injured in a premature explosion in South Kensington, London. He lost an arm, a leg and part of his intestines. While lying in his hospital bed Patrick was beaten about the face and shaken violently by police detectives.
His time in English jails began in May 1976 when he was held on remand in Brixton Prison until his trial a year later. On 27 June 1977 he was found guilty of explosives offences and sentenced to three terms of 20 years, running concurrently. He spent 56 days in solitary confinement in Brixton, the first of four prisons in which he was detained over 14 years.
On the last day of 1979 in Wormwood Scrubs Patrick began a blanket protest, refusing to wear prison clothes. He was punished by being sent to the segregation unit where conditions were far worse than in the rest of the jail. He was transferred to Wakefield in July 1980 where further segregation and solitary confinement was imposed. He was moved to the hospital wing of Wakefield in November 1980 and to Parkhurst in 1982.
Throughout his prison ordeal Patrick was subjected to abuse and harassment by prison personnel but he remained absolutely determined and committed to the political beliefs that motivated him.
In May 1990 Patrick was released, arriving in Shannon Airport to a hero's welcome from family, friends and comrades. Among those greeting him were veteran republicans Joe Cahill and JB O'Hagan. People came out to welcome Pat all along his route home to Nenagh where a crowd of several hundred gathered for a homecoming rally. Patrick Hackett addressed the crowd:
"After 14 years you may be wondering what my opinions are. Well, they are that the fight goes on until Thatcher and her armed thugs leave Ireland. Haughey and Fitzgerald will not bring peace to Ireland, they will only prolong the problem. It is the resistance of the IRA which will make the British leave and bring a just solution."

• Patrick Hackett arrived home in Ireland, after 14 years in English prisons, on 29 May 1990, 20 years ago this week.
Patrick Hackett arrives back home to Ireland 
An Phoblacht Magazine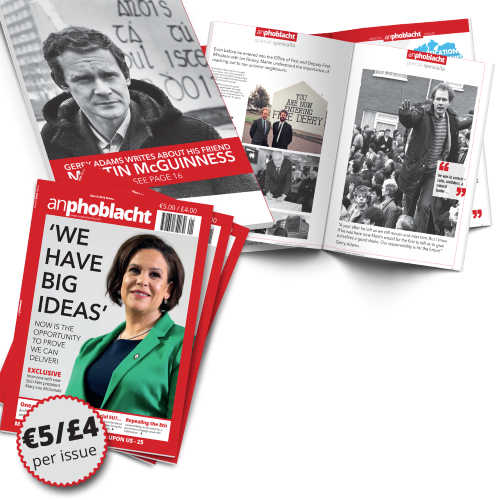 AN PHOBLACHT MAGAZINE:
The first edition of this new magazine will feature a 10 page special on the life and legacy of our leader Martin McGuinness to mark the first anniversary of his untimely passing.
It will include a personal reminiscence by Gerry Adams and contributions from the McGuinness family.
There will also be an exclusive interview with our new Uachtarán Mary Lou McDonald.
test