12 November 2009 Edition
DUP time-wasting is totally unacceptable
The current DUP tactic of attempting to repeatedly delay the transfer of policing and justice powers from London to Belfast is totally unacceptable. Further delay is the only reason for the DUP to introduce extraneous issues such as parades, payments to former RUC and UDR members and licensed weapons.
None of these issues was involved in the long negotiations that finally led to agreement on the principle of transfer of policing and justice powers and on the accompanying financial package. This package has now been signed off by the British government and is ready to be put in place once transfer occurs. The introduction of the above issues at this stage is nothing more than an effort by the DUP to put off the inevitable.
What is the motivation of the DUP leadership of Peter Robinson? Are they, like Trimble before them, trembling at the thought that hard-liners inside and outside their party are coming to get them at the next elections? Do they really believe that the absurd figure of Jim Allister poses the same type of threat that the DUP posed to Trimble's party? That is hardly credible.
Or, more worryingly, do they believe that the process can be slowed down to a stop before the Westminster election next year in the hope that the result will see a Tory government in Britain that might be more pro-unionist? Do they believe that such a Tory government might be induced or inclined to weaken the obligation on the DUP to share power?
Whatever about DUP fantasies, the reality is that Peter Robinson and his party cannot wriggle out of their obligation to share power without putting themselves out of power altogether. They are bound by the Good Friday Agreement and the St. Andrew's Agreement and there can be no going back on those accords.
This impasse has serious implications for the whole political process. Policing and justice are absolutely fundamental. Republicans have gone the extra mile and more to ensure that there is a new policing and justice dispensation in the Six Counties. They will not have their efforts taken for granted or counted for nothing.
Equally, communities of all political persuasions across the North need and deserve an effective policing service and a justice system that meets their particular needs and is fully accountable to their elected representatives. Nothing less is acceptable.
It is time for the DUP to cut the nonsense now and get on with the job.

An Phoblacht Magazine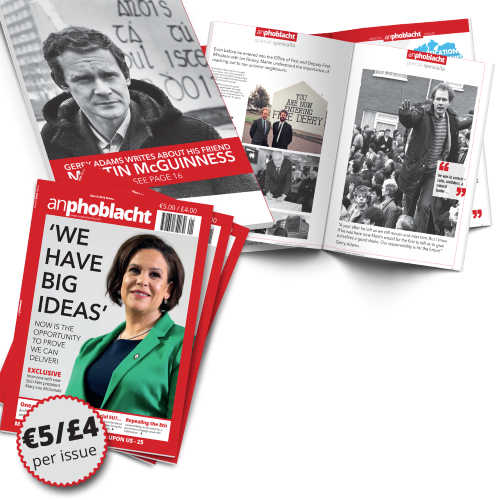 AN PHOBLACHT MAGAZINE:
The first edition of this new magazine will feature a 10 page special on the life and legacy of our leader Martin McGuinness to mark the first anniversary of his untimely passing.
It will include a personal reminiscence by Gerry Adams and contributions from the McGuinness family.
There will also be an exclusive interview with our new Uachtarán Mary Lou McDonald.
test