24 September 2009 Edition
Rudderless SDLP opposes policing and justice transfer legislation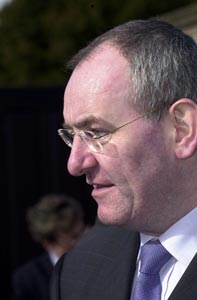 SDLP leader Mark Durkan has this week confirmed that if he is re-elected as MP for Foyle in the next Westminster general election he will step down as party leader.  
He gave as the pretext for this move his desire not to hold a dual mandate at Westminster and the Assembly but speculation was rife about dissension within the party.
The leadership upheaval co-incided with the decision of the SDLP in the Assembly to oppose the legislation providing for the vital and long overdue transfer of policing and justice powers from London to Belfast.
total disarray
Sinn Féin Assembly member for Foyle Martina Anderson said that the SDLP are "in complete and total disarray".
Following the debate on the Bill on Tuesday afternoon Anderson said:
"Today the SDLP announced to the Assembly that they were now opposing the legislation to allow the transfer of powers on policing and justice. This, after months of demanding to be given the job of a future justice minister which of course requires this legislation to pass.
"This is just further evidence of the complete and total disarray which now governs that party's approach. They are a directionless party with a lame duck leader, who has decided to jump from what is now a sinking ship.
"Pretty much like the SDLP approach to the Mandelson policing legislation when they voted for, against and abstained in the course of that Bill's legislative passage they are once again completely confused when it comes to the transfer bill."