17 September 2009 Edition
Volunteers Michael Gaughan and Frank Stagg Commemoration: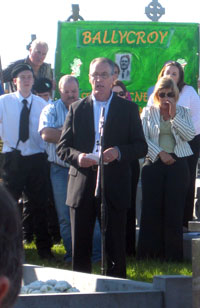 Prepared to fight or die

BY ELLA O'DWYER

THE annual Michael Gaughan and Frank Stagg Commemoration was held in Ballina, County Mayo, last Sunday as 200 people marched in the sunshine from the assembly point at the cathedral to the graveyard where the two Volunteers are buried.
Michael Gaughan and Frank Stagg died on hunger strike in English prisons in 1974 and 1976 respectively.
After the laying of wreaths and readings of the  Proclamation and the Roll of Honour,  chair of the event Cllr Rose Conway Walsh introduced the main speaker, North Belfast MLA and former Hunger Striker Gerry Kelly. Rose pointed to the fact that Gerry, like Gaughan and Stagg, had been force-fed along with the Price sisters and Hugh Feeney and talked of the courage and endurance of those men and women.
Gerry Kelly said it was a great honour for him to have been invited to speak at the commemoration. He went on to talk about Mayo's contribution to the struggle, pointing out that out of the 22 Irish men who died on hunger strike, three were from Mayo – Frank Stagg, Michael Gaughan and Seán McNeela. He talked about the ordinariness of these men.
"As we gather here today to commemorate these two Volunteers, Michael Gaughan and Frank Stagg, we should remember that they were ordinary people doing extraordinary things. In fact, Michael, like myself, didn't even come from a republican background."
Although Gerry hadn't even met Frank or Michael, he could readily identify with their ordeal. 
"As Rose said, I was on hunger strike in England, just like Michael and Frank, but we never met each other. But I can imagine what they went through."
Gerry went on to describe, in graphic detail, the horrendous practice of force-feeding, pointing to the helplessness of the victim and the build-up of fear as the Screws would tell them just how dangerous the whole procedure could be.
"You could be force-fed while being pinned to a bed or a chair. You were told, well in advance, of the risks involved if the tube went down the wrong way and into the lung. When they had you pinned down and the tube down your throat you were totally helpless to do anything about it.

"If the tube had gone down the wrong way and into your lung there was no way you could actually let anyone know because the only part of your body that you could move was your eyes. I can imagine that Michael and Frank would have been told of the risk too and I'm sure they felt the same fear as I did. In fact, it's believed that Michael died as a result of that very thing happening – the tube puncturing the lung and he got pneumonia."
Gerry Kelly referred to the recently-published booklet, Michael Gaughan: Prepared to Fight or Die.
"There is a reference in the book to a Dr Cooper, who was chief medical officer at Parkhurst while Michael Gaughan was being force-fed. Cooper said he came to believe that it was Gaughan's political commitment that carried him through the ordeal, saying: 'It is my belief that he was a very brave man.'
"It is some statement when even the enemy has to acknowledge the courage and political motivation that carried Michael through his ordeal."
Kelly said he didn't want to get into a deep political discussion at the commemoration but that he did want to make one particular point.
"I am often asked what I believe people like Bobby Sands would think of Sinn Féin's current political strategy and if Bobby would have supported it. The only answer I can give is to say that I don't know what Bobby would have thought; nor do I know what Frank or Michael would have thought of developments over recent years. But what I do know is that it is our duty as republicans to pick up the mantle and continue the struggle."
Closing proceedings, Cllr Conway Walsh urged people to buy the booklet on Michael Gaughan and emphasised the importance of documenting republicanism and pointed to the importance of An Phoblacht as a vehicle to get the republican message out there, particularly in view of the media's failure to carry the Sinn Féin message.
By the time the commemoration was over and people were leaving the graveyard, all the Michael Gaughan booklets were sold out and the only remaining one was in Gerry Kelly's hand. As Danny 'Jack' McElduff, one of the main contributors to the booklet, said: "That was a successful day."  It was both successful and enjoyable. But, above all, the poignancy of Gerry Kelly, former Hunger Striker and victim of force-feeding, as the main speaker, made it a very moving occasion.
• BALLINA: A large crowd turned up to pay their respects to two brave Volunteers