17 September 2009 Edition
Dublin honours one of its finest republicans, Dessie Ellis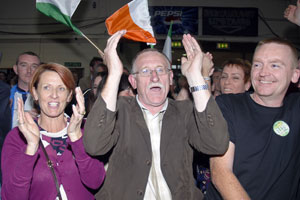 2009 DUBLIN ANNUAL VOLUNTEERS DINNER DANCE: A night of remembrance and celebration
DESSIE comes from a republican background, with both his grandfathers having been involved in the 1916 Rising. Dessie himself got involved in the Republican Movement at the age of 18.
"I was involved in the Civil Rights Movement in 1969 and went to marches around Newry and Derry after Bloody Sunday and internment."
But, as Dessie reminds me, it wasn't only the North that was hit during the subsequent conflict and he has vivid memories of that day in 1974 when bombs exploded in Dublin. On 17 May 1974, bombs went off in Dublin and Monaghan. The Ulster Volunteer Force later claimed responsibility.
"I was on my way to a stag party in the city that night when I heard the bang. I guessed that it was some kind of explosion or a bomb. I remember all these people running in the direction I was coming from but I wanted to make my way to North Earl Street to see if the people I was to meet were OK.
"It was chaos. I was jumping over rubble. Strangely enough, when I reached my friends in North Earl Street they hadn't known about the bombings. There was carnage outside on the streets and the information was only beginning to filter through to people.
"Dublin has taken its own toll over the decades, and the Dublin bombings and Easter Sunday reminds you of that."
If there was a 'Where were you on that day?' competition, Dessie Ellis would have an easy run.
"I was arrested in 1981 on the morning that Francis Hughes died. I was charged with possession of explosive devices and got bail. I went to the United States but I was lifted over there in 1982 and served a year in different American jails. I was flown back to Ireland a year after and sentenced to eight years for the possession charge."
When Dessie was released from Portlaoise, in 1990, he was issued with an extradition order to England on a conspiracy charge. He went on hunger strike in protest against the extradition warrant, issuing the following statement from Portlaoise Prison:
"As from the morning of 10 October 1990, I will be embarking on a hunger strike in protest against my extradition.
"I am going on a hunger strike to the death, if necessary, to prevent my extradition to Britain. The Government has it in its power to stop my extradition and only the Irish people can force the Government to act. I now appeal with my life to the Irish people.''
It was now a matter of life or death and the Irish Government was the only hope of preventing his extradition to England to face a possible life sentence or even death on hunger strike.
Many ordinary Irish citizens didn't actually believe that the Irish Government would let Dessie be extradited. Then editor of An Phoblacht/Republican News Mícheál Mac Donncha's reflection on the time is telling in its own right.
"I was taking a taxi to the Ellis family home during the antI-extradition campaign to do a profile on Dessie. It was big news and I remember the taxi driver saying: 'Don't worry, Charlie [Haughey] won't let it happen. Sure, Charlie's a republican underneath it all.'"

This was the same Taoiseach under whose watch ten republicans were allowed to die on hunger strike in 1981! So there wasn't really much hope for Dessie but he was determined to fight the extradition and he went on hunger strike. On 14 November, after 35 days on it, he was extradited to England.
"I went on hunger strike in Portlaoise on 10 October," Dessie explains, "and I was moved from Portlaoise to the Curragh while on the fast and then flown over to England, to Brixton Prison in London."
While all this is passé for Dessie now, the prospect of losing another Volunteer to hunger strike or to England hit Dublin republicans hard. It was hard to stomach but stomach it they did and in an impressively disciplined way: campaigning, protesting and highlighting the case by whatever means were available, in times of heavy censorship, to get the facts across.
As it turned out, Dessie's solicitors in England were pretty sure the charges against him couldn't stick and Dessie decided to come off the hunger strike.
"My solicitors felt very sure I would beat the charges so I decided I would come off the strike and after a year in jail in England I was acquitted and flown back to Ireland."  
On return to Ireland, Dessie got very involved in developing Sinn Féin in Dublin North-West and he's been busy ever since.
In 1999, he stood for the local elections in Finglas and took a city council seat. He stood for election ever since and maintains his council seat, dealing with issues throughout the whole North-West Area. He has also been active in the trade union movement. He runs five advice centres and has dealt with all sorts of issues of concern to residents, like housing, rents, social welfare, pensions and anti-social behaviour. He also sits on the Finglas Drugs Task Force.
Talking to Dessie Ellis you get can see that he's moved by Dublin Sinn Féin's decision to honour him.
"I'm very honoured that people see fit to give me recognition like that and I'm really looking forward to the night, looking forward to meeting republicans I've gotten to know over the years and having a good chat. When you're told you're going to be honoured like that you don't really know what to say – but I'm delighted."
Pajo Mac Aodha, of the Dublin Sinn Féin Organisational Development Unit, was the person who told Dessie about the tribute and Pajo says he felt privileged to be the one to ask him.
"It was an honour for me to have been able to ask Dessie if he'd accept the tribute.

"Dessie has played a very significant role in the Movement from the armed struggle to his tireless work in the party."
Asked what he thought of Dessie personally, Pajo says:
"Dessie is a bubbly, energetic person and very serious about politics. He's also very comradely and approachable and he's totally embedded in his community. Dessie is highly respected by his comrades."
In fact, none of the people I asked to comment on Dessie needed any encouragement and Dessie's Dublin City Council colleague and former honouree Larry O'Toole could hardly be restrained at all. Asked if he wanted to say anything in tribute to Dessie, Larry said:
"I certainly do. I've great time for that man. Dessie is one of the most highly-respected republicans in Dublin. And this is not just a tribute to Dessie but to the entire family – the Ellises of Finglas were always a great republican family."
High praise for Dessie all-round but there are many people too who Dessie wants to acknowledge for their work for the Movement and their personal support, especially his family.
"Above all, I have to thank my family, especially my late father, my mother and my sisters, Martha and Letitia."
The dinner dance will take place on Saturday evening, 7 November, in the Gresham Hotel and there will be many people waiting to celebrate with Dessie on the night, including international guests.
It's a well-deserved tribute to one of Dublin's finest republicans. If I included any more of the praise for Dessie I've been hearing, there would have been no room for the interview with him. But one comment just begs for inclusion. Someone once said to me:
"Dessie Ellis is what we like to feel every republican should be."
• WHAT EVERY REPUBLICAN SHOULD BE: Dessie is highly respected by his comrades

An Phoblacht Magazine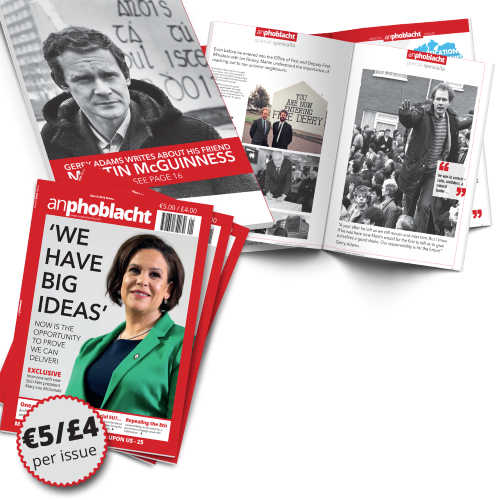 AN PHOBLACHT MAGAZINE:
The first edition of this new magazine will feature a 10 page special on the life and legacy of our leader Martin McGuinness to mark the first anniversary of his untimely passing.
It will include a personal reminiscence by Gerry Adams and contributions from the McGuinness family.
There will also be an exclusive interview with our new Uachtarán Mary Lou McDonald.
test