23 July 2009 Edition
Sinn Féin on South Dublin County Council - Making positive things happen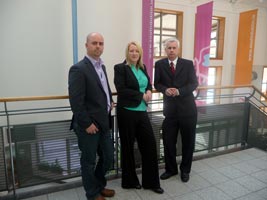 SINN FÉIN in South Dublin came out of this year's local elections with three county councillors: Seán Crowe for Tallaght Central, Cathal King in Tallaght South and Matthew McDonagh for Clondalkin. Transfers from Cathal's running mate, Sinead Cooke, were instrumental in seeing him top the poll.
Since the election, the South Dublin Sinn Féin team have formed an alliance of the left (or 'Alliance for Change') in the constituency, with nine Labour councillors and one Independent and have already secured agreement on important issues such as housing and the use of monies allocated to councillors for expenses.
Here the Sinn Féin representatives talk to ELLA O'DWYER about the nature of that left alliance, the issues for the constituency and how they intend to tackle them.
TALLAGHT South's Cathal King was co-opted onto the council in 2003 and elected in his own right in 2004 and again in last month's election. For Cathal, the priority issue is housing.
"Our Sinn Féin team here formed an alliance with nine Labour councillors and one Independent after the election and we went into policy negotiations with them on issues like planning, the environment and, most significantly, on housing and the homeless.
"We reached agreement together on how the expenses that each councillor gets will be spent. The €4,000 expenses we'll get for conferences each of the five years we're in office  will go to the construction of a homeless unit in the constituency. If everyone on the council did the same – and that's 25 councillors – it'd amount to a half a million euro but so far it's only the alliance that has agreed to it. "
Again on the issue of housing, the alliance have other concrete proposals.
"A lot of council housing in South Dublin is vacant and boarded up and our alliance is pushing to have money ring-fenced for the refurbishment and maintenance of these properties and for them to become occupied again as soon as possible.
"Some of the properties that are currently occupied are in bad condition and we want those houses refurbished too because some people in the area are living in appalling conditions.
"In terms of the South Dublin County Council Development Plan, we want no further land rezoned for housing under the plan because there's enough land zoned to facilitate the building of 40,000 houses.
"There are hundreds of vacant private apartments out here that have been built over the last six years.
"I made proposals to the council last Christmas that some of the apartments be handed back to the Rental Accommodation Scheme. It's a three-way contract scheme between the landlord, the council and the tenant.
"Under this scheme the tenant pays ten percent of their income whether they're working or not to the council and the council pays the rest to the landlord. It will help in terms of dealing with anti-social behaviour too because the landlord can just go to the council and the council can get rid of the tenant. Equally, if the landlord fails to live up to his or her responsibilities in terms of the maintenance of the property, then the tenant can get on to the council to withhold the rent."
Elected for Sinn Féin in Clondalkin, Matthew McDonagh was a first-time candidate.
"I'm a relative newcomer to the scene but I'm getting great support from Cathal and Seán.
"The issues I'm dealing with here in Clondalkin are anti-social behaviour, housing and litter. We need to see more gardaí out on the streets – that's one area where you can't afford to see cutbacks.
"Then here in this constituency there's a lot of houses boarded up and that again attracts anti-social elements with people hanging around.
"Litter is an issue that needs to be addressed here too. Children need to be educated on that one. We'll be pushing on the council to have the area cleaned up but we also need to make people litter conscious."
Sinead Cooke surprised herself when she succeeded in getting 792 first-preference votes in an area that didn't traditionally have much Sinn Féin support.
"It was a very good result for us here in Tallaght South.  I didn't think I'd get that many first-preferences. My transfers went over to Cathal and he topped the poll. The issues I've been met with at the doors have been the need for a play area in Firhouse and the anti-social behaviour."
Would she stand again?
"If I'm nominated, I'll certainly stand again. In the meantime, I'll be helping out at the Sinn Féin clinic in the Anne Devlin Centre in Tallaght and in September myself and Cathal will be opening a clinic in the Firhouse Community Centre."
Long-standing republican Seán Crowe was elected to Tallaght Central in and he is optimistic about the prospects of bringing real change to the lives of the most vulnerable in his constituency.
"The alliance we've made with the Independent and the Labour Party councillors allows us to address long-standing issues here. We've been looking for a homeless unit for years but we couldn't get one. It was down to funds. Now that the alliance has agreed to put some of our councillors' expenses into the project we can help the most needy.
"The overall housing issue is being addressed in terms of getting properties that are boarded up renovated so that people can move in.
"When we went into this election we made it clear to people that it wasn't going to be about getting bums on seats but about quality of delivery. People were showing signs of being disillusioned with politics and we were letting them know that there could be an alternative approach to politics – that we could be an alternative along with like-minded people – Labour and some Independents.
"Fine Gael, for instance, was talking about cuts and job losses. We don't want to see more job losses or cuts in services.
"We had a good election result here in Dublin South. We've grown since 2007. We also put in a strong campaign. That, along with the fact that people were angry and felt short-changed and abandoned by the Celtic Tiger, brought us a good result and we can show that positive things can happen and happen to those most in need."
CLONDALKIN: Matthew McDonagh on the canvass with Gerry Adams 
An Phoblacht Magazine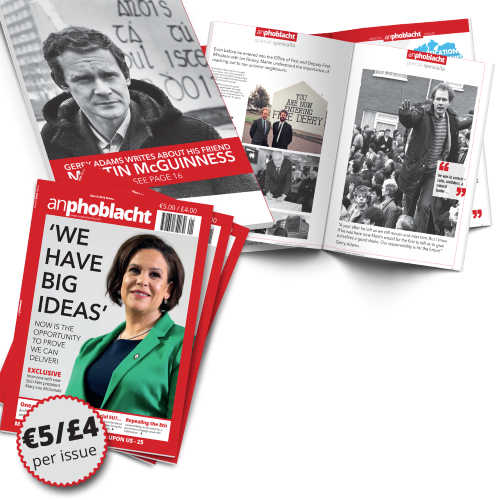 AN PHOBLACHT MAGAZINE:
The first edition of this new magazine will feature a 10 page special on the life and legacy of our leader Martin McGuinness to mark the first anniversary of his untimely passing.
It will include a personal reminiscence by Gerry Adams and contributions from the McGuinness family.
There will also be an exclusive interview with our new Uachtarán Mary Lou McDonald.
test