18 June 2009 Edition
New Kilkenny Councillor prepares for future challenges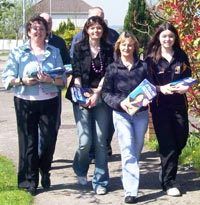 KATHLEEN FUNCHION joined Sinn Féin in 2003, when she began campaigning in Kilkenny for the local elections of the following year when Tom Kiernan was the candidate. Pretty soon her capabilities were identified and she was selected to be the general election candidate for Carlow/ Kilkenny in the 2007 general election. She polled over 2,500 first-preferences, increasing the Sinn Féin vote in the constituency.
She contested both the county council and the Kilkenny Borough elections two weeks ago, taking a seat on the Borough Council – no small feat given that there hasn't been a Sinn Féiner elected there since 1923.
The icing on the cake was her remarkable performance in the EU elections for Ireland East when she polled 26,5067 first-preferences and, along with running mate Tomás Sharkey, amassed a combined EU vote of 48,000. These results were beyond expectations and Kathleen's vote is paving the way for the very real possibility of a Sinn Féin Dáil seat in Kilkenny in the future.
Kathleen chats to ELLA O'DWYER about the reasons behind this success story in Election 2009.
KatHleen FuncHion believes that her impressive performance in taking a seat in Kilkenny Borough Council and polling so well in the Ireland East EU constituency is down to a few factors:
"I got a strong profile during the last general election and being a trade union organiser meant that transfers came to me from Labour voters because I'm very active on trade union issues.
"We've also recruited a significant amount of new members in Kilkenny over recent years and we had a very strong campaign team, people like long-standing republican Tom Kiernan and some women who joined the campaign over recent months – all great workers

"My Dad, Phil Funchion, is a well-known trade unionist in Kilkenny and he did a great deal of work on the campaign with me.
"Along with a great team locally we had the support of Sinn Féin's Organisation Development Unit and, I must add, the Sinn Féin Press Office. I'd have to mention in particular Sinéad Ní Bhroin who never failed to get back to me on any query relating to media work."
She believes "there's  a mood for change out there" and that in Kilkenny, Sinn Féin was definitely seen to be the alternative. "Also, when I was met with the comment on the door 'You're all the same' I could say 'No, Sinn Féin is not the same'. I'm not an elected representative but I've been doing community work on the ground.
"Another pulling point was the fact that I'm a young mother dealing with issues like childcare costs and the mortgage – issues that are hitting the vast majority of people particularly now in the current recession. You have to have candidates that are in touch with their communities – in touch with reality. I actually heard of one Fianna Fáil elected representative recently remark that people on the social welfare were getting too much money. When it came down to it, the man didn't even know how much you get on the allowance – €204 a week."
Unlike Dublin, a factor that impacts more in smaller communities, where people are on first-name terms is the capacity to tap into the more long-standing, if disparate, republican sentiment.
In places like Kilkenny, the likes of Tom Kiernan could approach the homes of neighbouring republicans who might have left the Movement as far back as the 1970s to ask for a vote for the local Sinn Féin candidate.
"We married a lot of factors: a young candidate, being a young mother, and we managed to bring out a republican vote that has been there for decades though not fully harvested, whether it be people who drifted away from the Movement over the years or people who just lost interest."
In the fight for the Ireland East EU seat – Kathleen and Tomás Sharkey surprised many people.
"Between us, Tomás and I mustered 48,000 votes. We didn't expect that but again we were both candidates who are in touch with the issues hitting people most affected by the current story in Ireland – the economy. Again we could both relate to issues affecting younger people trying set up a home and raise a family. Tomás and I complemented each other. We got on great, no rivalry, and both of us committed to the task in hand. People are looking for new faces and good politics and we brought that to them."
How does she feel now about her victory in winning the seat on Kilkenny Borough Council?
"I'm delighted. The count went on from Saturday until Sunday night so it was nerve-wracking enough but out of 12 seats I took the eighth, out-polling two Fine Gael candidates, one from Fianna Fáil and one Labour candidate. So that was a fair achievement. I'm very happy with the result but a bit nervous too because I'm the only Sinn Féin representative on the council. So it's not going to be too easy."
Kathleen points to an obvious, though sometimes overlooked, reality in Irish politics – the disparate nature of the various constituencies.
"I'd say to any candidate – and particularly those who were disappointed with the result – that the battleground is different in each part of the country and it can be easier to take a seat in one constituency than in another. There's an element of luck involved in that sense.
"There's also the need for candidates to reflect and wind down after an election campaign, a long period when your time is not your own from morning to night. We're all only human, after all, and people need to take time to reflect, take stock and prepare for the challenges ahead."
THE WAY AHEAD: Gerry Adams with Kathleen in Kilkenny 
An Phoblacht Magazine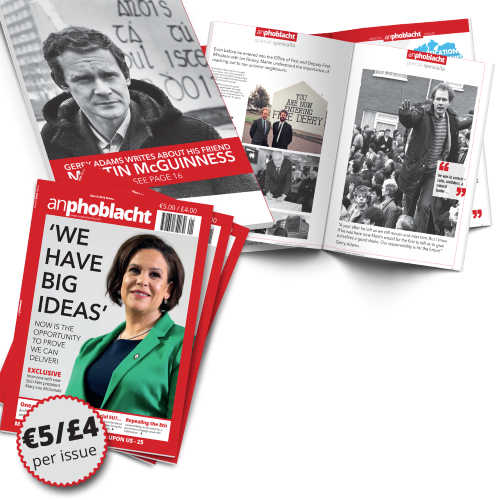 AN PHOBLACHT MAGAZINE:
The first edition of this new magazine will feature a 10 page special on the life and legacy of our leader Martin McGuinness to mark the first anniversary of his untimely passing.
It will include a personal reminiscence by Gerry Adams and contributions from the McGuinness family.
There will also be an exclusive interview with our new Uachtarán Mary Lou McDonald.
test