19 February 2009 Edition
Another View by Eoin Ó Broin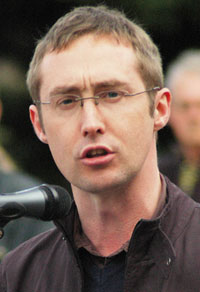 Gilmore's choices
THEY are truly remarkable results. Okay, let's not get carried away, it's just one poll. But they are remarkable all the same.
Never in the history of the state has Labour polled so high; never in the history of the state has Fianna Fáil come third.
Even on the cusp of the Spring Tide in 1992, Labour never secured more than 19 per cent in the pre-election opinion polls. With 19.3 per cent of the vote in that election and 33 seats in the Dáil, the party's historic objective to become the state's second party seemed within reach.
Two options may appear fanciful but in today's changing world it is unwise to ignore the seemingly unthinkable 

Bad management, bad choices and bad luck brought the party back down to earth, losing 16 seats by 1997.
Even the merger with Democratic Left in 1999 didn't reverse their fortunes, with the enlarged party losing one seat in 2002 and remaining static at 20 seats in 2007.
In this context, 24 per cent is remarkable, even within the present economic and political context.
But with success comes choices, and with choices comes risk.
So what are Labour's choices?
If there was a general election today and the seat return reflected the Irish Times/MRBI poll, Labour would have four clear options.
The first and most obvious choice would be a coalition with Fine Gael. With 24 per cent Labour would secure a strong place at the Cabinet table. This would enable them to minimise, to some extent, the right-wing, anti-public service economic agenda promoted under Enda Kenny. However, both history and logic suggest that the cost would be electoral reversal at the next election.
The second and most risky choice would be a coalition with Fianna Fáil. The Soldiers of Destiny would offer Labour everything except the office of Taoiseach to stay in power. Of course, public opinion is unlikely to have the stomach for yet another Fianna Fáil-led government with electoral reversal once again on the cards for Labour.
The remaining two options may appear fanciful but in today's changing world it is unwise to ignore the seemingly unthinkable.
What if Labour outpolled Fianna Fáil? What if both parties fell short of an overall majority? Is a Labour-led government with Fianna Fáil plus Sinn Féin or the Greens that unthinkable?
Yes, the Greens would have to survive the election. Yes, Labour would have to get over their historic animosity towards Sinn Féin. Yes, Fianna Fáil would have to cleanse what remained of their front bench to demonstrate a clear departure from the Cowen era. But is any of this really unimaginable?
Alternatively, if Fianna Fáil outpolled Labour, what if Eamon Gilmore was to take the biggest gamble of his party's entire history and refuse to enter government? Fianna Fáil and Fine Gael would be forced into a grand coalition, the economic crisis would continue, and new political and electoral opportunities could emerge, possibly ending Fianna Fáil and Fine Gael's historic dominance of the state.
Political leaders are, by design, 'risk averse'. But in these changing times, taking risks may be the ultimate trump card.

An Phoblacht Magazine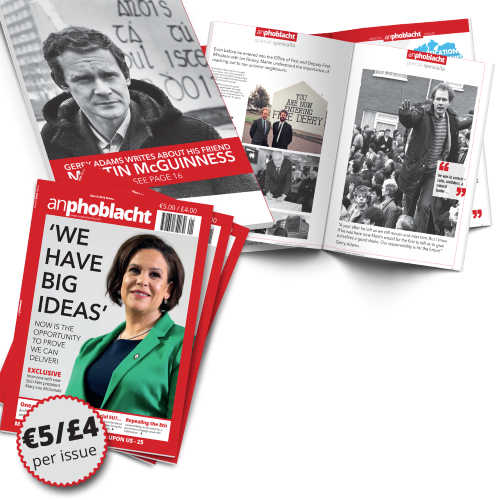 AN PHOBLACHT MAGAZINE:
The first edition of this new magazine will feature a 10 page special on the life and legacy of our leader Martin McGuinness to mark the first anniversary of his untimely passing.
It will include a personal reminiscence by Gerry Adams and contributions from the McGuinness family.
There will also be an exclusive interview with our new Uachtarán Mary Lou McDonald.
test