16 October 2008 Edition
Fógraí bháis: Peggy McGuinness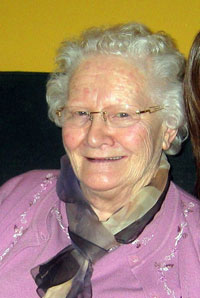 By Raymond McCartney

On Wednesday morning 8 October, Peggy McGuinness was carried to her final place of rest in Cockhill Cemetery to be buried beside her husband, Willie, by her six sons, Tom, Martin, Paul, William, Declan, and John. With them was Peggy's daughter, Geraldine. And although they had to part with their mother's mortal remains, each in their own way carried onwards with them the values and lessons of life that she displayed in her living years.
And for all the many blessings and joys that they brought to her, that they were there to let her take her leave of this world would have been a source of contentment and fulfillment for her. She would have known from life's experience that too many parents in our city of Derry and beyond have faced that most difficult of tasks of burying one of their own children.
Anyone who has ever been a visitor to 5 Elmwood Street would know and appreciate the great warmth and kindness that Peggy brought to her home. She was a woman of great strength and determination and it is by knowing her that you realise that the many qualities that her children bring to their lives are simply the products of following their mother's example.
In life, we all tend to steer away from expressing our admiration to those whom we admire. In death, we find that the words we possess are not adequate, nor do they come together to truly reflect that which the heart knows instinctively.

STRENGTH AND WISDOM
In his eulogy at her graveside, Sinn Féin President Gerry Adams used a Gaelic word, 'cranntaca', to describe Peggy McGuinness. This was the word used by our Celtic ancestors to describe the importance of a mother and grandmother in life, that of an elder within an teaghlach, the household. It conveys a sense of strength and wisdom and its rough translation into English is that of a giant tree.
My thoughts on the day were that of an oak tree, its towering strength, its relationship to Derry, to Colmcille, to the Long Tower and to the McGuinness family.
Peggy McGuinness would not have been a woman who sought praise or tribute, but this word is one I believe that she would find favour with.
In this one word, Gerry found what a thousand other words would fail to do, describing this remarkable Irish woman, wife, mother, sister, grandmother, great-grandmother and friend.
On 8 May last year, the day Martin became deputy First Minister, I had the privilege of taking Peggy and Geraldine to Stormont. On the way into the building, Rose, my wife, remarked to Peggy that this was a great day for her. She replied that it was indeed but this was a day created by many great people. She was a woman of humility and with it a profound sense of history and those who help shape it.
So Peggy, cranntaca, may have left us, but like a great oak, which sheds its leaves each autumn to become stronger in spring, her spirit and her fortitude remain, grow and become even stronger in her children, in her grandchildren and great-grandchildren. For that we will be the richer.
To Tom, Martin, Paul, Geraldine, William, Declan, John, to her sister Jeannie and brothers John, Seamus and Owen and to the McGuinness family circle and on behalf of the republican family, our sympathy and solidarity is yours.
Déan trócaire ar a anam.