16 October 2008 Edition
Lisbon Treaty scare-mongering by Mícheál Martin at EU meeting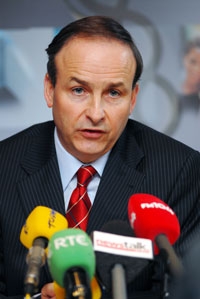 ATTEMPTS by Foreign Affairs Minister Mícheál Martin to link the current financial crisis to the Irish people's rejection of the Lisbon Treaty have been described by Sinn Féin MEP Mary Lou McDonald as "shamefully underhand scare tactics".
Speaking at this week's meeting of EU Foreign Ministers in Luxembourg, the minister linked references to rejection of the Lisbon treaty with "being on the margins of Europe" and "the isolationist route".
Responding angrily, Mary Lou McDonald said:
"The Minister is wrong on many levels. The people have not taken an isolationist route. Ireland is at the heart of Europe and will remain there. The Government's own research following the rejection of Lisbon shows that the Irish people are committed to the European Union. However, this commitment is not a blind faith. The people of this state, like so many across Europe, are deeply concerned at the increasingly militarised, privatised and centralised direction that the EU is taking. The Irish Government's perpetual attempt to shirk this necessary debate simply has to stop."
FISCAL CALAMITY
The Dublin MEP then took up the minister's references to the EU's role in the financial crisis.
"With regard to Europe's 'support' during the current financial global crisis, arguably we are faced with such a fiscal calamity because many member state governments like the US and Irish have shirked regulating their financial sectors which has left ordinary people's homes, savings and businesses so exposed.
"Here in Ireland our financial fate is even more in jeopardy due to the state's over-reliance on a falsely inflated property market. Such policy-making has nothing to do with Europe; the blame lies squarely at the door of successive Fianna Fáil-led governments."
She added:
"It is also worth noting the hypocrisy of the minister as the Government's recent decision to underwrite Ireland's financial system was one made by the Oireachtas and not by Europe, a decision that the Government came under much fire for from their EU peers."