2 October 2008 Edition
Double standards at the Irish Times

"THE Government is not ruling out tax increases in the budget on 14 October as part of its response to the dramatic downturn in exchequer revenues this year," writes Harry McGee in Monday's Irish Times.
According to Michael Brennan in Monday's Irish Independent, "Taxpayers will be spared income tax increases in next month's 'bloodbath' Budget which will unleash a massive €1.5bn cut in public spending."
Well, one of them is bound to be right. Interestingly, and confusingly, both journalists cited Defence Minister Willie O'Dea TD as a source for their comments and judging by Willie's unimpressive performance on Tuesday's Prime Time he could very well have believed both contradictory answers to be true.
Confused? That's just the budget.
By Tuesday the Carney family was stockpiling water and canned food following the failure of the US banker's bailout. Morning Ireland had cleared the decks with economists and politicians lined up around Donnybrook to get on and Prime Time that night did the same. In fairness to RTÉ it was an impressive effort at public service broadcasting but what the casual viewer or listeners was left with was a clear notion that there was a crisis, but not wholly sure what was happening. Watching three economists throw jargon around and compare the situation to banking collapses in Sweden and Japan without explaining what happened in those countries didn't clear much up.
With the world economy in a state of collapse it's unsurprising, if slightly disappointing, that another economic story didn't get more attention. Carl O'Brien reported in Tuesday's Times that a report from Tasc found 70 per cent of people in Ireland believe wealth is unfairly distributed in this state (What are the other 30 per cent on?!). More interesting, was what they thought should be done with it.
"...it was clear the numbers prepared to pay for higher taxes in return for improved public services has grown dramatically over the last five years. The rise in numbers is particularly evident in higher earners, who are among those most likely (50 per cent) to support paying higher taxes.
"These higher-income groups are those best able to afford increased taxes," Ms Clancy (Of Tasc) added. "Our findings dovetail with the recently published Red-C poll, which showed that 62 per cent of respondents would prefer tax increases to cuts in the health and education budgets."
When even the well off think they don't pay enough in taxes to maintain public services arguing for a fairer tax system with higher rates for top earners doesn't even sound too radical.
Still in the Times, Ann Marie Hourihane confessed to a, "...deep unease..." at BBC2's documentary from last week, Breakout, which dealt with what she sarcastically referred to as the, "...the glory days of the escape from the Maze Prison in 1983."
Hourihane seemed to be a little offended by the, "...orgy of machismo..." that was the interviews with Gerry Kelly, Bobby Storey and Bik McFarlane, complaining at one point about the fact that Bik was interviewed next to a tricolour.
Hourihane's outrage would be a little bit more plausible if she wasn't writing for a newspaper that has indulged in its own 'orgy of machismo' over the last few months since it decided that pimping for the British Army was a worthwhile endeavour.
The adventures of the wild colonial boy Lieutenant Paddy Bury writing regularly in the Times about the craic of serving British interests in Afghanistan and his continued mystification as to the failure of the Afghans to appreciate their liberation.
No coincidence that Bury's column and a number of features from Conor 'The King's Shilling' Lally have appeared at a time when British Army recruiters are falling far short of numbers required.
However our imaginative friends in the British military are not relying solely on the Irish Times to bring in some new recruits. The Guardian reports that MI6 has started to recruit its next generation of handlers and Russian double agents using the online social networking site, Facebook.
"The Secret Intelligence Service, which has traditionally scoured the country's elite universities for recruits, launched a series of online adverts this month as part of its attempts to attract people from a variety of backgrounds," writes Matthew Taylor. Clearly the ability to post nonsense on the internet and recruit as many 'friends' as possible are now seen as key attributes in the so-called 'war on terror'. And when you think of the MI6 'analysts' whose dodgy dossier compilation of spin, lies, urban myths and stuff they downloaded from the internet helped Blair pull Britain into invading Iraq perhaps it makes sense.
At least they're not liyng when one of the online adverts offers prospective recruits the opportunity to 'Help influence world events'.
An Phoblacht Magazine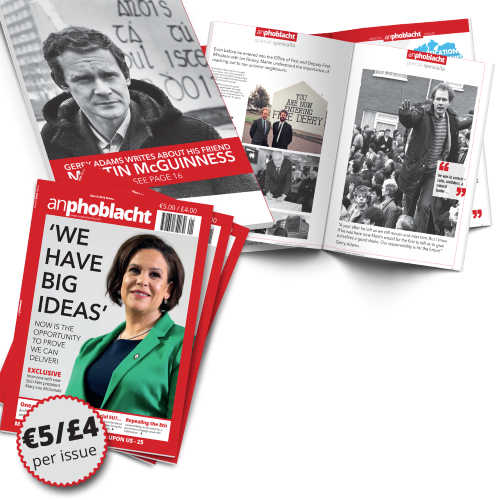 AN PHOBLACHT MAGAZINE:
The first edition of this new magazine will feature a 10 page special on the life and legacy of our leader Martin McGuinness to mark the first anniversary of his untimely passing.
It will include a personal reminiscence by Gerry Adams and contributions from the McGuinness family.
There will also be an exclusive interview with our new Uachtarán Mary Lou McDonald.
test