1 May 2008 Edition
Momentum builds against Lisbon Treaty
MOMENTUM is building across the 26 Counties against the Lisbon Treaty as its negative implications become ever more clear to voters.
The bogus arguments from Establishment political parties calling for a 'Yes' vote are looking very thin when people examine them.
Opposition to Lisbon is growing throughout all sectors of society – workers, farmers, young people and old, urban and rural.
This week, the second largest trade union in the country, Unite the Union, has said it will campaign for a 'No' vote in the referendum. Increasing numbers of organised workers are coming to the conclusion that the treaty does nothing to defend workers' rights and fails to deliver on a Social Europe. Recent developments in the EU are driving down pay and conditions throughout Europe, particularly for those on lower incomes.
Farmers know that the Lisbon Treaty, if passed, will give the European Commission the power to accelerate Peter Mandelson's approach to international trade with its adverse affects on their livelihoods. Article 9 of the Treaty removes Ireland's right to a European Commissioner for five out of every 15 years, raising the prospect that Ireland will not have a voice at the table when trade agreements affecting Ireland are being negotiated.
Government scare tactics about the allegedly dire consequences of the treaty's rejection by Irish voters are losing their ability to frighten voters into submission and the political establishment is now relying on a fog of confusion about the treaty to get it passed.
Bertie Ahern finally announced last Friday, 25 April, that the referendum on the Lisbon Treaty will take place on 12 June. However, a Referendum Commission survey has shown that, with just six weeks to go before polling day, a majority of voters still don't know what the treaty is about. This stark lack of information severely undermines the democratic process and the Establishment media has been as culpable as the political elite in sowing the confusion. TV, radio and the mainstream print media have utterly failed to facilitate an enlightening public debate on an issue of crucial importance to Ireland's political future.
Full access to the information and a proper public debate are crucially important aspects of any exercise in meaningful democracy. Ultimately, it is the responsibility of politcians to deliver this.
An Phoblacht Magazine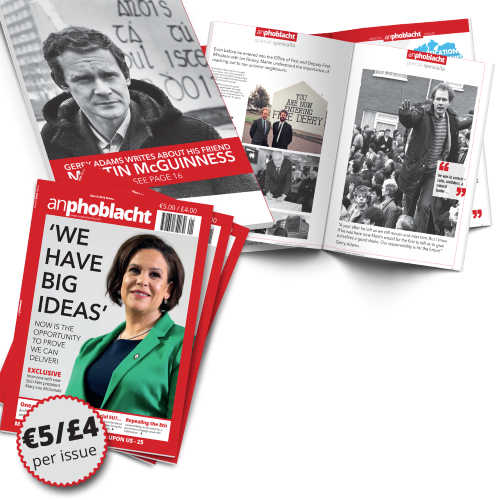 AN PHOBLACHT MAGAZINE:
The first edition of this new magazine will feature a 10 page special on the life and legacy of our leader Martin McGuinness to mark the first anniversary of his untimely passing.
It will include a personal reminiscence by Gerry Adams and contributions from the McGuinness family.
There will also be an exclusive interview with our new Uachtarán Mary Lou McDonald.
test